Fantasy Baseball Waiver Wire: Post-Draft Pickups Who Will Shine in 2012
April 3, 2012

Hannah Foslien/Getty Images
With the majority of fantasy baseball drafts having taken place already, some folks may not be pleased with their current roster, which is why it is crucial to be prepared to attack the waiver wires for the best talent. 
Not everyone you grab through waiver wires will thrive, but there are some definite hidden gems that likely were passed on during the draft, especially in an auction-type league. 
These pickups aren't going to be the saving graces for your team by any means, but they will give you strong production throughout the year, which is all you can ask of the lesser-known players. 
That said, here's three post-draft pickups who are sure to shine in 2012. 
Alcides Escobar, SS, Kansas City 
The Royals aren't as bad as they used to be, but they still have work to do.
However, they do have a few guys that will put up good numbers as the year progresses, and Escobar is one of them. 
He's a speedster on the base path, so look for him to pile on the stolen bases, helping your fantasy team in a big way. 
Drew Pomeranz, SP, Colorado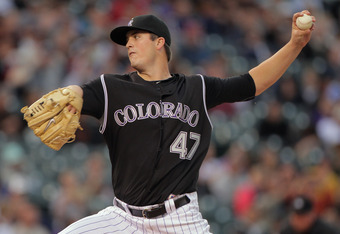 Doug Pensinger/Getty Images
The Rockies are hoping that Pomeranz will develop into a solid replacement for Ubaldo Jimenez. 
That's easier said than done, especially since he is just starting out. Pomeranz was the key trade piece in the deal that sent Jimenez to Cleveland, and the expectations for him aren't too high, which means he can exceed them. 
Pomeranz has great commanding stuff on the mound, and he's got the ability to do some special things, even though he is pitching in Coors Field quite a bit. 
Edinson Volquez, SP, San Diego 
Now that he's in a pitcher-friendly park, Volquez is going to really shine in 2012. 
Sure, this is a risky pickup, but so are most waiver-wire guys at this time. Like the others, you'll have a better chance at landing Volquez in a 10-team league. 
Volquez has had some rough times in his career, but the move to San Diego should do wonders for him, which is why you want him on your team.