Stability Is Key to Success at Manchester City, Not This Season's Premier League
April 3, 2012

Shaun Botterill/Getty Images
On Monday night, Manchester City fell five points behind arch-rivals Manchester United in the race for the Premier League title.
With City slipping up again against Sunderland on Saturday, it is now possible that United could win the championship at the Etihad Stadium when the two sides meet in April.
If City do fail to win the title, which now looks increasingly likely, then questions will be asked of manager Roberto Mancini, and if he is the right man for the job.
City have obviously spent vast amounts of money, as they strive to be as successful as their neighbours.
But so far they only have an FA Cup victory last season to show for their hard work. This season they looked like at one point, they could and would challenge on all domestic fronts.
But poor form, particularly away from home and some harsh decisions in the cup game against Manchester United in the FA Cup, soon put pay to those pipe dreams.
If they do finish the season empty-handed, then the big men at the club will have to assess whether or not the Italian is the right man for the job.
Personally, I think that Shiek Mansour would be crazy to let go the former Inter Milan boss.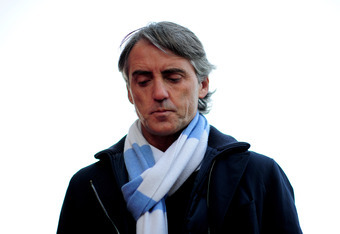 Shaun Botterill/Getty Images
Stability is the key to success when trying to win the Premier League. Sir Alex Ferguson and Arsene Wenger are prime examples of this.
They have been at their respected clubs for a vast number of years, proving time and again that patience is a virtue.
If City do decide to make a change, who will they bring in? What will they think of the current squad?
There would obviously be a transitional period where a new man would come in and have to implement his own ideas and methods.
All these things would upset the apple cart and would only be a backwards step for the club and what they are looking to achieve in the future.
Just look at what has happened at Chelsea since the departure of the great Jose Mourinho, a multitude of world class managers have came and gone and the performance of Chelsea has suffered because of this.
Only Carlo Ancelotti has had the success that Mourinho enjoyed, but his tenure was cut short because of the owner.
This is what Manchester City must avoid becoming, sacking managers left and right and Chelsea does nothing in terms of establishing the team or attracting the players.
Roberto Mancini is a world-class manager, the project at Manchester City is just beginning and he should be the one who is steering the ship towards Europe's elite.
Who knows what he could achieved if he is just given the time, and the backing of the board.
Stability and the building of a dynasty is the hardest thing to achieve in football, but when it does happen people take notice, just ask Sir Alex and our neighbours across the city.