Curtis Granderson and Jacoby Ellsbury: Examining Their 2011 Breakout Seasons
April 3, 2012

Patrick McDermott/Getty Images
In 2011, both New York Yankees center fielder Curtis Granderson and Boston Red Sox center fielder Jacoby Ellsbury had breakout years. They were inextricably linked as the center fielders of the two most prominent franchises in the American League. 
Both took steps toward fulfilling the promise that talent evaluators knew existed but had yet to be reached. 
Granderson was finally able to hit lefties, while Ellsbury managed to stay healthy and experienced an uptick in power. 
Both had fantastic seasons and deservedly finished in the top four in MVP voting. That said, last season is last season, and the most interesting question is which guy will be able to sustain the improvement.
In general, the best use of advanced metrics is as a predictive measure. However, because they analyze past performance, there's no way to adjust for swing changes or new approaches. 
To take all of that into account requires some measure of subjectivity that stats simply can't provide.  While advanced metrics provide a baseline for the future successes of Granderson and Ellsbury, they don't tell the whole story.
Last season, Curtis Granderson hit a career-high 41 home runs, while simultaneously posting a .364 on-base percentage, his highest since 2008. There is a tendency to think this must be a fluke, as Granderson's home run rate (HR/FB) was over 20 percent, after posting a career average of 13.9 percent. 
The OBP is likely sustainable, as it was driven by a slightly inflated walk rate (plate discipline is something that can be learned over time) and not at all buoyed by an average on balls in play (BABIP) that was in line with the league average and actually below his career mark. 
The real question of sustainability—and the true marker of the success of his season—lies with his power.  Granderson's true improvement came against lefties, and there is no reason to believe he will fall all the way back to the degrees of ineptness he suffered through as a Tiger. 
Stories abounded towards the end of the 2010 season that Granderson had figured out his lefty struggles, despite the lack of overall numbers to prove it. This proves that the stories about Granderson's changing approach were not simply post-hoc.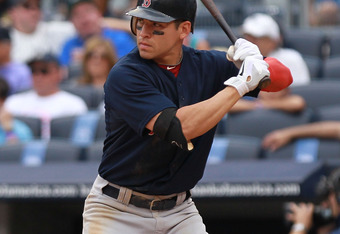 Nick Laham/Getty Images
That said, Granderson posted a HR/FB percentage of 24.6 percent against lefties last season, a number that would have ranked him second in all of baseball. 
It's highly unlikely that anyone would have that type of power jump in his age 30 season, and indeed I find it difficult to predict any similar power output this season. 
However, Granderson's improvements against lefties appear to be genuine, and a season along the lines of a .350 OBP and 30 to 35 home runs with consistency against both lefties and righties should be expected.
Ellsbury's case is much simpler.  His breakout season came in his age 27 season, commonly accepted as the prime of an athlete's career. It's reasonable to expect that after battling through a season of injuries, Ellsbury was finally healthy and his body had taken a step forward after natural development and a year of rehab, which led to the eye-popping power numbers. 
However, such a huge power jump is unlikely.  Returning to HR/FB percentage points us towards a 10 percent jump over his previous high in a full big league season.
Ellsbury had a fantastic season in other aspects, though, and the rest of his contact numbers were within a few percentage points of his career averages. While his power jumped, there wasn't a corresponding increase in other indicators of hitting luck. 
All of this means that while a power regression of some sort is likely, there's no reason to expect that, given Ellsbury's improved health, his numbers will drop all the way to 2008 and 2009 levels. 
Instead, expect him to end up around 20 home runs, which should be plenty for the Red Sox, given his speed, defense and the power surrounding him at the top of their lineup.
Ellsbury and Granderson will be linked, given their proximity and the rivalry between the Red Sox and the Yankees. However, they should also be linked as the two premier center fielders in the American League who took tremendous steps forward in 2011.