Tennis: Aces by the 5 Most Powerful Servers in the Game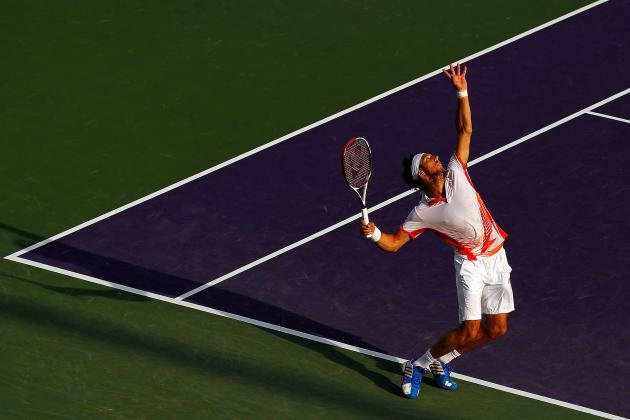 Mike Ehrmann/Getty Images

The great sport of tennis is replete with skilled servers. It's a skill that's essential to victory, especially in the ATP, where a player has to go through, in a best case scenario, a couple of top-20 players in order to face a Djokovic or a Federer in the finals of any given tournament.
There are some players, though, who stand out from the crowd. Since the times of Bill Tilden, and on through the days of Roscoe Tanner into the present, there are men who have made the sheer power of their serves a cornerstone of their game plan. In addition to being difficult to defend against, these players are also incredibly fun to watch.
This slideshow would like to pay homage to five of the best servers in tennis; in fact, the players in the following video clips own the five fastest serves to be accurately recorded. Because of questionable technological accuracy, Tilden and Tanner don't make the list, but they're replaced by two other powerful Americans who are stars in their own right.
Begin Slideshow

»
John Isner, the 6'9" giant from Greensboro, North Carolina, owns one of most dominant serves in today's game. Using his height to his advantage, he is able to drill the ball against some of the best returners on the Tour. This has earned him some significant victories, with two notable recent wins coming against Roger Federer and world No. 1 Novak Djokovic.
This video highlights Isner's world-record longest match against Nicolas Mahut at Wimbledon, in which he served 113 aces, another world record.
Joachim Johansson may never have won a major, but the Swede, who retired last year, had no problem with going for broke in a career where he peaked at No. 9 in the world.
Johansson won three titles in his 11-year career, in which he was plagued by injuries, none of them at a major tournament. Still, he holds the world's fourth-fastest serve at 152 mph. In addition, he owns the world record for the most aces in a four-set match, 51 (because playing for an extra 100-plus games gave Isner a bit of an advantage in the five-set match category).
Above is a clip in which Johansson scores an ace on a gutsy second serve.
World No. 25 Milos Raonic has received many accolades since he turned pro in 2008, among them the honor of being the highest-ranked Canadian player in history and being named the 2011 ATP Newcomer of the Year.
The young player, known for his accurate, hard-hitting serve, has no intentions of stopping there. He's already won three titles, and, after reaching the fourth round of the 2011 Australian Open, it's clear that he's looking to make a mark. He nearly entered the world record book less than two months ago, serving up a 155 mph fastball at the SAP Open, a tournament that he has won back-to-back.
This video is a small sample of his game, as it shows him serving against an opponent at the SAP Open.
Andy Roddick was once the world No. 1, and he was also, until recently, the owner of the fastest serve in tennis.
Just because he's not on top in either category doesn't mean that he isn't one of the most dangerous servers in the history of the game. His 134 mph average first serve stands alone as the fastest in the ATP, and he still has the record for the fastest serve in a Slam, a 152 mph serve that was one of his many 140-plus cannons.
This video shows Roddick's 155 mph serve from the 2004 Davis Cup, which held the world record as the fastest serve until 2011.
Ivo Karlovic is currently the best server in the game. In addition to being the tallest man on the ATP at 6'10", Karlovic also broke the world record for fastest serve with a 156-mph rocket in last year's Davis Cup. He uses his height to his advantage, propelling the ball at ridiculous speeds along trajectories that you'd have to be Andy Murray to cover.
Not only is his serve incredibly fast, it's consistent; in all but one of his professional matches, Karlovic has recorded an ace against his opponent. Additionally, he holds the record for the fastest second serve at 144 mph, a speed which would still earn him a spot tied for 16th on the all-time list.
The above clip features Karlovic doing what he does best: scoring an ace on a hapless opponent.