As the NHL season winds to a close the Philadelphia Flyers' Scott Hartnell sits with 66 points while Ilya Bryzgalov has just been named the NHL's First Star of the Month for March. Funny thing is, if you had polled many Flyers fans several months ago they would have gladly jettisoned both players.
Early in the season there were cries that the Flyers should look to get Scott Hartnell to waive his no-trade clause. Flyers fans considered him a liability, too inconsistent to justify a $4.2 million cap hit for this year and next.
Hartnell's 60-point high during the 2009 season seemed like an anomaly to many, as he followed that up with seasons of 44 and 49 points. Many fans felt that his increased numbers this season were due to the fact that he was playing on a line with Jaromir Jagr and Claude Giroux and that the team should unload Hartnell while his trade value was at its highest.
Fans calling for Hartnell's trade had a fair point, before joining Jagr and Giroux, you would have been hard pressed to find Hartnell's name on the score sheet. However, after the move he went on a tear and Flyers' fans being Flyers' fans, they were just waiting for Hartnell to come down to Earth; he never did.
Now the player that fans wanted run out of town is second in the team in scoring, putting up a career-high 66 points to go along with his team-leading plus-21 ranking. Hartnell also leads the team with 36 goals, 16 power-play goals and six game winners.
Are some of those numbers attributable to the line he plays on, no doubt they are, but could you not say the same things about Giroux's team-leading 89 points or Jagr's point total that puts him third on the team? The fact is that the Hartnell, Giroux and Jagr line has been one of the best in the NHL this season and without Hartnell, it's hard to say that another player could have clicked as well. Don't forget, he did not start the season on that line.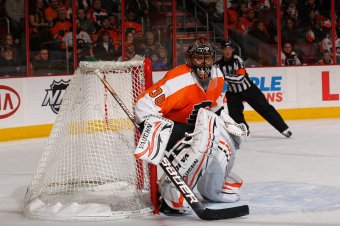 Al Bello/Getty Images
As far as Bryzgalov, until recently many felt that the Flyers had mortgaged their future on an oddball goaltender that, while good at giving interesting interviews, was not so good at keeping the puck out of the net. With $51 million invested in Bryzgalov over the next nine years, you can be sure that the team wanted more than some chuckles from Bryzgalov.
They finally got what they wanted in March, when the former Phoenix Coyotes netminder went 10-2-1 with a goals against average of 1.43 and a save percentage of .947.
Other impressive stats for Bryzgalov's month were his Flyers' record shutout streak of 249:43, a run that earned him two consecutive Player of the Week awards, the first player in 2012 to accomplish that feat. He also allowed two goals or less in 11 straight games.
Sadly the Flyers got bad news during the final days of March as it was revealed that their starting goaltender had a chip fracture in his right foot, an injury that has forced him to miss three games. The Flyers are hopeful that he will return for Tuesday's tilt against the New York Rangers.
One could argue that the Flyers would be in almost the same position they are in now even without Bryzgalov's stellar month of March; after all, he was pretty average up until that point. It's a solid argument, until you realize that the team won 11 games in March, an impressive number for a club that continues to work through multiple injuries.
It's hard to say that the Flyers would be out of the playoffs had they traded Hartnell and Bryzgalov. It's not hard to say that they would have been on the losing end of those trades. They would have never received fair value for the two players, and while they may have remained in the playoffs they surely would not have been sitting where they are now, top five in the league with 101 points with three games remaining.