Kentucky vs. Kansas: Championship Victory Validates John Calipari's Approach
April 3, 2012

Jeff Gross/Getty Images
Uh oh, everyone. John Calipari has led Kentucky to a national championship.
Let the handwringing, snickering, second-guessing and couch burning begin.
The man who's made a career out of making the NCAA look like a collective of cretins, who's established himself as the most masterful exploiter of college basketball's asinine rules regarding amateurism and the bogus notion of the "student-athlete" has finally been vindicated.
Whether you or anyone else likes it or not.
Yes, Coach Cal and his posse of NBA draft prospects and one-and-done "Diaper Dandies" did exactly what everyone expected them to do—dominate a gutty, scrappy, easy-to-root-for Kansas team, albeit before Bill Self's boys battled back to make a game of it in the second half. The slimy, grimy East Coaster got the revenge he'd so desperately sought against the lovable, affable Midwesterner. 
And thank the basketball powers-that-be that Cal did.
As Taylor Branch detailed in The Atlantic last October, it's about time someone exposed to cartel of college sports for what it is—an outdated sham—with the whole world watching.
In a way (and this is probably giving him too much credit), Cal's set himself as the college coaching equivalent of a computer hacker; he's learned the ins and outs of an inherently flawed system, used that knowledge to game said system and come out on top, all the while incurring the wrath of those who don't (or would rather not) know of the rot festering just beneath the surface and garnering the silent applause of those who do.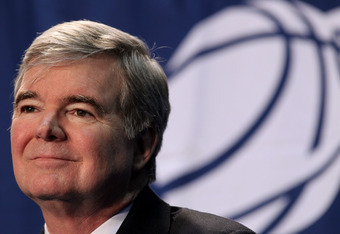 Nick Laham/Getty Images
It's a sort of martyrdom, albeit one that's both unintentional and coupled with the glory of immortality for Calipari. 
And one that certainly deserves commendation, from the most far-flung fan all the way up the chain to the office of NCAA president Mark Emmert in Indianapolis.
Because it's all too clear what college athletics have become: a relic of a bygone past in which the idea was to balance and blend academic achievement with athletic prowess, that has since been bastardized as a means of corporate profit and general fat-catitude.
So why not push the envelope? Why not use and abuse the rules to the point of public indignation? If these kids are good enough to play in the NBA when they're 18, 19 or 20 years of age, why not let a coach like Calipari take them in for one year and prepare them for what's ahead?
And who cares if he profits handsomely from it? Everyone else does. Why shouldn't Cal?
And why shouldn't the kids? If they feel he's the one most capable of setting them up for professional success, then wouldn't it simply make sense for all the best prep players in the country to flock to Lexington?
That's not to say that there isn't room left in college sports for idealism, albeit a far different breed than the one we've so often had shoved in our faces.
Not the pastoral purity of kids playing for the love of the game, or going to college to be students first and athletes later. Those are the nostalgic images of a bygone era that no longer exists, right along with the brightly colored illustrations of cows grazing in a sunny meadow that are slapped onto dairy products and politicians partaking in patriotic photo opportunities to stir the American spirit (not to mention a few votes).
Those are gone from the NCAA, or should be, now that Calipari has (intentionally or not) replaced them with more somber reminders that what we see on TV are young people putting their bodies at risk for the handsome benefit of big institutions and without proper compensation for themselves.
Reminders that these institutions and their private partners have been, are and will continue to take advantage of these young men.
Until that changes, until someone does something about the NCAA's byzantine consortium of regulations meant to maintain a squeaky-clean image, John Calipari will keep going to Final Fours and winning national championships with one-and-done McDonald's All-Americans and earning serenades from Luther Vandross.
Fans of the game will keep cheering and jeering in unequal discord and the world will keep on spinnin'.
With few observers ever the wiser.