Kentucky vs. Kansas: Players Who Boosted Draft Stock on Massive Stage
April 3, 2012

Jeff Gross/Getty Images
Strong performances in the biggest game of their lives just boosted the draft stock of three players. Not a bad night. 
This game gave scouts a chance to watch these players under the greatest pressure while matched up against other future-NBA players. 
Here are the ones that impressed. 
Kentucky, F, Anthony Davis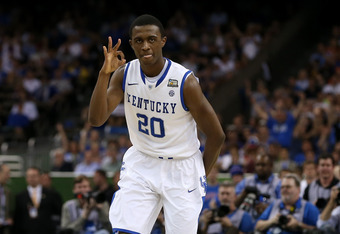 Jeff Gross/Getty Images
Despite the horrid showing on offense, Davis boosted his already-elite draft stock by showing how well-rounded a player he is.
The normally efficient Davis scored just six points on 1-of-10 shooting from the field. This is a guy that shot 63.9 percent for the season. 
But he did not need to score to dominate this game. Against a talented Kansas front line, Davis had 16 rebounds, five assists and three steals and set a title-game record with six blocks.
Davis is the complete package and he proved that on Monday. 
Kansas, F, Thomas Robinson 
Robinson was only 6-17 from the field, but keep in mind he was playing against two NBA-level front court players in Davis and Terrence Jones. 
The Wildcats were able to make Robinson the focus of their defense and he still scored 18 points. More importantly to his draft stock, though, is his performance on the boards. Against the length of Kentucky, he was still able to pull down 17 rebounds. 
The elite rebounding performance may have landed him in the draft's top-10.
Kentucky, G, Doron Lamb
With the big pressure and bright lights bearing down on him, Lamb's shooting stroke was as smooth as ever. 
He was 7-12 from the field and 3-6 from long range. He finished with a game-high 22 points and pitched in three assists, compared to just one turnover.
With this performance, he asserted himself as one of the best shooters in the draft by showing he can drill shots when it matters most.
Lamb is now a lock for the first round, and likely slid up to the early 20s.