Glory Road: What the First Road Trip Will Say About the Los Angeles Angels
April 3, 2012

Whitney Curtis/Getty Images
The 2012 Los Angeles Angels are not built to sneak up on anybody.
The addition of Albert Pujols and C.J. Wilson coupled with the return of slugger Kendrys Morales have many experts picking the Angels to do some serious damage this season, with some even tabbing the team as favorites to win it all.
With a tough stretch to open the season, fans won't have to wait long to see if this year's squad is championship material.
Nowadays, it seems there are two types of World Series champions.  The first type is the team that manages to stay off the preseason-hype radar while quietly playing good baseball throughout the season and manages to peak at the right time.  See the 2011 St. Louis Cardinals or the 2010 San Francisco Giants for recent examples.
The second type is the powerhouse everybody knows is loaded and winning a championship is more of an expectation as opposed to a goal.  Those teams start the seasons with loads of hype and proceed to validate everyone's expectations by running away with their division and even challenging for the best record in baseball.  The 2009 Yankees and the 2008 Phillies come to mind. 
Care to guess which category the Angels fall in?
Without a doubt the Angels are lumped into the same group along with the New York Yankees, Boston Red Sox, Tampa Bay Rays, Detroit Tigers and Texas Rangers.  None of these teams is going to surprise anybody and it would be an absolute shock if one of them doesn't represent the American League in this year's fall classic.  The only question is who's it going to be?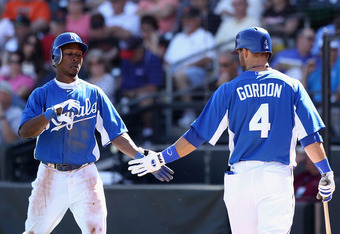 Christian Petersen/Getty Images
The Angels will be tested early, for sure, with three home games against the young, talented and hungry Kansas City Royals followed by three at the rejuvenated Minnesota Twins and culminating with a three-game series at the perennially powerful Yankees.  The first games at Minnesota and New York will be each team's respective home opener.
The Royals feature a trio of players for whom future stardom was predicted in LF Alex Gordon, 1B Eric Hosmer and 3B Mike Moustakas.  The future is now as all three look primed to have productive if not (at least in Gordon's case) All-Star seasons.
The Twins have a healthy Joe Mauer to go with a healthy Justin Morneau, and anytime you can add that kind of offensive firepower to a team that usually contends for a playoff spot then you are talking about a dangerous team.
The Yankees are their usual talented (and high-priced) selves, with former All-Stars at nearly every position.  They retooled their pitching staff behind CC Sabathia and look ready to defend their A.L. East title.
With so many loaded teams in the league this year, it's important for the Angels to get off to a good start in order to try and establish some momentum.  That doesn't necessarily mean they have to win right away, although that certainly wouldn't hurt.  It's more about playing well when you are facing the other teams' best players for nine innings at a time.  It's about seeing how all the pieces fit and how close the actual product on the field is to what the organization expects it to be.  And it's also about the
players getting a chance to reinforce to each other that which they already believe: This team can win it all.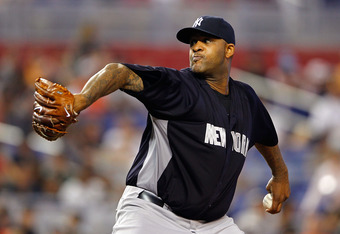 Mike Ehrmann/Getty Images
I liken this first road trip of the Angels' regular season to the first round of a championship prize fight.  It's a feeling-out process as well as a chance to see if the game plan they've put together is working or not.  It's an opportunity to see if they are good as they think they are and whether they can beat the teams they will have to beat in order to get back to the World Series.
Finding out the answers to these questions early can really set the tone for the rest of the season. 
A few extra base hits from Kendrys Morales off the Twins' Francisco Liriano or the Yankees' Sabathia means he's good to hit cleanup against anyone.  A routine save from closer Jordan Walden in which he retires the middle of the Twin or Yankee lineup in order means the bullpen is working as hoped. A quality start on the final game of the Yankee series from whoever claims the last spot in the rotation means every game this season brings the legitimate expectation of a win, regardless of whom they are playing. 
Those are the types of things that build confidence and allow a team to go out and perform to the best of its abilities night in and night out.  And let's face it, if the Angels do that, they are going to be right in the thick of things all season.
That's why this 10-day sequence, and particularly their first road trip, will say a lot about how good the Angels are going to be this season.  It's only nine games out of 162, but it's a good early test for a team that has plans on winning it all.
Because as Mike Tyson once said, "Everyone has a plan until they get hit."  During this first 10 days the Angels are sure to get hit.  I can't wait to see how they hit back.