San Francisco 49ers: How Will They Use Colin Kaepernick & Josh Johnson in 2012?
April 3, 2012

J. Meric/Getty Images
I must admit, I was taken by surprise when the San Francisco 49ers signed Josh Johnson to a two-year, $2 million contract, which included a $350,000 signing bonus. It is an incentive-laden deal in which Johnson could potentially earn another $1.5 million.
As I analyze this deal, the one thing that I keep coming back to is the fact that Jim Harbaugh and the 49ers are obviously not totally comfortable with the development of last year's second-round pick Colin Kaepernick.
If the 49ers were completely sold on Kaepernick, there would be no reason to bring in Johnson to essentially compete with him for the backup quarterback job.
Unfortunately, the man who may be out of a job is Scott Tolzien, as the 49ers won't keep four quarterbacks. Tolzien was very impressive in the preseason and looked like he could develop into a very solid player.
With the acquisition of Johnson, it creates a very interesting dilemma for Coach Harbaugh. Johnson and Harbaugh are very close, as Harbaugh coached Johnson at the University of San Diego and helped develop him into a pro prospect.
On the other hand, Harbaugh and GM Trent Baalke traded up to select Kaepernick. Harbaugh has often praised Kaepernick's athleticism and strong arm.
So the question is, how do the 49ers plan to use Johnson and Kaepernick?
The answer realistically is that if all goes well, neither player should see much action in the regular season or playoffs. Alex Smith is the 49ers quarterback, and if he continue play well and stays healthy, the job remains his.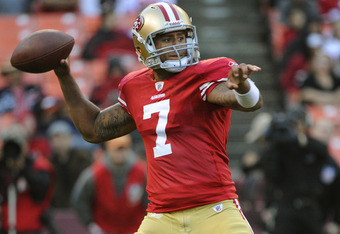 Thearon W. Henderson/Getty Images
Kaepernick and Johnson need to come into spring ball, then training camp, on top of their game. The ramifications are many if either one slips up. If Kaepernick does not show a lot of improvement and fails to impress, he will move further down the depth chart to the No. 3 spot.
For Johnson, the ramifications of a poor showing are much greater. With Tolzien still on the roster, if Johnson fails to impress, he could be gone, as there's no need to pay a third-stringer what the 49ers are paying Johnson.
Johnson will be in his fourth NFL season, and my gut feel is that Johnson will do well, as he knows Harbaugh's system and the two are very comfortable with each other. Like Kaepernick, he is athletic and has a strong arm, but Johnson's experience is what gives him the edge.
Kaepernick will be allowed to continue his learning process. He will undoubtedly play a lot in the preseason, but unless he definitively outshines Johnson, he will likely spend 2012 learning from the sidelines and in film study.
Do not expect Harbaugh to institute a set of plays for Kaepernick, like the Jets and Tim Tebow. That simply is not Harbaugh's style, nor is it something that typically works out well in the long run.
Quarterback controversies occur, and having dual quarterbacks typically negatively affects team chemistry and the proficiency with any one system.
The 49ers will move forward with Smith at the helm, and the backup will be the backup. I am looking forward to seeing how much Smith improves with an entire training camp, a second year working with Harbaugh, and a better receiving corps.