NBA Mock Draft 2012: Post-Final Four Breakdown of Full First Round
Jeff Gross/Getty Images
The Kentucky Wildcats had something special about their team this season. It seems like everybody on their starting five could be a first-round pick in this summer's NBA draft.
Anthony Davis, Michael Kidd-Gilchrist, Marquis Teague, Terrence Jones, and Doron Lamb could all go in the first round and it wouldn't be a surprise.
It's not just the fab five from Kentucky that's stirring up buzz before the NBA draft; plenty of names that put themselves on the map during the 2012 March Madness tournament will be highly sought after come June.
Here is a full first-round mock draft.
1. Charlotte Bobcats: Anthony Davis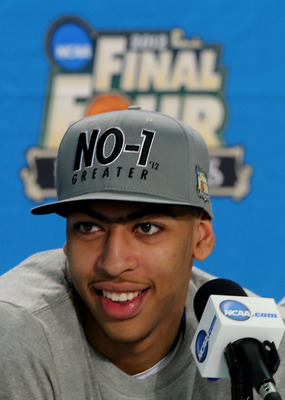 Jeff Gross/Getty Images
The unibrow may come back into style for the first time since the Neolithic Age, and it's all thanks to this guy.
Anthony Davis is an unbelievable physical specimen who will become Charlotte's franchise player for years to come, assuming they get the first overall pick.
This one shouldn't be a debate. Davis is a lock to be the No. 1 overall pick, especially after his solid performance in the tournament.
Davis averaged 14.3 points and 10 rebounds this season, and that's with four other NBA guys on his team. It's hard to put up numbers like that when you constantly have to spread the wealth because you're on a talented team.
If Davis goes to the Bobcats, he'll be the go-to guy and there's nothing in his 6'10", 220-lb. frame that says he isn't ready for the challenge.
2. Washington Wizards: Andre Drummond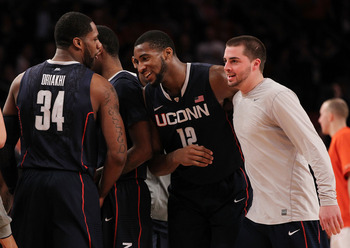 Michael Heiman/Getty Images
Imagine John Wall working the pick-and-roll with Andre Drummond. All of a sudden the Wizards will look respectable.
Drummond is a monster in the paint, weighing 270 pounds and standing at 6'11". He's also only 18 years old and could continue to grow. His massive wingspan gives him an advantage over other bigs, and there is no doubt that he'll be able to develop into a solid center in the NBA.
3. New Orleans Hornets: Thomas Robinson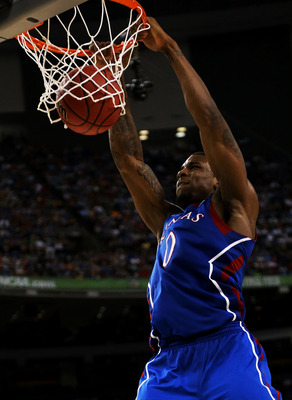 Ronald Martinez/Getty Images
Thomas Robinson's Kansas Jayhawks weren't able to win the national championship, but Robinson has done enough to be a top-five pick in this year's draft.
His game on both sides of the ball needs some work, but his work ethic is at another level.
4. Toronto Raptors: Michael Kidd-Gilchrist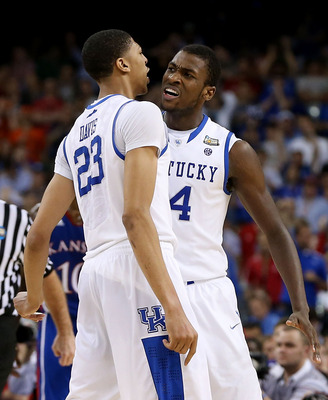 Jeff Gross/Getty Images
Michael Kidd-Gilchrist does a lot of things well, but has not really specialized in anything in particular. That being said, his performance in the March Madness tournament exemplified that he's been NBA-ready for awhile.
Kidd-Gilchrist will be a great fit with the Toronto Raptors, who have a solid young backcourt but need help on the wings.
5. Cleveland Cavaliers: James McAdoo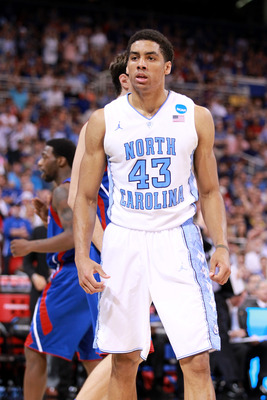 Andy Lyons/Getty Images
James McAdoo has a bunch of raw talent and the Tar Heel is showing that once he develops, he'll be a scary forward in the NBA.
The Cavs would love to have him on their team in order to run the pick-and-roll with Kyrie Irving.
6. Sacramento Kings: Harrison Barnes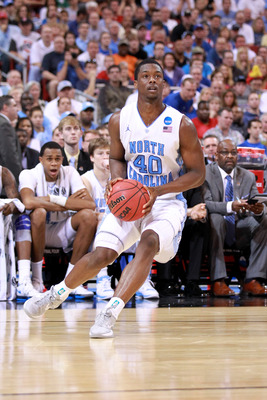 Andy Lyons/Getty Images
Harrison Barnes is a strong small forward with a solid jump shot. The best part about him is his attitude. He's a young athlete who wants to improve, will eventually reach his goal and shine.
The Sacramento Kings could use help on the wings so a guy like Barnes would be a fantastic addition.
7. Portland Trail Blazers (New Jersey Nets): Cody Zeller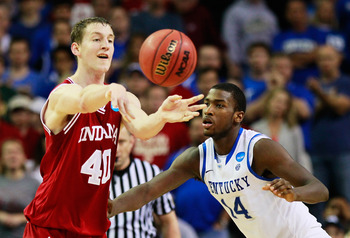 Kevin C. Cox/Getty Images
With the Greg Oden era over in Portland, the Trail Blazers' search for a new center begins now. Cody Zeller is a Pau Gasol-type of player who can post it up, but also hit mid-range jump shots.
8. Detroit Pistons: Jared Sullinger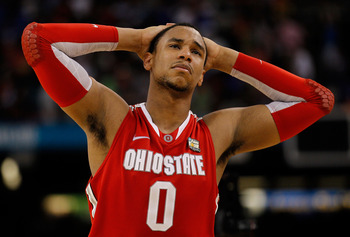 Chris Graythen/Getty Images
Jared Sullinger is close to 300 pounds. He uses his size to create shots in the paint and the Detroit Pistons would have one of the best young frontcourts in the league if they draft him to play with Greg Monroe.
9. Utah Jazz (Golden State Warriors): Bradley Beal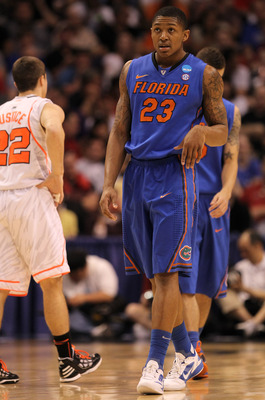 Jamie Squire/Getty Images
Bradley Beal is going to be a fantastic shooter in the NBA someday. He's an excellent catch-and-shoot player who can also play defense. Utah could definitely use him to come off the bench and spark the offense when needed.
10. New Orleans Hornets (Minnesota T'Wolves): Damian Lillard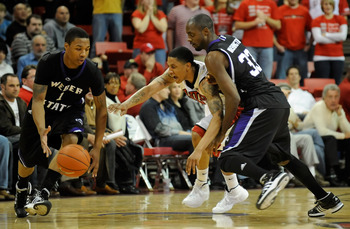 Ethan Miller/Getty Images
With Chris Paul gone, the New Orleans Hornets would love a point guard like Damian Lillard to lead the team. Lillard is an explosive scorer who can make buckets from anywhere on the court. He's a decent facilitator who could become make Hornets fans forget about CP3 very quickly.
11. Portland Trail Blazers: Kendall Marshall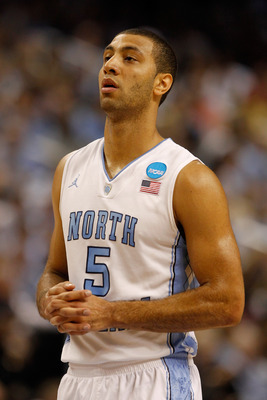 Streeter Lecka/Getty Images
A great point guard doesn't just score and rack up points. He makes his teammates' jobs easier by distributing and facilitating the offense. Kendall Marshall does just that and would be a welcome addition for the Blazers.
12. Milwaukee Bucks: Tyler Zeller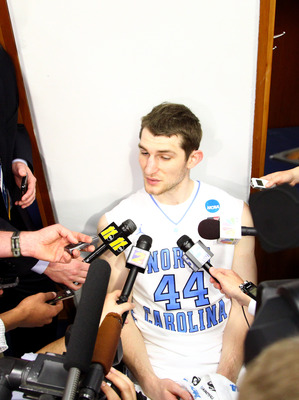 Dilip Vishwanat/Getty Images
With Andrew Bogut gone, the Milwaukee Bucks are in need of a new center. Tyler Zeller seems like a solid option. This season he scored over 16 points and averaged around nine rebounds per game for the North Carolina Tar Heels
Zeller is not the toughest guy and can be labeled as soft, but he can score and create his own shot. That itself makes him a valuable asset and a decent contributor.
13. Phoenix Suns: Austin Rivers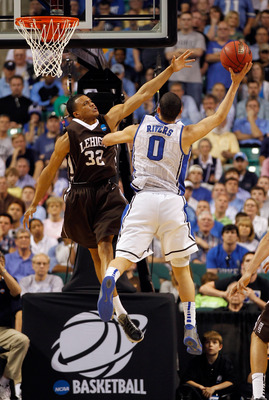 Mike Ehrmann/Getty Images
Austin Rivers has the potential to be a star in the league someday. He's shown how clutch he can be with his miraculous three-point shot against North Carolina earlier this season. He can score from anywhere on the court and has the potential to be a solid defender.
It might be wise for Rivers to stay in college to hone his skills, but in time the dude's going to be able to become an outstanding player.
It also helps when you're the son of one of the greatest coaches of this generation.
14. Utah Jazz: Terrence Jones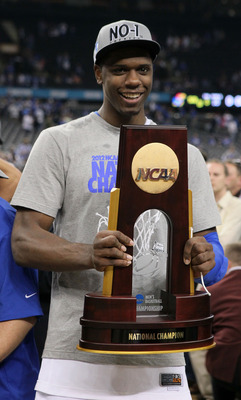 Jeff Gross/Getty Images
Terrence Jones averaged 12.5 points and seven rebounds this season for the Kentucky Wildcats. He's a versatile and talented wing player, but sometimes he can get mentally distracted.
15. Houston Rockets (New York Knicks): Jeremy Lamb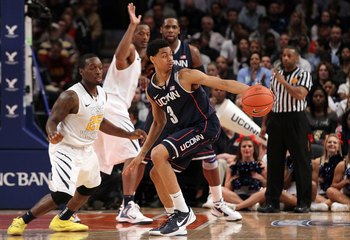 Jim McIsaac/Getty Images
Jeremy Lamb already has won a national championship as part of the 2011 Connecticut Huskies team. It's about time he takes his sweet jump shot to the NBA. He's a fantastic perimeter player, but his lack of size prevents him from driving in the lane.
16. New Jersey Nets (Houston Rockets): Perry Jones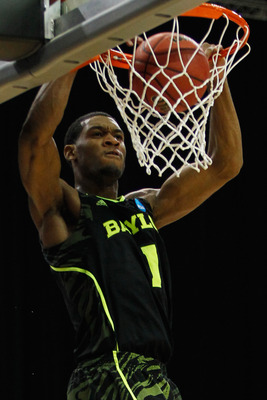 Streeter Lecka/Getty Images
Perry Jones III of Baylor put up 14 points and seven rebounds this season. He led the Bears to a deep tournament run and simultaneously improved his draft stock.
He's an explosive forward who can really hammer home a dunk.
The New Jersey Nets may lose Kris Humphries this offseason to free agency, so drafting Jones would be a great way to maintain the team's athleticism.
17. Denver Nuggets: Quincy Miller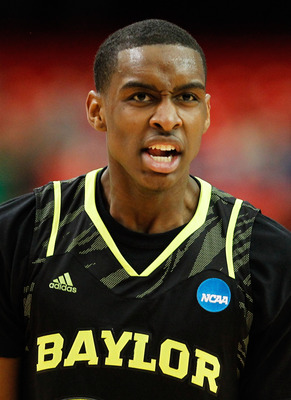 Streeter Lecka/Getty Images
Quincy Miller has the skill set to be a successful NBA player someday, but is his heart in it?
Miller was part of an excellent Baylor team this year but has had disciplinary problems throughout his collegiate career along with a major knee injury that could also lower his draft stock.
18. Houston Rockets (Dallas Mavericks): Meyers Leonard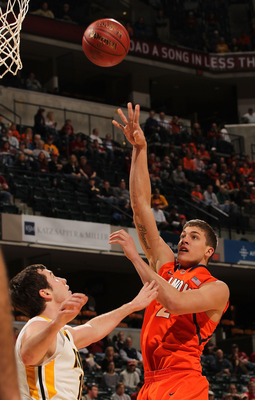 Jonathan Daniel/Getty Images
With Yao Ming's career abruptly coming to an end, the Houston Rockets would love to have more depth at the center position. Meyers Leonard could be that guy for them. He's a tall 7'1" center, weighing 245 pounds.
He averaged 14 points and eight rebounds for the Illini this season and shot 58.4 percent from the field.
19. Philadelphia 76ers: Terrence Ross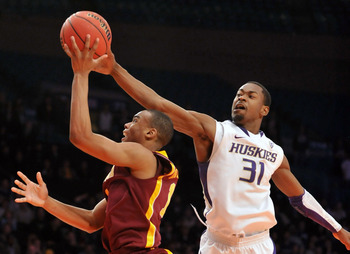 Jason Szenes/Getty Images
Terrence Ross won the Pac-12 Player of the Year award and averaged over 16 points per game for the Washington Huskies.
Ross is a highly athletic forward that can spell Andre Iguodala in Philadelphia. The Sixers are an elite defensive team and they could use Ross' physicality on their team.
20. Memphis Grizzlies: Andrew Nicholson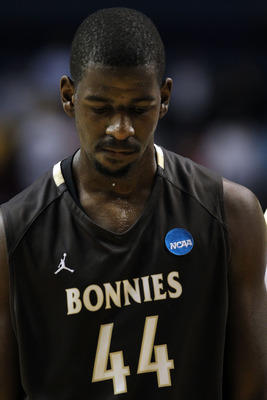 Jamie Squire/Getty Images
Andrew Nicholson averaged close to 19 points and nine rebounds at St. Bonaventure this season, exemplifying his ability to score from the paint. He makes a living down low, but can also set killer screens to help out his team offensively.
21. Atlanta Hawks: John Henson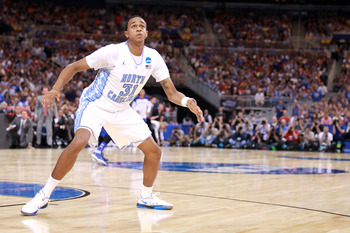 Andy Lyons/Getty Images
John Henson is a big-time shot blocker who averaged over three blocks per game. He has a 7'4" wingspan and can clog up the paint defensively.
The name of his game is defense and he'll be a welcome addition to the Atlanta Hawks, who would love to get bigger down low.
22. Boston Celtics: Arnett Moultrie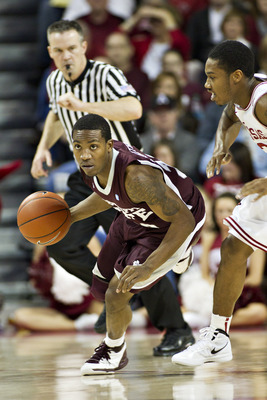 Wesley Hitt/Getty Images
Kendrick Perkins is long gone in Boston and Kevin Garnett might be next. The Celtics are extremely thin down low and Arnett Moultrie would be an excellent fit for them. The 6'10", 230-lb. big man put up 16 points and 10 rebounds this season in the SEC.
23: Indiana Pacers: Tony Wroten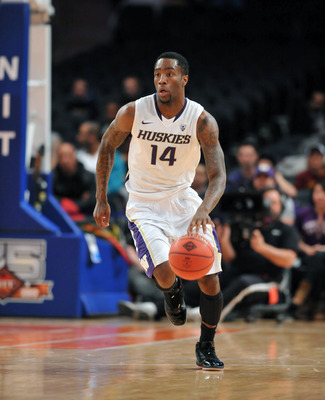 Jason Szenes/Getty Images
A solid shooter like Tony Wroten could eventually develop into a decent starter in the NBA. The Hawks would love to have him and develop him in their backcourt.
24: Boston Celtics (Los Angeles Clippers): Fab Melo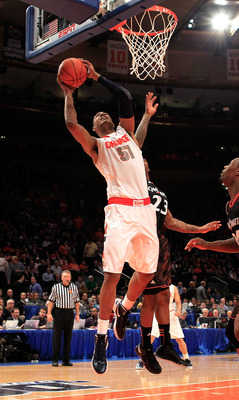 Chris Trotman/Getty Images
Once again, the Boston Celtics need big men and Fab Melo is a rare specimen that would make the team bulkier.
25. Orlando Magic: Dion Waiters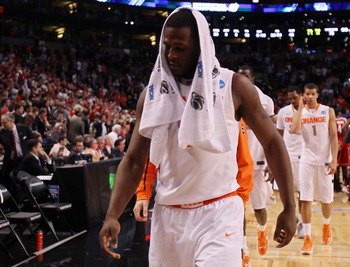 Elsa/Getty Images
Dion Waiters played against the toughest opponents in the NCAA, having played in the Big East, and that gives him plenty of big-game experience.
26. Cleveland Cavaliers (Los Angeles Lakers): Moe Harkless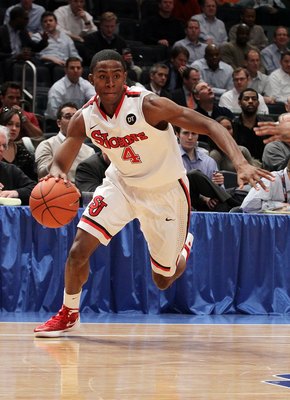 Jim McIsaac/Getty Images
With LeBron James gone, the Cleveland Cavaliers need to address their lack of a solid attacking wing. Moe Harkless could be that guy for them. Not only does he attack, but he has a solid shot in his arsenal and plays active defense.
27. Golden State Warriors (San Antonio Spurs): Tony Mitchell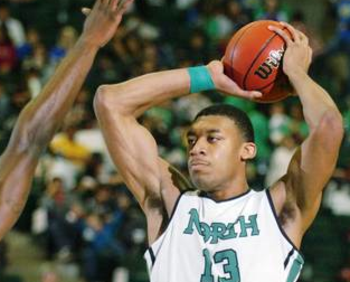 The Golden State Warriors have always been known for their offense. Perhaps they can use a guy like Tony Mitchell to bring some defense in the mix. He averages close to three blocks per game and he sucks up rebounds like a vacuum.
28. Miami Heat: Jeff Taylor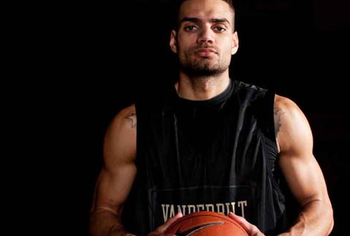 Jeff Taylor will probably never start on this Miami Heat squad, but the team could use more depth, especially on the wings. Taylor is a raw and athletic player who has a long body that helps him on both sides of the ball.
29. Oklahoma City Thunder: Royce White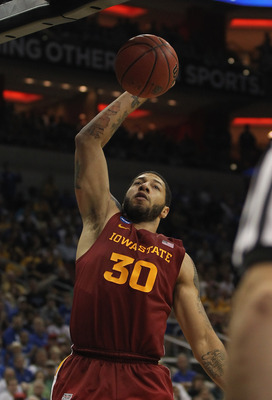 Jonathan Daniel/Getty Images
Royce White doesn't have the greatest shot in the world, but he has time to develop that. Playing alongside Kevin Durant and Russell Westbrook will assist in his development and perhaps turn him into a decent bench player.
30. Chicago Bulls: Doron Lamb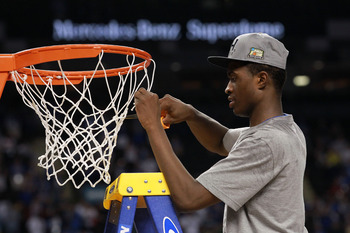 Ronald Martinez/Getty Images
From one championship-caliber team to another.
Doron Lamb has the potential to turn into an explosive scorer, but he still has plenty of room for development. That said, he has a solid jump shot and can be a jolt off the bench for Chicago.
Keep Reading