Kevin Durant vs. ESPN, and How It Will Affect Thunder's Championship Hopes
April 3, 2012

Christian Petersen/Getty Images
Kevin Durant has spoken.
Throughout the NBA season we've heard it. On ESPN's "First Take," Skip Bayless has tirelessly ranted about the Oklahoma City Thunder and their players. Bayless, an avid OKC fan, has said time and time again that Russell Westbrook shoots far too much.
He claims Westbrook is foolishly being a "shoot-first point guard" and takes more shots than Durant, the reigning two-time scoring champ. Skip thinks that Westbrook wants to be the MVP on a team that he is the second best player of and clearly says that the ball should be in Durant's hands most of the time. Bayless said in February (via newsok.com):
It happened again, right on schedule for you to sit across from me today. I'm going to say it again. I'm going to be very clear about this. My Oklahoma City Thunder are now blessed to have the man, I think, who has turned into the best player in the NBA, Kevin Durant, who is not blessed to be partnered with a "point guard" who routinely brings up the ball and then routinely chooses to shoot more shots than the superstar standing over on the wing saying "Do I get to play today? Do I get this ball this time? Maybe I will, and if I do I better force a shot because I know I'm not going to get the ball back.' I'm going to say it again, this is a postseason recipe for disaster. I love the Thunder because it's my hometown team. But I'm not going to sit idly by like some blindly-loyal fan and say nothing about something that is getting to be a bigger and bigger issue on a nightly basis. He did it again last night. 'Well they both scored 31. What a duo.' They both had four assists. The point guard had four assists.
As you can see, Skip thinks that Westbrook wants to be the MVP on a team that he is the second-best player. And he is really upset about it. And I've been sitting there every morning, nodding my head, and agreeing with him. I keep remembering the 2011 NBA Playoffs and how Westbrook was clearly the reason that Oklahoma City couldn't keep up with Dallas.
But when asked about the accusations by Skip Bayless, Durant's response completely shocked me.
"That guy (Bayless) doesn't know a thing about basketball," Durant said (via newsok.com).
"We're worse when I take more shots. Like I said, that guy doesn't know a thing. I don't think he watches us. I think he just looks at the stats. And traditionally, a point guard is not supposed to take more shots than everybody else on the team. But we're better when he does do that and he's aggressive. And I'm better when I'm out there facilitating, rebounding, defending and being more efficient on my shots with less shots."
I was lost for words. I clearly agreed with Bayless, and I thought Durant would too. I seriously was stunned.
But then it hit me.
Durant was making the smartest decision possible for the OKC Thunder. He was sticking up for his teammate in order to keep the chemistry going in the locker room. 
"No doubt," Durant said. "I'll stick up for all my guys, especially against a guy that I have never seen at an NBA game before. It just starts to get sickening when you hear somebody talk about your teammate like that almost every day. So I'll stick up for him every single day."
He went on:
"Because people from the outside don't really have a (feel) on what goes on in the locker room or how we go about every single day. Guys focus on the guys here in the locker room and the coaches and trainers and everybody here in this organization. All we focus on is each other and we can't worry about what outside people say because what I've learned is people are going to like you and people are going to hate you."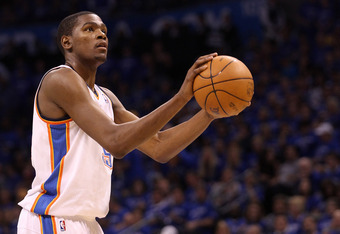 Christian Petersen/Getty Images
And he couldn't have put it in a more professional way. Whether Durant completely disagrees with Skip Bayless or not, he was not going to let his team down. He didn't want any outside drama to hurt the chemistry that the Thunder already have.
But sadly enough, there is no way to end the criticism. Skip Bayless posted on twitter tonight:
"My favorite player Kevin Durant blasts me for criticizing Westbrook, says they're BETTER when Russell Westbrook shoots more, then proves it vs. Memphis. Tomorrow at 10am ET, ESPN 2 I will answer the shots Kevin Durant took at me tonight. Of course, he has a standing invite to come on our show....I could never have imagined Michael Jordan saying the Bulls were better when Scottie Pippen took the most shots." He then went on to tweet directly to Kevin Durant saying:
"Kevin Durant, I want to hear from YOU tomorrow between 10-12 am..."
Skip has a point. The Thunder fell at home tonight 94-88 to the Grizzlies. So you start to wonder: Did all of this end up affecting the Thunder's team chemistry? Will this completely change the way they have been playing? That answer is waiting for OKC to answer.
They have to rise. They have to push the drama aside. The stench of a disappointing game vs Memphis still lingers in the air. How will Kevin Durant answer this time? Will he choose to address Skip? His decision will have a crucial impact on the Western Conference.