WWE Raw: Has Daniel Bryan's WrestleMania Loss Gotten Him More 'Over' Than Ever?
April 3, 2012

YES! YES! YES! YES!
That was all that could be heard echoing around the American Airlines Arena throughout a lot of last night's Raw. That's the chant that has quickly become a fan favourite since Daniel Bryan first started turning heel, using it when he would win a match.
This, however, wasn't the case at WrestleMania 28 on Sunday, when he lost to Sheamus in a record-low 18 seconds. The ex-champion then quickly left the ring and stadium, and little else was mentioned about him through the rest of the event.
Many fans, including me, were left disappointed and angry at the fact that Bryan had such a minor part at WrestleMania despite his match being tagged as one of the main events. Some, however, like Bleacher Report's own Big Nasty, defended the decision, seeing it as a necessary move to make Sheamus look good. Whatever the reason the WWE had for cutting the length of its opening bout by an enormous amount, I doubt they were expecting to get this kind of response.
Sheamus' reception from the crowd when he appeared on the ramp was Cena-esque in comparison to what the Irish brawler normally gets. He has been receiving a rocket of a boost to the main event scene that the fans took surprisingly well. Superstars who usually get this treatment always end up with a less-than-favourable reaction (See: John Cena) yet Sheamus has always managed to be seen fairly well by the fans. Until now.
On the other hand, the mediocre heat Daniel Bryan got before WrestleMania has turned into nonstop chants that even go through segments involving The Rock and John Cena! I knew that the fans would have a backlash against his quick disposal on the grandest stage of them all, but this is a whole other level. If this sort of support is kept up, we could see Bryan quickly being taken seriously again by the WWE bookers.
But then again, it is very rarely that the company does something just because the fans want it. Yet as I sit here writing this article John Cena is acknowledging the crowd's call for Bryan.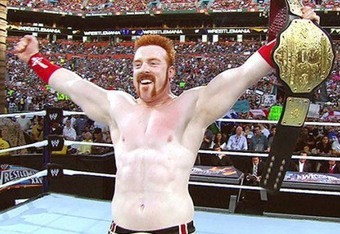 The only question that can be is asked is will this sort of passion for D-Bryan be maintained over the next couple of months or even weeks. His original push for the United States Championship was based solely upon his overness with the crowd but as their interest dwindled, so did his push. Lets just hope that the WWE fans don't lose interest in him this time because without Daniel Bryan as World Heavyweight Champion SmackDown doesn't seem worth watching. Or is that just me?
UPDATE: With Lesnar's return I wouldn't be surprised if "Daniel Bryan" and the word "YES!" is completely wiped from every WWE fans vocabulary. All that anyone interested in pro wrestling is going to be able to think of now is when is Lesnar going to strike next!
Daniel Bryan vs. Brock Lesnar at WrestleMania 29 anyone? YES! YES! YES! YES!