Adam Dunn and the 5 Worst MLB Contracts: First Base Edition
Harry How/Getty Images
Recession, what? While college graduates work as busboys in their hometown bars or stock cotton candy cones in the local amusement park, baseball continues to offer monstrous contracts to its most monstrous stars—with first basemen being the biggest beneficiaries.
Just this year, first baseman Albert Pujols inked a 10-year, $254 million contract with the Angels while Prince Fielder signed a nine-year, $214 million deal with Detroit. The second-and fifth-priciest contracts in the history of the game. First basemen Miguel Cabrera and Mark Teixeira also crack the top-10 highest salaries, and this week, the Cincinnati Reds reportedly signed Joey Votto to a 10-year, $225 million contract; the fourth-largest ever.
So, what's the deal with first basemen? Since the game began, these lumberjack-shaped (and sometimes just plain plump) figures have always been some of the most sought-after free agents. Their raw power strikes awe in opposing teams and puts fans in the seats. They can change the outcome of a game with one grand swing and hit balls harder and farther than Pedro Cerrano.
But over the years, many first basemen have not produced for their pay. They get injured. They strike out too much. They have mental breakdowns. They don't win championships. They eat too many hamburgers. So, let's take a look at these guys. The ones that just couldn't live up to their pay grade and should really only be brought out for a home run derby or the Coney Island hot dog eating contest.
Mo Vaughn, Anaheim Angels: $80 Million, 6 Years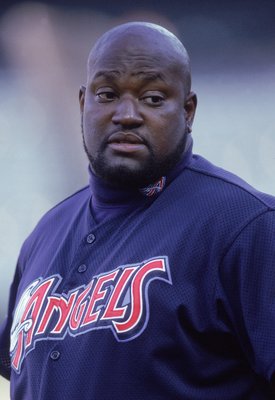 Mo Vaughn
Tom Hauck/Getty Images
Big Mo. Big problems. The Boston Red Sox-great carried a big personality and even bigger swing but just couldn't handle the gold coast. Mo reportedly tripped over his own two feet before his first game as an Angel, falling face-first into the dugout.
The big fella missed the entire 2001 season and couldn't finish out his contract out due to chronic knee problems. Vaughn's epic home run blasts became far and few between as he hit less in his final five years than his previous three. His batting average and slugging percentages also dropped considerably. Let's not even get into his stint with Jeromy Burnitz, Robbie Alomar and the Mets.
Although Mo's legacy will be forever tarnished by knee injuries and a bad contract, his moonshot home runs, lovable figure and intriguing batting stance are unforgettable.
Richie Sexson, Seattle Mariners: $50 Million, 4 Years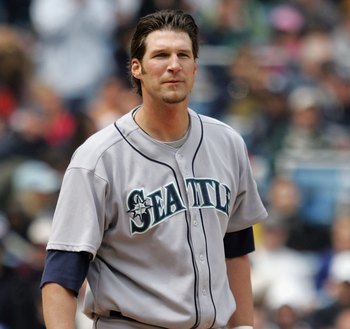 Richie Sexson
Jim McIsaac/Getty Images
At 6'8", Richie was a tall man. Maybe he should have played basketball.
I kid. Sexson was a good ballplayer and could really hit the long ball. The big-sexy had two seasons with the Brewers in which he had 45 home runs and 125 RBI. In the first year of his Mariner contract, Richie played well, hitting 39 home runs and knocking in 121 runs.
Unfortunately, Sexson's productivity dipped dramatically during the next three years, powering just 34, 21 and 12 dingers during the '05 to '07 seasons. The Mariners dropped Sexson in mid-2008 at the age of 33, and after a brief stop with the Yankees, Sexson's baseball career ended.
Richie complained of problems at home and had a short fuse which many teams were afraid to take a chance on. I mean, just look at this picture. This guy was always furious. How about the WWE, Rich? A place where big-and-angry is always acceptable.
Jason Giambi, New York Yankees: $120 Million, 7 Years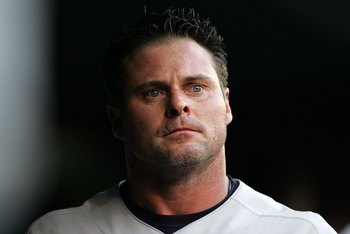 Jason Giambi
Ronald Martinez/Getty Images
Although "The Giambino" had some great seasons during his Yankee tenure, the power-hitting first baseman also had some of the worst seasons of his career. Jason hit 40 home runs in each of his first two years into the contract, but then fell on some bad luck.
Giambi was diagnosed with a benign tumor by team doctors in 2004. The media deemed this a strange condition and started PED rumors. Giambi was bombarded by reporters in the Yankee locker room and looked like a very sweaty and very nervous Chris Farley. In-game dugout shots of the once easygoing slugger showed a jittery, scared ballplayer. Jason only hit 12 dingers during his injury-shortened '04 campaign.
Giambi did have somewhat productive seasons in '05 and '06 but his batting average dropped dramatically and his confidence seemed to wane. In 2007 he hit just 14 home runs and in 2008, the first baseman's batting average dipped to .247, a year in which he tallied 111 strikeouts and also split his eyelid walking into a bathroom door. No one is sure if Jack Daniels had a hand in the latter.
Since his time with the Yanks, Jason has found new life with the Colorado Rockies. A place where the balls travel easily and his goatee grows freely.
Adam Dunn, Chicago White Sox: $56 Million, 4 Years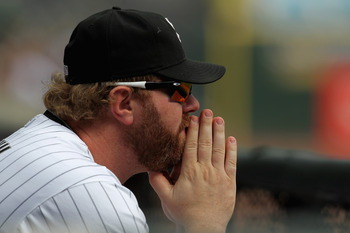 Adam Dunn
Jonathan Daniel/Getty Images
Dunn..Dunn..Dunn..Dunnnn.
Didn't think this guy would make the list? Dunn hasn't had enough bad years to put him in the same situation as these other guys, but he's well on his way after last year's performance. The Big Donkey has hit close to 40 home runs during the past eight seasons.
That is...until 2011.
After signing a pricey deal with the Chi-Sox, Dunn hit an uncharacteristically low 11 home runs to go along with 42 RBI. Those are Jason Phillips' numbers. Dunn produces those stats in a month's time.
He can eat 11 baseballs.
Dunn's numbers did seem to dip after he had an appendectomy at the beginning of 2011. Where's that appendix? Can we...re-insert?
Jeff Bagwell, Houston Astros: $85 Million, 5 Years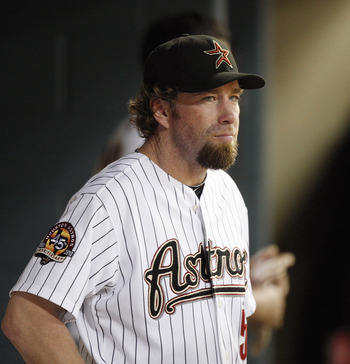 Jeff Bagwell
Bob Levey/Getty Images
Bagwell turned 34 years old in 2002 and the Astros awarded the perennial All-Star with an $85 million contract. Little did they know, Bags would barely make it through the 2005 campaign.
Chronic arthritic conditions forced the Astros great to be liable both at the plate and in the field. So much, that he was reduced to a pinch-hitting role in 2005 and was eventually cut from the team in 2006. Jeff's home run totals dipped from 39 to 27 to 3 and his strikeouts numbered consistently in the 120 to 130 range. The veteran's menacing batting crouch began to look like an old man who just couldn't stand up straight.
Bagwell will still be remembered by many as one of the greatest Astros ever, but ringless fingers and steroid accusations will always haunt his career.
Keep Reading