Nike NFL Uniforms: Predicting the Highest-Selling Player Jerseys
April 3, 2012

Dilip Vishwanat/Getty Images
Tuesday is going to be a big day for both Nike and the NFL. Nike is taking over as the league's new outfitters this season, and the company will reveal its renditions of all 32 team uniforms at precisely 11 a.m. ET tomorrow, according to ESPN.com.
However, you won't be able to go out and purchase a brand new Nike jersey until April 26th, the first day of the NFL draft. Until then, you'll have to wait.
When these things are finally available...man, they're going to sell like hotcakes. 
But which individual players are going to sell the most jerseys? Here are a few educated guesses.
5. Eli Manning, New York Giants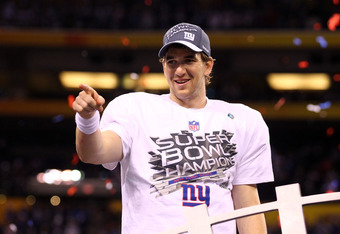 Al Bello/Getty Images
One doesn't tend to think of Eli Manning as a guy with league- and nation-wide appeal, but he apparently inspires some pretty significant jersey sales.
According to the USA Today, Manning ranked eighth in jersey sales in 2011, in front of Tony Romo and just behind Michael Vick.
For the record, this information was released roughly a month before Manning went out and won his second Super Bowl ring. It's safe to say his popularity has only increased since then.
Manning is going to sell a ton of jerseys once Nike lifts the lid on its designs, as anybody who fell for him during the Super Bowl is going to be wanting some official Manning threads. Judging from the previous sales, there are still a lot of people out there who don't have any.
4. Aaron Rodgers, Green Bay Packers
Nick Laham/Getty Images
Aaron Rodgers sold more jerseys than any player in the league last year. I assume that had something to do with his Super Bowl MVP, and then his ridiculous 2011 season.
Rodgers is bound to see some decline in jersey sales this year, but not much. The best quarterbacks in the league (Tom Brady, Drew Brees, et al) tend to stick around at the top of the jersey sales lists, and Rodgers is the best quarterback in the league right now.
It helps that Rodgers has appeal away from the field as well. When he's not threading needles with his passes, he's not a bad salesman.
I mean, do I need to say it?
Okay fine, "Discount Double Check."
3. Cam Newton, Carolina Panthers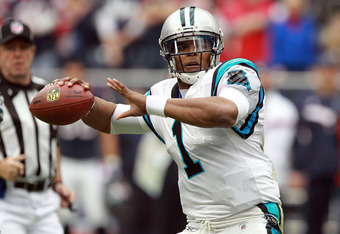 Ronald Martinez/Getty Images
Cam Newton did not crack the top 10 in jersey sales in 2011.
That will change in 2012. After the rookie season he just had, his jersey is bound to be in high demand. 
I'm not just guessing here. After Newton burst onto the scene with 422 yards passing against the Arizona Cardinals in Carolina's season opener, TMZ reported that Newton's jersey sales had immediately skyrocketed.
Newton hasn't lost any appeal since then. In fact, he's probably more popular than ever after winning the Offensive Rookie of the Year award.
2. Peyton Manning, Denver Broncos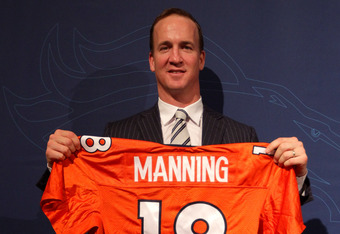 Doug Pensinger/Getty Images
Peyton Manning did not crack the top 10 in jersey sales in 2011, but Darren Rovell of CNBC reported way back in January of 2011 that Manning finished No. 4 in jersey sales in 2010.
Now that Manning is on a new team (it still feels weird), all those who bought Manning jerseys in the past are going to have to open up their wallets and dish out a few bucks to buy a new one.
Folks in Indianapolis are going to save their money, but none of us should kid ourselves by thinking that Manning is only loved in Indianapolis. He's one of the most beloved players in the league.
Besides, people in Denver are going to need Manning jerseys to replace their old Broncos jerseys. You know, the ones they bought to honor a certain mediocre quarterback.
...Otherwise known as the next guy on this list.
1. Tim Tebow, New York Jets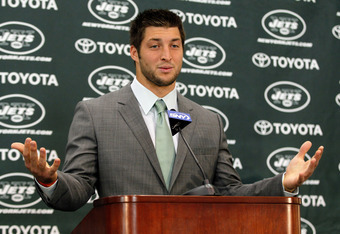 Mike Stobe/Getty Images
Because he's Tim Tebow.
That is all.
Okay fine, if you must have more info, Tebow finished second in jersey sales in 2011. All those jerseys are obsolete, and the recent legal dispute between Nike and old league outfitter Reebok has made it clear that Tebow's jersey is still very much in demand.
It's in demand because he's Tim Tebow, and because this is an exciting time for him.