Barcelona vs. AC Milan: Pressure on Rossoneri to Come Through at Camp Nou
April 3, 2012

Claudio Villa/Getty Images
There's much more at stake for AC Milan at the Camp Nou than "just" victory or defeat against Barcelona, much more than simply the chance to be one of the final four clubs standing in the UEFA Champions League.
There's also history and irony, not to mention a Serie A title.
The Rossoneri need only turn to Arsenal, whom they narrowly ousted from European competition, to understand the dangers inherent in their current circumstances and the dire consequences that may well follow failure.
Gunning For That No. 1 Spot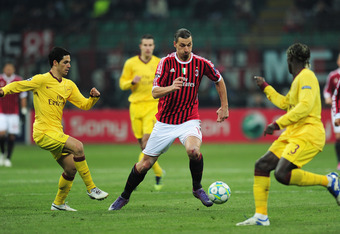 Shaun Botterill/Getty Images
Consider where the aforementioned Gunners found themselves 13 months ago. Like this Milan side, Arsenal were riding high, enjoying a nearly-fearless run of form to put themselves in position to challenge for the English triple—the English Premier League title, the FA Cup and the Carling Cup.
Both sides managed to advance deep into their domestic cup competitions before suffering debilitating losses. Milan met its match against Napoli in the semifinals of the Coppa Italia. Arsenal, on the other hand, collapsed at Wembley Stadium in the Carling Cup final at the feet of Birmingham City, a side that was subsequently relegated to the Football Championship.
For the Gunners, that result came shortly after pulling out a stunning 2-1 finish over Barca in the first leg of their Champions League tete-a-tete, while Milan's exit at Napoli's behest came shortly before their home tilt with the Blaugrana.
Granted, 0-0 doesn't have quite the same ring, though it was a favorable result nonetheless for the Rossoneri. After all, they managed to hold Barca's mighty attack scoreless (for just the fourth time this season), despite a stunning disparity in time of possession (65 percent for Barca) and shots (18-6 in favor of the Spaniards).
From Hardwared to Hopeless
As effective as Massimiliano Allegri's defensive tactics (and poor pitch conditions) proved to be against Barcelona at the San Siro, they won't likely be enough to survive and advance to the semifinals at the Camp Nou, the same place where Arsenal's pursuit of greatness fell off the rails last season.
The Gunners were gutted from start to finish by the Catalonian kings, mustering just 24 percent possession and nary a single shot, on goal or otherwise. Their lone goal was an own goal off Sergio Busquets, sandwiched between strikes by Lionel Messi and a score by Xavi.
The Rossoneri can ill afford to bunker down in front of their net and hope that a toothless attack will be enough to push through, especially after the way Arsenal was slaughtered while employing such an approach.
And especially after seeing how far down the rabbit hole Arsene Wenger's squad fell thereafter. The devastation followed Arsenal back to the British Isles, where they lost 2-0 to Manchester United to fall out of the FA Cup and subsequently suffered through a slew of disappointing results while ceding ground in the EPL to Man U (the eventual champions), Chelsea and Manchester City.
Play to Win...or Else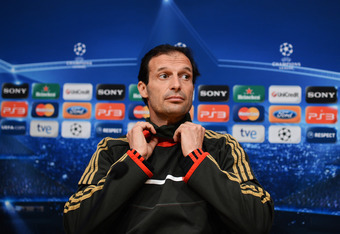 Jasper Juinen/Getty Images
Milan, meanwhile, sit unsteadily atop the table in Serie A, just two points ahead of a resurgent Juventus side, their margin for error precariously slim. Even the slightest slip-up could cost the Rossoneri a shot at their 19th league title.
Combine that with a potential loss to Barca, and Milan could quickly find themselves on the outside of the trophy case looking in, just as Arsenal were around this time last year.
Granted, the pressure to bring home hardware won't fall quite as heavily on Milan's shoulders as it did Arsenal's. After all, Milan have added five trophies to their collection since Arsenal hoisted the FA Cup in 2005.
But, if the Rossoneri are to avoid venturing down that treacherous (and all-too-recently-tread) path entirely, if they're to move on to the next round of European competition rather than watch their season fall apart, they must play confidently and aggressively.
They must play to win, rather than not to lose. Otherwise, the consequences of defeat may prove to reach further than anyone in Lombardy would like to imagine.