2012 NFL Mock Draft: Each Team's Ideal Pick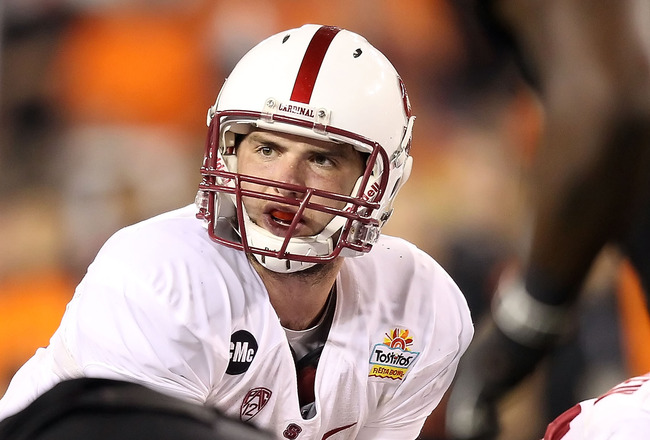 Christian Petersen/Getty Images
We are finally into April and the 2012 NFL Draft is just around the corner! This time of year is a second Christmas for football fans as the anticipation builds to see which players our favorite franchises select.
There are some sure-fire picks this year, as Andrew Luck and Robert Griffin III will be the first two played chosen. But some franchises are bound to make mistakes.
In this mock draft, I will break down each team's ideal pick, not necessarily the direction they will go. I also will give my opinion on which players have the highest potential and which are the highest risks.
1. Indianapolis Colts: QB Andrew Luck (Stanford)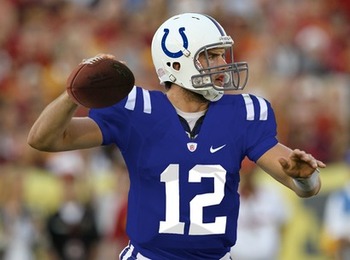 This pick is as sure-fire as it gets, even though Colts owner Jim Irsay is "wavering."
Luck is touted as the best QB prospect since Peyton Manning, which means the Colts have the opportunity to end up with the two best QB prospects in the last 20 years.
At 6'4'' and 235 pounds, Luck is the prototypical-sized quarterback and fits beautifully in the NFL.
Shout out to B/R member Lee Traylor for the photoshop job. Check him out!
2. Washington Redskins: Robert Griffin III (Baylor)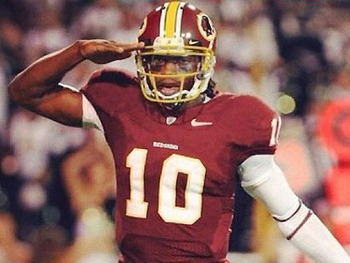 By trading up to the No. 2 spot, the Washington Redskins are getting their franchise quarterback. But, I am in the minority who thinks RGIII could possibly be a bust.
Don't get me wrong, Griffin is a phenomenal athlete who has all the tools to be a successful NFL quarterback, but I am going to use a term I hate. He's a system quarterback. With the right coaching and appropriate amount of time, he could be a star.
But the reason the 'Skins traded upis because they do not having a quarterback capable of producing wins. With that said, RGIII will be thrown into the fire with only one off-season to learn how to be a pro-style quarterback.
If he can't quickly learn to read defenses and go through progressions, he will struggle.
Having said all that, I ultimately believe he will be good, but not for a year or two.
Shout out to B/R member Lee Traylor for the photoshop job. Check him out!
3. Minnesota Vikings: LT Matt Kalil (USC)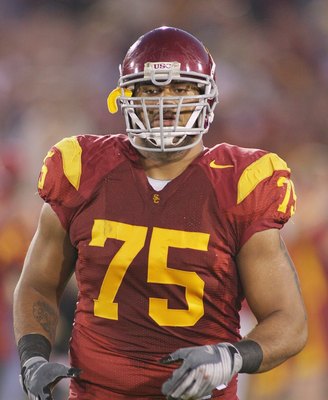 Jeff Golden/Getty Images
The Vikings might be looking to trade down for someone in desperate need of a quarterback who may be interested in Texas A&M's Ryan Tannehill.
That would be a dumb move. The Vikings need a cornerstone left tackle and Kalil is just that. After selecting Christian Ponder with the 12th pick last year, the Vikings need to keep him upright before he becomes the next David Carr.
Kalil will keep Ponder upright.
4. Cleveland Browns: WR Justin Blackmon (Oklahoma State)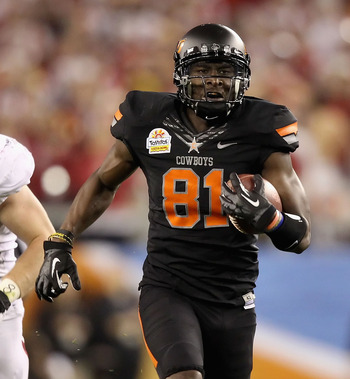 Christian Petersen/Getty Images
It seems as if the Browns haven't quite given up on Colt McCoy, so here I have them adding a No. 1 receiver to help McCoy out a little bit.
If the Browns gave up on McCoy, I'd have them reaching for Ryan Tannehill.
Blackmon has the ability to be a No. 1 receiver. He can help to spread the field for McCoy and could complement Greg Little at wide receiver.
Trent Richardson is also a possibility, and I do believe he will be the pick here. But my mock is based on ideal picks.
5. Tampa Bay Buccaneers: CB Morris Claiborne (LSU)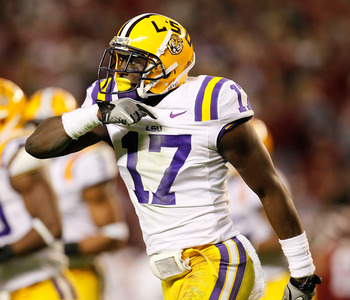 Kevin C. Cox/Getty Images
The Bucs need corners. With Aqib Talib going to jail and Ronde Barber nearing the end of his career, the Bucs will most certainly draft a cornerback high in this year's draft.
So who better than Morris Claiborne? With his shutdown ability and his hard-nosed tackling, the Bucs should send the card to the podium very fast.
6. St. Louis Rams: LT Jonathon Martin (Stanford)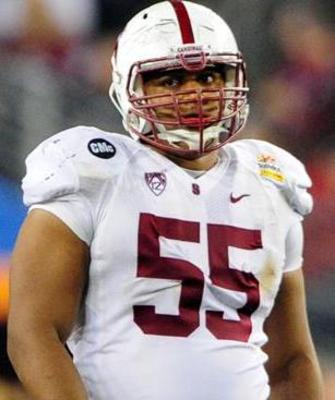 The Rams need a left tackle to protect Sam Bradford. Roger Saffold looks overmatched on the left side, which could eventually result in the injury of Bradford.
Martin kept Andrew Luck upright and will do the same for Bradford.
7. Jacksonville Jaguars: WR Michael Floyd (Notre Dame)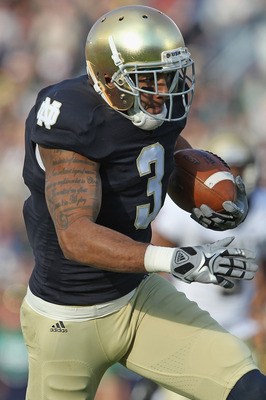 Jonathan Daniel/Getty Images
Lets face it, Blaine Gabbert is terrible, and I mean terrible. But the Jags won't be able to do any better in the first round in this year's draft with Luck and Griffin gone.
Tannehill will get selected, but he is more of a project. So I have the Jags selecting a receiver to help Gabbert.
Floyd is a big receiver with big-time ability, and the Jags would do just fine with him as the selection at No. 7.
8. Miami Dolphins: QB Ryan Tannehill (Texas A&M)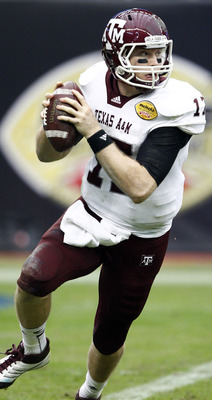 Bob Levey/Getty Images
And the reaching starts. After missing out on Peyton Manning, Matt Flynn and letting Chad Henne walk, the Dolphins are in desperate need of a QB. Although Tannehill is a major project with bust potential, the Dolphins can't pass on him.
The converted receiver will step in and be the starter from day one.
9. Carolina Panthers: DT Dontari Poe (Memphis)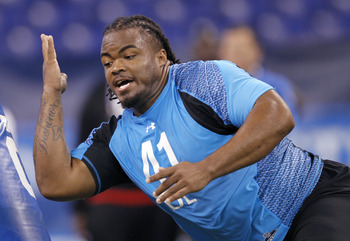 Joe Robbins/Getty Images
The Panthers have their franchise QB in Cam Newton, but the defense is lacking. Even after drafting Sione Fua in the third round last year, it would be impossible for the Panthers to pass on a big-bodied beast like Poe.
10. Buffalo Bills: T Riley Reiff (Iowa)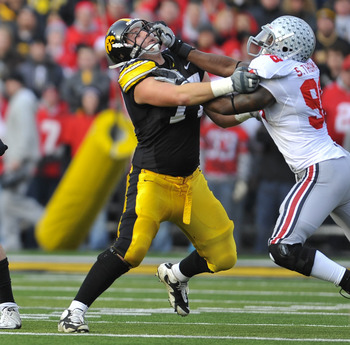 David Purdy/Getty Images
The Bills were in need of defensive ends, but after signing Mario Williams and Mark Anderson, that is no longer the case. However, after losing left tackle Demetrius Bell, tackle becomes a need. Reiff is an excellent tackle capable of playing both right and left tackle.
Reiff should be the pick here.
11. Kansas City Chiefs: G David DeCastro (Stanford)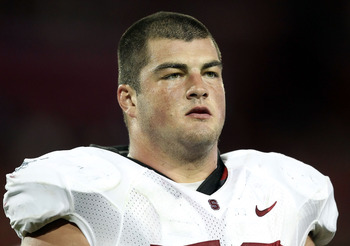 Christian Petersen/Getty Images
The Chiefs will be getting Matt Cassel back, and after his injury, his line needs to keep him upright. David DeCastro is a mauler at guard and should be a Pro Bowler in a year or two.
The Chiefs could also look at a cornerback after losing Brandon Carr, but I think DeCastro is more important.
12. Seattle Seahawks: DE Melvin Ingram (South Carolina)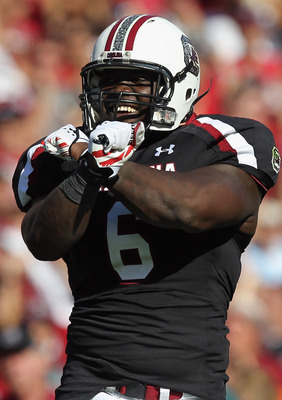 Streeter Lecka/Getty Images
The Seahawks need a defensive end in this year's draft. Chris Clemons was the only Seattle defensive end to get to the QB last season, and Raheem Brocks' age is starting to show.
Melvin Ingram is a beast and had a good showing at the combine.
Ingram will bring intensity to the Hawks defensive line.
13. Arizona Cardinals: ILB Luke Kuechly (Boston College)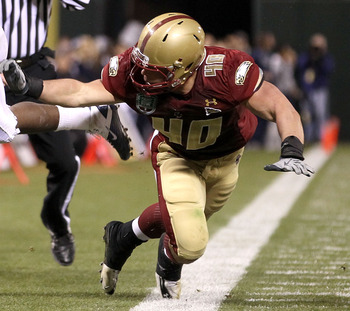 Ezra Shaw/Getty Images
The Cardinals have a laundry list of needs, as do most the teams in the top 15. With all the tackles off the board, the Cardinals address inside linebacker with Luke Kuechly, who is underrated in my mind.
14. Dallas Cowboys: C Peter Konz (Wisconsin)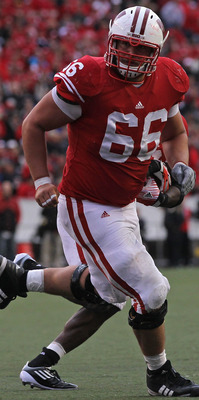 Jonathan Daniel/Getty Images
I know that a center at No. 14 is awful high, but after signing Brandon Carr, this becomes the Cowboys next biggest need.
Phil Costa easily had the most botched snaps in the NFL last year and needs to be upgraded. Konz is light years ahead of the rest of the center prospects and is going to be really good, which will also have a huge effect on Tony Romo.
As a Badger fan, I watched Konz eat up defensive linemen all season and pave the way for Heisman snub Montee Ball.
15. Philadelphia Eagles: T/G Cordy Glenn (Georgia)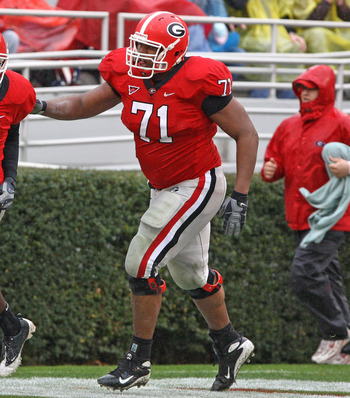 Mike Zarrilli/Getty Images
The Eagles need a tackle, with Jason Peters tearing his Achilles in late March. The team seemingly missed out on Demetrius Bell, but re-signed King Dunlap. With Glenn's versatility, even if Dunlap wins the tackle job, he can play any position on the line.
16. New York Jets: OLB Courtney Upshaw (Alabama)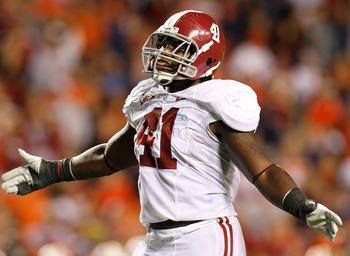 Kevin C. Cox/Getty Images
When Aaron Maybin was the best pass-rusher last season, you know there is a problem. If Upshaw falls this far, the Jets will take him to the bank. Safety was also a need before signing LaRon Landry.
Upshaw is a phenomenal linebacker with a relentless motor and will wreak havoc on opposing QBs.
17. Cincinnati Bengals: RB Trent Richardson (Alabama)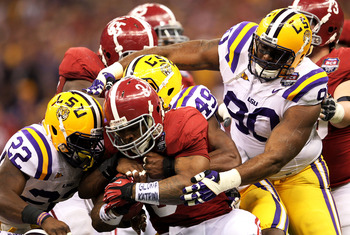 Andy Lyons/Getty Images
This photo sums up Trent Richardson in two words. Good Luck. Richardson is the best running back prospect since Adrian Peterson. He embodies the perfect combination of size, strength and speed. With the loss of Cedric Benson, and even the signing of the law firm BenJarvus Green-Ellis, Richardson is a franchise running back who any team would be stupid to pass on.
18. San Diego Chargers: OLB Nick Perry (USC)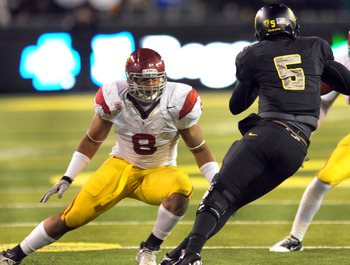 Steve Dykes/Getty Images
The Chargers need to improve on defense, most importantly defensive end. Perry is an animal with his hand in the dirt and should revamp the Bolts defense.
19. Chicago Bears: DE Quinton Coples (North Carolina)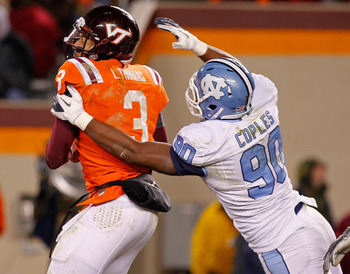 Geoff Burke/Getty Images
If Coples plays like he should and gives a little more effort, the Bears could have Julius Peppers and Julius Peppers 2.0 on their defensive line. That makes my mind shutter as I am a Packer fan.
Coples would be a sure-fire top-10 pick if he showed a little more effort his senior year.
20. Tennessee Titans: DE Whitney Mercilus (Illinois)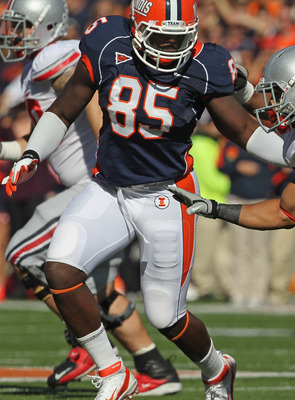 Jonathan Daniel/Getty Images
With the free-agent losses the Titans sustained last year and this year, the lack of a pass rush was obvious. Whitney Mercilus led college football with 16 sacks last year and should be a capable replacement for Jason Babin.
21. Cincinnati Bengals: CB Janoris Jenkins (North Alabama)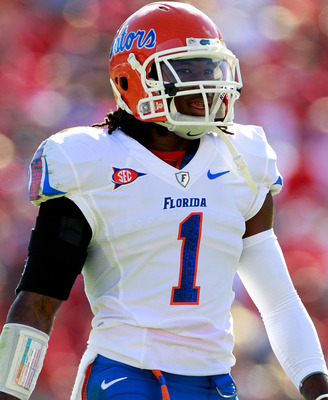 Sam Greenwood/Getty Images
If it wasn't for some off-the-field issues, Jenkins would still be at Florida and probably would be the second-best corner on the board behind Morris Claiborne.
But since he has some character issues, he falls a little bit. His talent is undeniable and the Bengals have no problem taking a chance on character-problem players.
22. Cleveland Browns: T Mike Adams (Ohio State)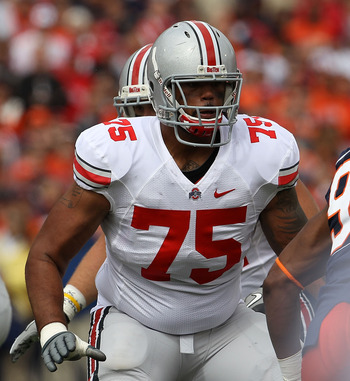 Jonathan Daniel/Getty Images
Another bust potential pick here in Adams, but if the Browns are going to stick with McCoy, they have t to give him a chance. He was constantly running for his life, so they bring in Adams to take over for Tony Pashos at right tackle.
23. Detroit Lions: CB Stephon Gilmore (South Carolina)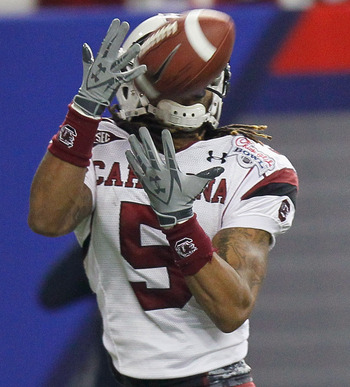 Kevin C. Cox/Getty Images
The Lions are always looking for that one special corner who they can build around. Gilmore is a good- sized corner with great ball skills.
24. Pittsburgh Steelers: LB Donta Hightower (Alabama)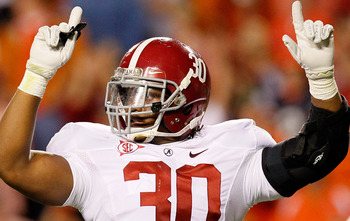 Kevin C. Cox/Getty Images
The Steelers have good but aging middle linebackers, and Hightower would learn well behind them. With his versatility, he can play all the linebacker spots.
25. Denver Broncos: DT Jerel Worthy (Michigan State)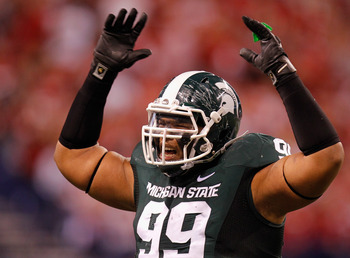 Gregory Shamus/Getty Images
The Broncos have needs at tackle, center and defensive tackle. Since the linemen are off the board, the Broncos take Worthy here at No. 25.
If Worthy plays with more energy, he will be a very good defensive tackle.
26. Houston Texans: WR Stephen Hill (Georgia Tech)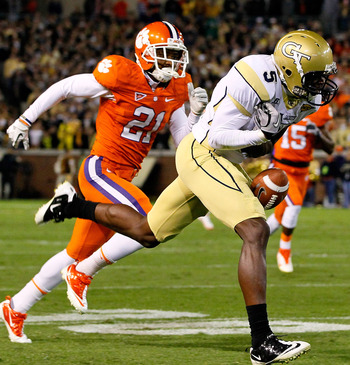 Kevin C. Cox/Getty Images
The Texans need a big receiver with big-play ability, and Hill fits that mold well. He gives Matt Schaub the big target he needs.
27. New England Patriots: DT Michael Brockers (LSU)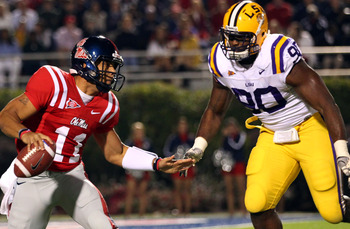 Joe Murphy/Getty Images
The Patriots lost unsung hero Mark Anderson to the Bills, so the Pats will be looking to reload on the defensive line. Brockers is a big guy capable of playing defensive end or tackle. He is another boom-or- bust prospect.
28. Green Bay Packers: DE Fletcher Cox (Mississippi State)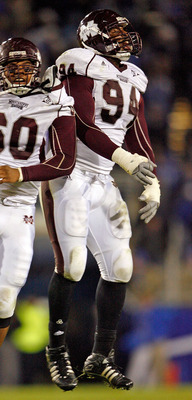 Andy Lyons/Getty Images
While I believe that the Packers' biggest need is outside linebacker, I feel that Cox is too good to pass up at No. 28. There is good value in Rounds 2 and 3 for outside linebackers
ROUND 2: OLB Shea McClellan (Boise State)
ROUND 3: SS Antonio Allen (South Carolina)
29. Baltimore Ravens: S Mark Barron (Alabama)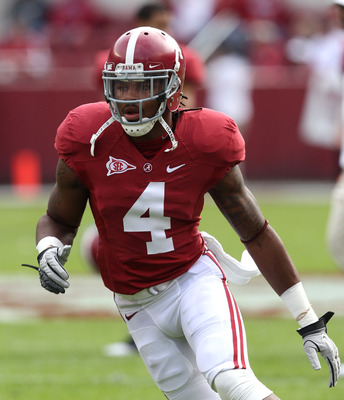 Mike Zarrilli/Getty Images
With Ed Reed getting older, why not bring in a young safety to learn behind the best. Barron is a big hitter with loads of talent.
30. San Francisco 49ers: WR Kendall Wright (Baylor)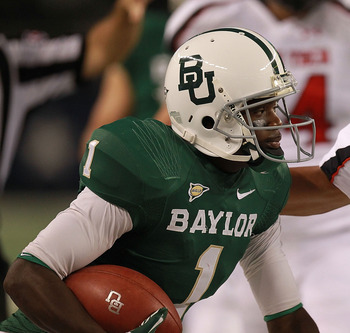 Ronald Martinez/Getty Images
He's a speed threat for Alex Smith.
31. New England Patriots: RB David Wilson (Virginia Tech)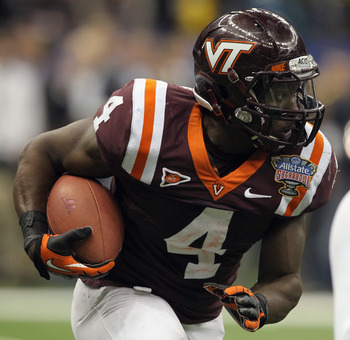 Matthew Stockman/Getty Images
He's a replacement for BenJarvus Green-Ellis.
32. New York Giants: TE Coby Fleener (Stanford)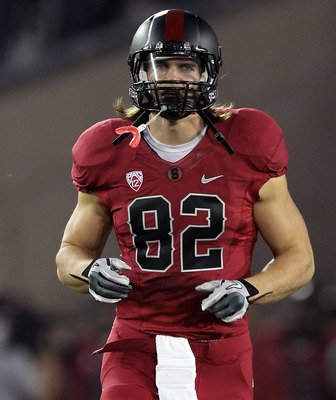 Ezra Shaw/Getty Images
The Giants need to give Manning a top-flight tight end and find him with Fleener.
Keep Reading