John Danks vs Gavin Floyd: Which White Sox Hurler Holds More Value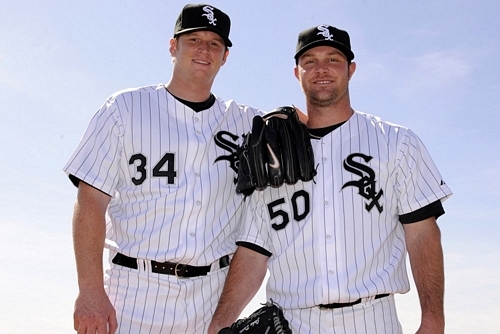 Courtesy of Chicagonow.com
When it comes to starting pitching, everybody wants a porterhouse from Gibson's Steakhouse.
Unfortunately for White Sox fans, we are stuck with a lesser cut of meat.
While we can only salivate over the likes of Justin Verlander and Clayton Kershaw, the South Siders are left to dine on beef brisket in the form of John Danks and Gavin Floyd.
Beef brisket can be extremely tasty and tender. But, beef brisket can also be extremely fatty and rough.
Similar to my mother's brisket, Danks and Floyd has been hit-or-miss over the years.
Yes, they are both above-average major league starters. There's no questioning this notion.
What we can question is this: Which of the two holds more value to the organization?
Turn the page to find out.
(I really hope my mother isn't reading this...)
Begin Slideshow

»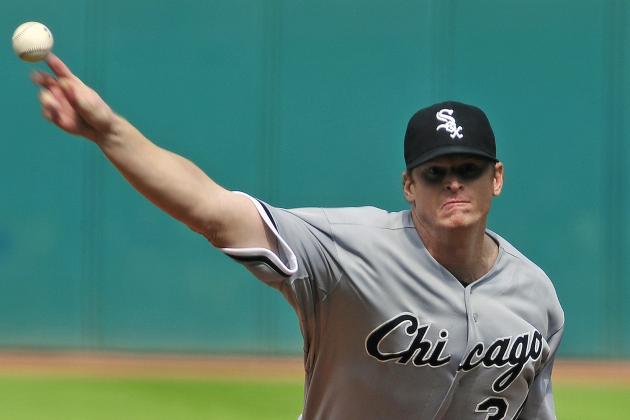 Jason Miller/Getty Images

In terms of pure "stuff," which of the two has the upper hand?
I'd give it to Floyd solely based off of his breaking ball.
When Gavin's on, his Uncle Charlie is as good as anybody in the league. The combination of speed differential and downward tilt make this pitch the former first-round pick's bread and butter.
At times, Floyd has made intimidating hitters like Miguel Cabrera and others look like rookies flailing at his pitches in the dirt. At others, he's transformed Matt Treanor into Mickey Mantle.
Danks, on the other hand, really doesn't possess a great off-speed repertoire. At this point in his career, he hasn't really figured out how to keep his changeup down and has really paid for it in the form of home runs as currency.
Both pitchers don't really pack the heat, possessing fastballs that hit the glove between 91-93 MPH. Certainly not terrible, but definitely not top of the line.
But with fastballs, it's more about location than velocity. Any big-league hitter can turn around a 95 MPH straight-heater. Unfortunately for Sox fans, both pitchers have little movement on their respective fastballs.
Danks has tried to work on a Mark Buehrle-esque cutter with little success to this point. Hopefully, Danks stole Mark's cutter before the goofball left Chicago for Miami.
It sounds like two ordinary pitchers to me. Why am I writing this article?
Advantage: Floyd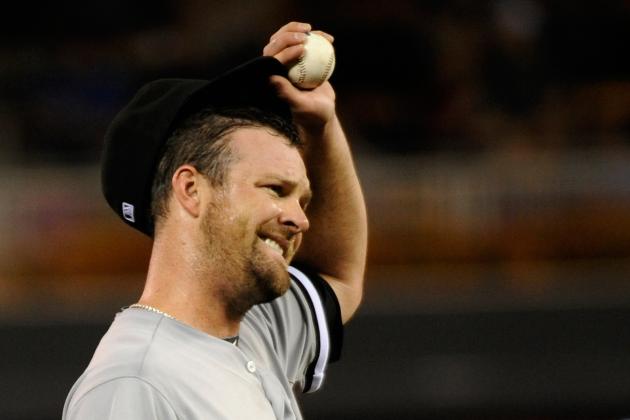 Hannah Foslien/Getty Images

Both Danks and Floyd have proved one thing for certain over their careers: they are consistently inconsistent.
But again, which of these two guys would you bank on to at least keep the team in the game?
Again, I'll take Floyd.
Danks really let Sox fans down last season with his mediocre stat line (8-12, 4.33 ERA, 1.34 WHIP.)
Yeah, the guy started 0-8 and he put together a decent second half. Regardless, his career regressed at a point where it should have progressed. If the Sox are going to have any success, a good start for the southpaw is essential.
Floyd, meanwhile, never really turned into that top-of-the-line starter that the Phillies envisioned when they drafted the right-hander fourth overall in 2001 ahead of Mark Teixeira.
Nonetheless, he's leaps and bounds above where he was when Kenny Williams swapped him for Freddy Garcia. (I think Gio Gonzalez's name was included in that deal. Not the left-handed budding star, just the name.)
Gavin's a guy who's going to usually give you six or seven innings and give up two or three runs. With both stellar and subpar exceptions, this is Floyd's modus operandi. Unless Cy Young or Jaime Navarro suddenly invade Floyd's body, he'll probably stay the same old Gavin Floyd we've come to know and love.
Advantage: Floyd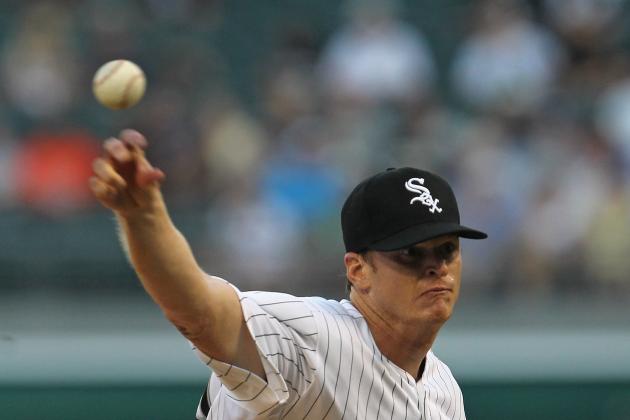 Jonathan Daniel/Getty Images

I'll combine these two facets of a player's value into one slide for your benefit.
To be completely honest, what am I suppose to say about age when Jamie Moyer (49 years old) is on the Colorado Rockies 25-man roster? Was the internet even around when he first broke into the bigs?
At 26 and 29-years-old respectively, both Danks and Floyd are technically in the primes of their careers. The only reason I mention age at all is a result of the payday that Danks received over the offseason.
The left-hander was rewarded with a five-year $65 million contract extension after his worst season in the league. I'm no psychology major, but that seems like positive reinforcement for negative behavior. Doesn't it?
At $13 million a year, Danks' game needs to step up and expectations are high. For that price, they should be through the roof. Johnny, the training wheels are off. It's time for you to prove that you are worth the dough.
Otherwise, he made easier money than that guy from Maryland who recently won the $640 million Powerball jackpot.
Floyd, a modest investment comparatively, is under contract for the next two seasons: $7 million for 2012 and a $9.5 million team option for 2013. (God, he lives a tough life).
This financial disparity between the two starters makes Floyd the easier of the two to deal. Perhaps that's the message the organization was trying to send when Danks essentially won the lottery.
Consistency: Floyd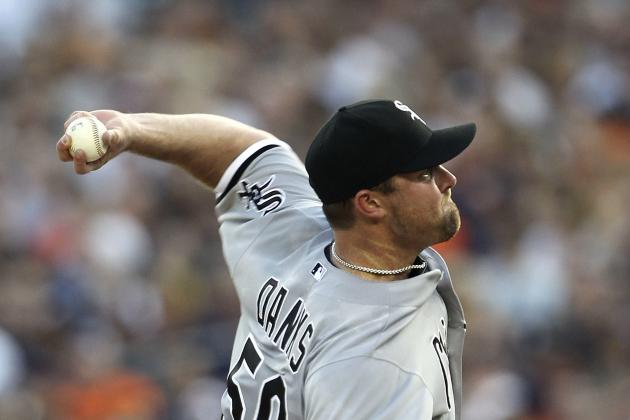 Leon Halip/Getty Images

If I'm not mistaken, Floyd won all three categories that I deemed crucial towards determining value. So why didn't Kenny Williams pay Floyd this offseason instead of Danks?
One-word answer: potential.
Ever since KW swapped Danks for Brandon McCarthy, White Sox fans have grown an attachment towards the Texas native. For years, it has been assumed that John Danks would eventually take over the title of "ace," which Mark Buehrle held for over a decade.
In 2012, that time has finally come. Buehrle's partying in Florida with Ozzie and the Sox are headed in a new direction. Unless I'm missing something, Danks will be at the front of the line.
So while Danks might not possess the dazzle or the consistency, the upside that he boasts is what distinguishes him from Floyd.
Danks will be here for the long haul and Floyd could be shipped out a moment's notice.
That's the reality facing the 2012 White Sox, baseball fans.
[Insert cheesy 2012 team motto]. "Appreciate the game" isn't going to cut it.