Roger Goodell and Dick Durbin Make Miserable Football
April 2, 2012

Elsa/Getty Images
Bountygate isn't news anymore.  However, what is quite troubling news for the National Football League is that the Congress of the United States has gotten involved in the way a professional sport governs its own organization.  This is beginning to alienate fans and football traditionalists alike.
The New Orleans Saints organization has suffered the loss of draft picks, a $500,000 fine, a suspension to Head Coach Sean Payton under appeal, General Manager Mickey Loomis and the suspension of the bystander organization St. Louis Rams' Defensive Coordinator Gregg Williams. 
Wait a second.  There are a few problems here.
First, there are the St. Louis Rams. 
In January of 2012, the St. Louis Rams, a rebuilding organization that has been victimized by losing seasons since 2005 named former Saints Defensive Coordinator Gregg Williams to take over the Rams defensive duties.  According to Commissioner Roger Goodell, the investigation of bounties started when Williams was working for the Washington Redskins in 2006. 
Williams took over the Saints defense in 2009.  So we suppose it's O.K. to allow this man to keep taking jobs under investigation to one day take his job away (which is fair), but also hamstring an innocent organization without so much as an apology or warning to the general manager or ownership group that Williams was under investigation? 
The Saints ownership knew that the investigation was reopened before the 2011-2012 playoffs in a statement sent from Saints owner Tom Benson to Mickey Loomis. Williams is suspended indefinitely and the Rams are left in the dark.
The next problem we have to address: the leader of the Saints coaching staff, Sean Payton. 
Under no circumstance was Payton an innocent party here.  He was witness to it because any head coach in the NFL should know what is going on in his locker room and if something illegal is taking place, should address it. 
Commissioner Goodell decided to suspend Payton for the 2012 season-at first.  Then, after careful consideration (said with tongue-in-cheek), there's the slight possibility that Goodell will allow Payton to coach the 2012 season under protest. 
Where's the standard here?
Said in a statement by Goodell at the owners' meetings, "I said in a letter they have to appeal by April 2, I believe... If he decides to appeal, I probably will allow him to continue and I would expedite the hearing and I would expedite my decision."
What's the message being sent here? The NFL can just suspend and reinstate coaches when they want? What does it say in the rulebook? Is Goodell running this by the seat of his pants?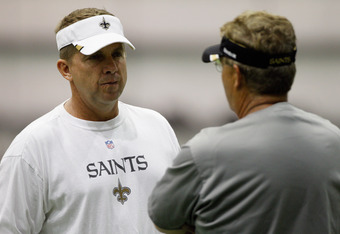 Chris Graythen/Getty Images
Last, but not least, instead of worrying about unemployment, social reform or political primaries, Senator Dick Durbin (D-Il) has decided to poke his tax paid dollars into the NFL's organization and how they run their business.  So to get his name in the headlines of newspapers, Durbin has decided to seek a congressional investigation and criminal charges against anyone involved. 
"Let's be real basic about it here," Durbin told ESPN.com. "If this activity were taking place off of a sporting field, away from a court, nobody would have a second thought (about whether it's wrong). 'You mean someone paid you to go out and hurt someone?' It goes way beyond the rules of any sporting contest, at least team contest, to intentionally inflict harm on another person for a financial reward."
Durbin, stick to politics, let the NFL, as horribly ran as it is, stick to its own way of doing business.  You're wasting time and money. 
So far no players have been suspended or charged in the scandal, but you can bet its coming.