WrestleMania 28 Marks All-Time Low in Divas Championship History
April 2, 2012

I enjoyed WrestleMania 28. There were surprises, twists and turns and outcomes that I didn't expect, and the majority of the matches were entertaining and enjoyable to watch.
Yes, I would even say the Divas match was worth watching. Kelly Kelly surprised me more than once and Maria Menounos held her own on "The Grandest Stage of Them All," even though it's a spot I still don't think she deserved. Oh, and Eve's ring gear was, in a word, fierce.
But Beth Phoenix, the Divas Champion, the woman who is supposed to be the face of the division? She was all but overlooked.
It started before the match even got underway. For some reason I seriously don't understand, Beth and Eve came out to Eve's theme music.
I'm a fan of Eve's; I don't have a problem with her being featured. However, when she's being featured alongside the champion of the division she should not be the one taking precedence. There's no justifiable reason that they shouldn't have come out to Beth's theme music instead.
Again: She's the CHAMPION.
However, considering that the Divas Champion was involved in a match with a celebrity television reporter who isn't that big of a celebrity to begin with just demonstrates how far the importance of the Divas Championship has fallen.
Get this: Last night was Beth's first match on WWE television since Elimination Chamber on February 19. Not only that, but she wasn't on WWE TV period until Menounos entered the equation. If you wanted to see her you had to tune into Superstars on WWE.com, on which she competed three times in March.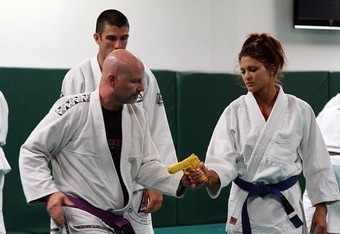 That's it. So much for the perks that come with being champ.
But it's not just Beth who's getting the short end of the stick. The only two Divas who have been actively featured at all are Eve and A.J.—and not in a very positive light.
Eve is honestly one of the most empowered women I know of. She graduated with honors from USC with a degree in systems engineering. She's a blue belt in Brazilian Jiu-Jitsu and has helped to teach self-defense classes to women. She legitimately kicks ass and yet her current claim to fame is being a "hoeski." Thanks a lot, John Cena!
A.J. too can kick some legit ass, yet recently she's been allowing Daniel Bryan to walk all over her. That's not really something the WWE should want to perpetuate to the young female demographic who I imagine are fans of A.J.'s. "my voice doesn't matter so long as I'm involved with someone successful."
Um, no.
So, just to recap, being a strong woman at the top of her game hasn't gotten Beth much of anything. Kissing a guy once—who rescued her from a MONSTER, by the way—turned Eve into a diseased hoeski, and A.J. has all but given up her identity to please a man.
I'm sorry, is it the 21st century or isn't it?
You know what, I'm glad Eve kicked Zack Ryder in the balls last night. She doesn't need to waste her energy on him and (woo, woo, woo) you know it! It's time for her to leave this "man-eater" persona behind, lace up those boots and kick some serious butt.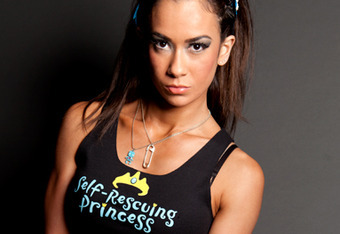 As for A.J., in all likelihood Daniel Bryan is going to give her hell for "costing" him the World Heavyweight Title last night. And I hope she kicks him in the balls, too!
And I hope Beth Phoenix goes on a Glam Slam rampage!
Angry feminist outburst aside, something seriously needs to change in the Divas division. Talents like Natalya and Tamina are being overlooked, Kharma and Layla are looking to return and up-and-comers like Paige and Raquel Diaz are waiting in the wings at FCW.
These all are women who deserve action in the ring and identities built upon what they are uniquely capable of, not how anyone else chooses to unfairly define them.
Furthermore, they deserve a credible title to chase after and be proud of. In my opinion the WWE made the biggest mistake in the world when they retired the Women's Championship. It was the longest-running title in company history, held by greats who helped to define the division: The Fabulous Moolah, Wendi Richter, Lita, Trish Stratus.
The Divas Championship just doesn't have the same clout that the Women's Championship did, and it never will if the Divas Champion is constantly looked over.
It's time for Beth Phoenix to have some real, deserving competition. It's time for the Divas of the WWE to show everyone what I know a lot of them are capable of.
It's time to be #PinUpStrong, for real.
Katie Gregerson is a pro wrestling trainee turned pro wrestling journalist and blogger. You can read her posts for theScore's Aftermath blog, subscribe to her blog Ring the Bell! and follow her on Twitter @katiegregerson