NBA Draft 2012: Breaking Down NBA Skills of Anthony Davis and Thomas Robinson
April 2, 2012
Ronald Martinez/Getty Images
Monday night's national championship game against Kentucky and Kansas features plenty of compelling storylines, but there is no doubt all eyes will be on the epic match up in the post.
Two of the First Team AP All-Americans will be squaring off with Anthony Davis and Thomas Robinson in a match up we will surely be seeing in the NBA next year.
Nobody could have ever predicted this just five months ago. Davis was a lanky freshman that looked like he needed an extra 20 pounds of bulk to be a factor in the paint. Robinson was coming off a sophomore season where he averaged a mere 14 minutes a game.
Instead, the point guard turned center—thanks to a late growth spurt—led the nation in blocks (4.6) in addition to averaging a double-double (14.3 ppg, 10 rpg) while completing about 1,000,000 alley-oops dunks. He has emerged as the de-facto top pick in the June draft because of his impeccable anticipation and athleticism.
According to a head personnel evaluator for one of the 30 NBA teams, Davis is a player you can build the entire team around (via SI.com):
He's a franchise player. This guy is unreal. He's going to shift whatever team gets him, like what Blake Griffin did to the Clippers, despite all of their problems, because he was just that good.


The 6'10'' Davis runs the floor with the ease of a guard and has multiple back-to-the-basket moves that will only get more polished at the NBA level. The comparisons to Tim Duncan are not far off, and Davis has three-point range.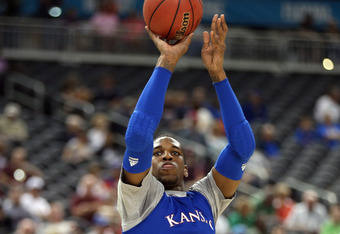 Jeff Gross/Getty Images
As for Robinson, his hard work and mental toughness have made him a premier prospect as well. The 6'10, 237 pound junior averaged 17.9 points and 11.8 rebound this season as he thrived on taking advantage of match ups against smaller players in the post. His quickness allows him to blow by bigger defenders, and he has decent range on his jumper.
There is no question that Robinson doesn't have the natural talent of Davis, but he makes up for it with a relentless motor. Few, if any, players exert the sort of relentless effort on every single play that Robinson does. You can never have enough of that in the NBA where stars struggle with effort more often than they should.
Monday night they may not directly be matched up on one another, but their paths will be crossing and it may even be the beginning of a rivalry that extends itself to the NBA. Robinson believed he deserved National Player of the Year instead of Davis. I'm sure Davis doesn't exactly agree.
Davis is a shot-blocking force that is capable of jaw-dropping dunks on a nightly basis. He has the potential to be a Hall-of-Famer in the league and can have a strong impact on the game instantly.
Robinson is an outstanding college player that is going to struggle with the more athletic big men in the NBA. His ceiling isn't nearly as high unless he is capable of developing a more consistent 20-foot jumper. Regardless, a top 10 selection is still in his future.
When the two squared off in the second game of the season, Robinson was held to 11 points on 5-of-12 shooting while fouling out. Davis finished with 14 points on 6-of-8 shooting while swatting seven shots. He won that battle in the 75-65 win, and I fully expect him to win Round 2 as well.
Fans are in for a treat Monday night, and while you're watching the festivities unfold, remember this isn't the last time you'll see the two matched up.
This is only the beginning of what looks to be two very productive NBA careers.