3 Wide Receivers the Baltimore Ravens Could Target in 2012 NFL Draft
April 2, 2012

Brett Deering/Getty Images
The Baltimore Ravens need to add a wide receiver this year to increase the efficiency and efficacy of their passing game, especially now that quarterback Joe Flacco is likely to receive a long-term contract extension in the coming months.
With a bad salary cap situation, the Ravens will have to pick up a new target for Flacco in the upcoming NFL draft. Here are three that could be on their radar in rounds two through four.
Mohamed Sanu, Rutgers
Teams all around the league have been giving Rutgers wide receiver Mohamed Sanu the once-over. The Ravens have yet to bring him in for a visit, but it's just a matter of time until they do so—as of now, they've only met with one receiver.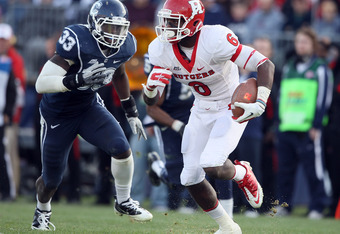 Elsa/Getty Images
Sanu might very well be off the board by the time the Ravens look to nab a receiver—i.e. definitely not in the first round. However, with a deep receiver class this year, there is a chance Sanu could fall to Baltimore.
Sanu isn't the most athletic receiver, but his intelligence (especially in exploiting zone coverage), good hands, versatility, special teams skills and route-running abilities make up for it. Again, the Ravens may not luck out in landing him, but they should have him squarely on their radar.
Alshon Jeffery, South Carolina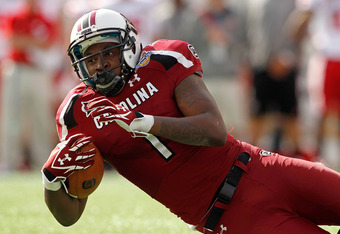 Mike Ehrmann/Getty Images
If the Ravens cannot pick up Sanu, they could find themselves with a second-round steal in Alshon Jeffery. His draft positioning hasn't been all that stable in the past month, which should be a major benefit for whichever team ends up with him.
While Jeffery has some questions surrounding his speed and ability to run routes, he's got incredible hands and will be a reliable target for Flacco from day one.
Yes, he's still raw, but most of the concerns about Jeffery I believe will prove unfounded on the field. The Ravens could find themselves a steal in Jeffery if he's still on the board by the time they pick in the second round.
Ryan Broyles, Oklahoma
Broyles is the perfect complimentary receiver to the Ravens' No. 1, Torrey Smith. Broyles is smaller, but his good hands and elusive speed make him perfect to receive the passes Flacco often reserved for running back Ray Rice last year.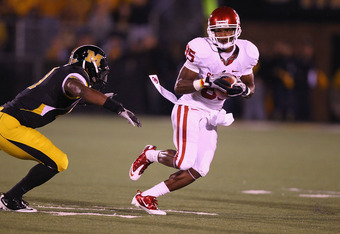 Dilip Vishwanat/Getty Images
Though Broyles is strong in the slot, where Anquan Boldin will be lining up this year, he can catch passes all over the field and would be a good No. 2. Broyles should also be a solid and reliable punt returner for their special teams unit, especially considering how difficult he is to tackle.
The Ravens could land Broyles in the third or fourth round, allowing them to meet needs on the offensive line and defense with earlier picks while still getting a true playmaking receiver this year.