New York Mets: Is There Reason for Optimism This Season?
April 4, 2012

Patrick McDermott/Getty Images
The New York Mets are currently an afterthought in the National League East. It seems as if every other team in the NL East improved while the Mets seemingly got worse. It was a long, grueling and painful offseason for the Mets.
New York lost one of their best players this winter in Jose Reyes. Reyes fled Queens for the "glitz and glamour" of Miami. Reyes was undoubtedly the heart of the New York Mets franchise and his presence will be missed.
The Jose Reyes era had its ups and downs, but its stop was inevitable. The New York Mets were still neck-deep in their financial woes at the time of Reyes departure, and they simply couldn't afford to retain him.
Let's forget about that, though. Opening Day is almost here and every team is very optimistic right now. The New York Mets are no exception to that. There have been encouraging things coming out of "Metland" these past few weeks and fans have been given reason to be optimistic.
Johan Santana will be the New York Mets Opening Day starter this season. That will help the team talent-wise and from a psychological standpoint. New York lacked a true ace last season due to Santana's rehab from elbow surgery. 
It does seem as if he has made a full recovery. We shouldn't expect another Cy Young season for Santana, but he will definitely help this team. 
With that said, the New York Mets strength lies in their lineup. The Mets lineup is loaded with young talent this season. Ike Davis, Lucas Duda, Daniel Murphy, Ruben Tejada and Josh Thole will all look to produce for the Mets this season.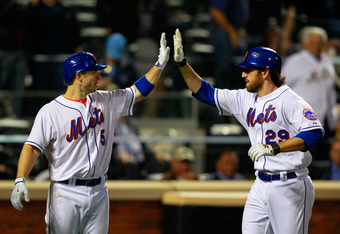 Chris Trotman/Getty Images
Each of the aforementioned players possess great potential and can help bolster the Mets lineup for a long time. Those young players will be surrounded by veterans like David Wright, Jason Bay and Andres Torres.
Wright is the face of the franchise and is looking to put up huge numbers this season. Pesky injuries have weakened his statistics in recent seasons, but he is coming into 2012 with a clean bill of health. I really expect Wright to put up some monster numbers this season and take on the clubhouse leader role.
Jason Bay will be very interesting to watch this season. He has disappointed greatly ever since earning his monster contract with the Mets two years ago. Bay hasn't managed to maintain hot streaks or get anything going these past two seasons. 
He has looked lost at the plate and he has also endured his share of pesky injuries through recent seasons. All of these things have culminated into a disaster for Bay. His career is hanging by a thread and he will need to perform this season if he wants to maintain a starter in this league.
Andres Torres was acquired by the New York Mets this offseason in the Angel Pagan trade. Torres and Ramon Ramirez made their way to Queens while Pagan packed his bags for the bay area. Not much is expected from Torres, as he is getting old quick and his numbers have been in a downwards spiral.
Torres is as hard a worker as anybody though. His hunger for success is unmatched and he has managed to keep himself in ideal shape. He hopes to prove himself as a viable leadoff hitter for New York this season. 
Torres will also be a huge part of the clubhouse. He was looked at as one of the team leaders back in San Francisco and he played a huge part in the Giants 2010 World Series run. 
The Mets lineup produced the 6th most runs in the National League last season. The team also managed to score more runs than the division champion, Philadelphia Phillies. All of that was done with half a year from David Wright, only one month of Ike Davis, a late arrival for Duda, and half a season for Jose Reyes.
Losing Reyes will hurt the Mets, but I strongly believe that his absence won't hamstring the Mets lineup. The team continually scored runs last season regardless if Reyes was in the lineup or not. If Wright, Davis, and Duda can stay healthy then the Mets will score more runs than they did last season. Jason Bay is the X-factor for this team, as he can push the offense to a whole different level this season.
The Mets' "achilles heel" last season was their pitching. The team struggled to get quality starts day in and day out, and the team also lost its share of games due to bullpen collapses. Mike Pelfrey stunk it up last season and one can only hope that he has the right mindset coming into 2012.
Jon Niese and Dillon Gee fizzled off near the end of the season, but they did enough to provide Mets fans with hope coming into 2012. R.A. Dickey was the Mets best pitcher last year and he should continue that trend this season. Santana and Dickey could provide the Mets with a more than serviceable one-two punch.
The pitching rotation has potential this season. Santana will provide the team with a true ace figure and that will work wonders for the rest of the rotation.
The bullpen was disastrous for New York last year. Leads were routinely blown as well as saves. A good bullpen could have transformed the Mets season, but it just didn't work out. Sandy Alderson and Co. really concentrated on patching up the bullpen this offseason.
Frank Francisco was brought in to be the Mets' new closer, along with Jon Rauch, and Ramon Ramirez. Lefty, Tim Byrdak is recovering well from surgery and it looks as if he will be a great lefty specialist for the Mets this season. Flamethrower Bobby Parnell has been stellar this spring too. If Parnell can harness his talent and translate it into results then the Mets will have themselves their future closer.
This Mets team might not blow people away, but the truth is that this ball club has a good amount of talent. A great mix of youth and experience can spell success for the Mets this season. If the Mets can stay relatively healthy in 2012 then they will compete.
A lot has to go right for this team this season, but crazier things have happened. No one picked the Giants to win it all in 2010 and absolutely no one expect Arizona to win the NL West last season. the long MLB season is about to begin and this is the time that Mets fans should be optimistic about their team. "Ya gotta believe!"