Masters Predictions 2012: Tiger Woods and Golfers with Most Pressure at Augusta
April 3, 2012

Streeter Lecka/Getty Images
As the days go on and the opening round of the 2012 Masters at Augusta National draws nearer, every golfer is feeling the heat both literally and figuratively, but some feel it more so than others. 
Staying calm, cool and collected during any golf tournament is difficult, but it's the key to winning. 
For the Masters, a golfer's psychological approach to the game is completely different than if it were some other tournament. That's how much the Masters means and how intense it is. 
That said, here are the three golfers feeling the most pressure. 
The game's most prolific player, Tiger always has a ton of pressure on him. 
However, this year it's even more crazy because he recently picked up his first PGA Tour victory since 2009. He's back in a winning frame of mind, but that doesn't make this tournament any easier. 
If anything, his recent win makes life more difficult for him. People are expecting him to come out on top this year and even though most folks say that every year, this time around they truly mean it because Tiger has his confidence back for once. 
That makes him dangerous, but it also puts a great deal of pressure on him because having strong confidence does not equal a guaranteed victory for Tiger these days like it used to. 
Rory McIlroy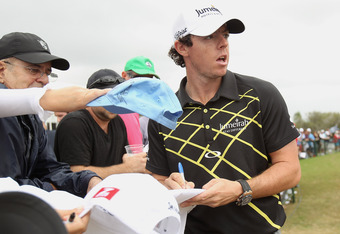 Scott Halleran/Getty Images
Everyone remembers McIlroy's huge choke in last year's Masters. It's going to be brought up quite a bit this year, but it's something McIlroy has to block from his mind. 
He was crushing his opponents until he began to play like a zero, showing that he didn't have much hero in him at the moment. 
McIlroy has since proven he can win on the big stage, but after his flop last year, the pressure will be building all week long and intensifying as the weekend progresses. 
Should he find himself near the top heading into Saturday and Sunday, the heat will be extremely high for McIlroy and it will be up to him to show that he can handle it this time around. 
Charl Schwartzel
As the defending champ, Schwartzel is going to feel pressure the entire time he plays. 
He pulled off an amazing feat last year, but recently he's been going through tough times on the course. Schwartzel missed the cut in his last two PGA Tour events, which is not a good sign leading up to the Masters. 
Woods was the last golfer to win the tournament in back-to-back years, but that was all the way back in 2002. 
Schwartzel will have a hard time winning it all again and it wouldn't be a big surprise if the pressure got to him early.