Nets vs. Lakers: TV Schedule, Live Stream, Spread Info and More
April 3, 2012

Ezra Shaw/Getty Images
Fresh off dropping 40 points against the Golden State Warriors, Kobe Bryant and the Los Angeles Lakers (33-20) will be looking to win their third straight game against the New Jersey Nets (19-35) on Tuesday night.
New Jersey is struggling this season, but the team has won three straight games. Much of the focus has been centered around Deron Williams and his upcoming free agency, but the Nets have sustained an unbelievable amount of injuries this season that has left the team incredibly banged-up at various junctures of the season.
Brook Lopez has been limited to just a handful of games, multiple players have gone down with season-ending injuries, and the trade for Gerald Wallace at the deadline hasn't seemed to ignite the squad.
With Andrew Bynum (ankle) hurting, it would make New Jersey's task of contending with Los Angeles' size much easier, but the Nets still need to find a way to slow down No. 24.
Where: Staples Center—Los Angeles, California

When: Tuesday, April 3, 10:30 p.m. ET

Watch: YES (NJ), Fox Sports West (LA), NBATV (National)

Live Stream: NBA League Pass

Listen: 710 AM ESPN (Lakers), WFAN 660 (Nets)

Betting Line: Unavailable, according to Bovada.lv at 7:30 a.m. ET on 4/3

Key Injuries: Andrew Bynum (ankle), Jordan Hill (sprained MCL), Brook Lopez (ankle), Damion James (foot), Jordan Farmar (groin), Shelden Williams (eye) 
What They're Saying
There has been a lot of discussion about Kobe Bryant possibly being fatigued at this point during the season, but the Black Mamba was quick to dismiss that following yet another game of at least 40 points against the Warriors on Sunday.
Bryant had some sharp words for his critics following his fifth 40-point performance of the season, and the Lakers superstar is always very forthcoming in what he has to say and never hides exactly how he's feeling (via Helene Elliott of the Los Angeles Times):
"It's interesting to me to hear people talk after a game like that, that I'm done and all that stuff," he said. "The amount of idiots that live out here, after 16 years, is baffling to me. I guess people just get dumber over the years."
Bryant enters Tuesday's game as the NBA's leading scorer, averaging 28.1 points per game.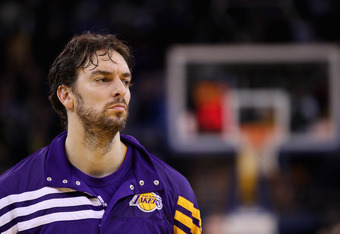 Ezra Shaw/Getty Images
Most Important Player to Watch: Pau Gasol
If Andrew Bynum (ankle) is forced to sit out the game, Gasol will become the epicenter of the attack beneath the basket.
Head coach Mike Brown has shown an inclination toward going to his big men early and often, and Gasol could have a chance to play leading man if Bynum is indeed sidelined.
Gasol has 20 or more points in each of his last two games (both double-double's) after not scoring more than 20 in four straight previous games, so another big night from Gasol could be exactly what the Lakers need to emerge with the win.
Key Matchup: Gerald Wallace vs. Metta World Peace
Wallace has turned in arguably his best two games as a member of the Nets in the team's last two games, and it's not a surprise that each time New Jersey has been victorious.
Chris Chambers/Getty Images
Wallace is averaging 21 points, 12 rebounds, four assists, four steals and a block over that span of time, and he's going to need another big game against the Lakers in order for the Nets to be in the game.
Although World Peace's defensive play is not what it once was, he's still finding a way to stifle his opponents and should present Wallace with a tougher challenge than he's had of late.
The enigmatic forward has really struggled with his shot this season (35.8 percent for the season), and the Lakers will need him to contribute in some fashion at that end of the floor against Wallace.
Prediction
Lakers 105, Nets 89