2012 NFL Mock Draft: Lousy Teams Destined for Great Drafts
April 3, 2012

Jason Miller/Getty Images
The 2012 NFL draft is loaded with talent, which is great news for several awful teams looking to get better. Building the draft is the best way for a franchise to rise to the top.
Sure, free-agent splashes can turn around a franchise in a heartbeat, but to become a dynasty, teams have to be successful with their draft picks. 
That being said, here's my 2012 mock draft with info on each pick and a more in-depth look at those lousy teams that will win big on draft day. 
2012 NFL Mock Draft 
1. Indianapolis Colts (2-14): Andrew Luck, QB, Stanford   
The Colts were incredibly atrocious last season, but getting Luck instantly makes them better. 
He's being labeled the next Peyton Manning, and Indianapolis is well aware of all the greatness he brought the team. 
Now the Colts are starting fresh and it makes perfect sense to grab a guy capable of being elite so early in what should be a long career. 
2. Washington Redskins (5-11): Robert Griffin III, QB, Baylor
The Redskins traded quite a bit to get here, but it's all worth it to get their franchise QB. The dual-threat Heisman Trophy winner thinks pass first, so I fully expect Griffin to thrive in the NFL. 
3. Minnesota Vikings (3-13): Matt Kalil, OT, USC
Minnesota needs help on both sides of the ball, but picking a guy to protect Christian Ponder's behind for many, many years is the right call. 
4. Cleveland Browns (4-12): Trent Richardson, RB, Alabama 
The Browns aren't the worst team in the NFL, but they're definitely far from the best. Improving the offense is a must, and it's exactly what they'll do with both of their first-round picks. 
Colt McCoy isn't a terrible QB. Giving him more weapons to work will help his development, and starting things off by drafting Richardson is a perfect plan. 
Richardson is a dynamic force in the backfield, and his impeccable vision on the field makes him very dangerous. He'll excel in Cleveland the second he gets there, helping the Browns win more games. Cleveland has a lot of work to do, but the Browns will be headed in the right direction if they select Richardson. 
5. Tampa Bay Buccaneers (4-12): Morris Claiborne, CB, LSU 
Claiborne will be an instant upgrade for the Bucs secondary, which is huge for a team that has to face Matt Ryan, Cam Newton and Drew Brees twice a year. 
6. St. Louis Rams (2-14):  Michael Brockers, DT, LSU
The Rams have a surplus of draft picks this year thanks to moving back, and Jeff Fisher will make sure St. Louis ends the weekend with tons of talent. 
While St. Louis does have a need for a wideout, getting a sure-fire beast to lock down and anchor the defense line for a long time is a better pick right here. 
Selecting a WR in the top 10 is a risky move, and Fisher will be better served by passing on that gamble. His offense still has talent to win, but he has to focus on finding ways to stop his opponents. 
The Rams are destined to win big all throughout draft weekend thanks to their added picks. 
7. Jacksonville Jaguars (5-11): Justin Blackmon, WR, Oklahoma State 
The Jaguars will forget about what a risk it is and select a wide receiver because they need one so badly. 
Blackmon is the top guy in the draft, and he'll be able to help Blaine Gabbert step his game up. 
8. Miami Dolphins (6-10): Alshon Jeffery, WR, South Carolina 
The Dolphins have made some questionable moves this offseason. While some have them selecting a QB here, such as Ryan Tannehill, Miami would be must better off if it went a different route. 
Jeffery can step in and help this offense out right away, but getting a subpar QB here wouldn't do the Dolphins any good. Waiting on a QB is the right call, even if it is waiting until next year to get Matt Barkley of USC. 
With Jeffery, the Dolphins get an exceptional WR with tremendous hands. He'll help stretch the field and make big plays for Miami. 
9. Carolina Panthers (6-10): Quinton Coples, DE, North Carolina 
The Panthers will focus on defense here the most because they know in order to win big, they're going to have to shut down opposing teams. Drafting the Carolina kid to help get after the QB is a brilliant move. 
10. Buffalo Bills (6-10): Courtney Upshaw, OLB, Alabama 
If the Bills are serious about winning their division, they've got to get better on defense. Drafting Upsahw would be a fantastic step in the right direction for Buffalo. 
11. Kansas City Chiefs (7-9): Riley Reiff, OT, Iowa
Matt Cassel needs to stay healthy, and boosting the depth on the offensive line by getting Reiff is the Chiefs' best bet. 
12. Seattle Seahawks (7-9): Nick Perry, DE, USC 
An explosive defensive end, Perry is a great fit for Seattle because he fills a huge need for the Seahawks, has the USC connection with Pete Carroll and is a powerful workhorse. 
13. Arizona Cardinals (8-8): Jonathan Martin, OT, Stanford 
The Cardinals have several options here, but adding depth of the offensive line to help keep Kevin Kolb safe is the right move. 
14. Dallas Cowboys (8-8): Dre Kirkpatrick, CB, Alabama
Defense needs to be the focus for Dallas, and picking Kirkpatrick to help improve the secondary would be a great idea. 
15. Philadelphia Eagles (8-8): Luke Kuechly, LB, Boston College  
The Eagles have to add depth to their defense to help them achieve their goals in 2012, and Kuechly would be a phenomenal fit in Philadelphia. 
16. New York Jets (8-8): ): Michael Floyd, WR, Notre Dame 
The Jets need to give Mark Sanchez a young stud out wide that will help put points on the board, and Floyd would be a great addition. He might even help Sanchez keep his job over Tim Tebow. 
17. Cincinnati Bengals (via OAK 8-8): Janoris Jenkins, CB, North Alabama 
Jenkins has a great deal of character concerns, but the Bengals will pay more attention to his talents on the field, which happen to be very good. 
18. San Diego Chargers (8-8): Mike Adams, OT, Ohio State  
The Chargers will think about the defensive line here, but getting Adams to protect Philip Rivers is the safer pick. San Diego would be reaching on a defensive tackle. 
19. Chicago Bears (8-8): David DeCastro, G, Stanford  
DeCastro is the best interior lineman in the draft, and he'll do a fine job of giving Chicago great depth on the offensive line, something the Bears have a huge need for right now. 
20. Tennessee Titans (9-7): Melvin Ingram, DE, South Carolina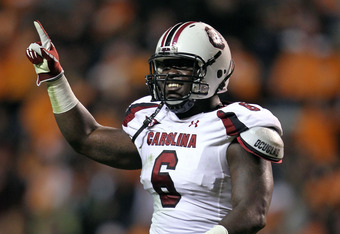 Andy Lyons/Getty Images
Ingram lives for disrupting plays in the backfield, and that just so happens to be what the Titans are in need of for 2012. 
21. Cincinnati Bengals (9-7): Lamar Miller, RB, Miami  
The Bengals are stockpiling great young talent on their roster, and adding Miller to that mix would further maker Cincinnati a big offensive threat. 
22. Cleveland Browns (via ATL 10-6): Kendall Wright, WR, Baylor   
The Browns continue to win big on draft day here, helping out Colt McCoy once again. Wright is a true home run threat that will make massive plays for Cleveland in an instant. 
Cleveland makes out as the biggest winner on day one by using its two first round picks to upgrade the team with playmakers. 
23. Detroit Lions (10-6): Cordy Glenn, G, Georgia                              
Giving Matthew Stafford another skilled big man to protect him is the safe bet, although Detroit may look to select a cornerback here instead. 
24. Pittsburgh Steelers (12-4): Alfonzo Dennard, CB, Nebraska 
Pittsburgh might consider a wide receiver at No. 24 if it's unable to re-sign Mike Wallace. I think he'll stay at home and the Steelers draft a corner for extra and improved depth so they don't get burned in the playoffs anymore. 
25. Denver Broncos (8-8): Dontari Poe, DT, Memphis  
The Broncos' biggest need is at defensive tackle, and Poe is the best available. He's a mammoth of a man at 6'4", 346 pounds, and he'll fit in well in Denver. 
26. Houston Texans (10-6): Stephen Hill, WR, Georgia Tech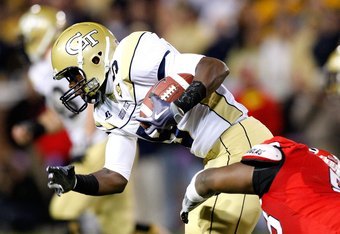 Kevin C. Cox/Getty Images
With his blazing speed, Hill would provide the Texans with great depth out wide. No longer would Andre Johnson be the only threat for Matt Schaub, which is why Houston has to land Hill. 
27. New England Patriots (via NOLA 13-3): Peter Konz, C, Wisconsin  
The Patriots could trade this pick or look to land a defender. However, with Konz still on the board, Bill Belichick won't pass up on further boosting the depth of his offensive line. 
28. Green Bay Packers (15-1): ): Zach Brown, OLB, North Carolina  
Green Bay's offense is in good hands, so the defense will be the primary focus come draft day. Getting a guy like Brown to play opposite of Clay Matthews will make the Packers much better. 
29. Baltimore Ravens (12-4): Dont'a Hightower, LB, Alabama 
Hightower would be able to step in and not only contribute right away, but also learn everything about the NFL from Ray Lewis, the man he would replace. 
30. San Francisco 49ers (13-3): Mark Barron, S, Alabama 
The 49ers upgraded the offense in free agency, so look for them to add depth on the defense. Barron is a solid pick because San Francisco needs a strong secondary if it plans to get back to the NFC title game. 
31. New England Patriots (13-3): Stephon Gilmore, CB, South Carolina
Again, New England could easily trade this pick, but the Patriots are much better off keeping it and upgrading the defense with the skills of Gilmore. 
32. New York Giants (9-7):  Chris Polk, RB, Washington   
With Brandon Jacobs off to San Francisco, the Giants need another back to complement Ahmad Bradshaw, and Polk would be able to step in and produce at a high level right away.