Kentucky vs. Kansas Predictions: 3 Reasons Wildcats Will Be National Champions
April 2, 2012

Ronald Martinez/Getty Images
The Kentucky Wildcats are mere hours away from enjoying their shining moment as National Champions. 
Let's begin by giving Kansas their due adulation as eventual runners-up to the national title. They have a strong team that is as resilient as any that has been featured at this stage of the season. They just happen to be running into a dynamo that cannot be stopped. 
Kentucky has the athleticism that will suck the life from teams, and at this point of the tournament, it will prove the deadly blow. 
Here are some things to watch in tonight's epic battle. 
1. Anthony Davis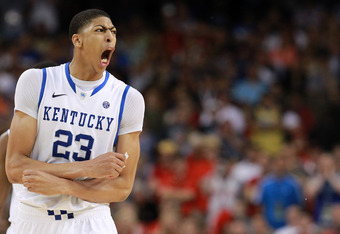 Ronald Martinez/Getty Images
Let's begin with the impetus of Kentucky's success at both ends of the court. While I love Thomas Robinson and Jeff Withey for the dominance they bring inside, Davis is a one-man wrecking crew that can determine a game all on his own. 
While Withey has turned into a blocking machine down low, Davis comes in with a remarkable 4.6 blocks per game on the season and just delivered the knockout punch to Louisville with five blocks and 18 points. 
Davis has matured with every game he has played, showing patience, skill and poise to go along with his otherworldly talents. He will be the difference tonight. 
2. Athleticism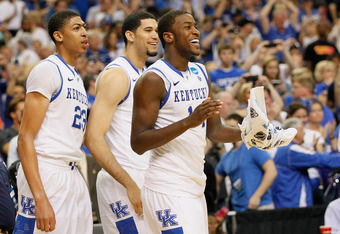 Kevin C. Cox/Getty Images
We have an early-season game to reference in determining some things we will see tonight. The Jayhawks are resilient and there is no denying their never-say-die attitude. 
Kentucky is too deep and far too athletic to expect Kansas to hold them at bay. In November, Kansas made a game of it before Kentucky surged after the half with an 11-0 run. 
Kentucky has the wheels to make that extra push. 
3. Too Many Weapons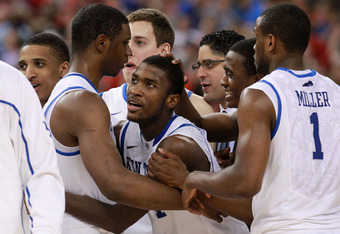 Ronald Martinez/Getty Images
Expect Tyshawn Taylor and Thomas Robinson to matter in this game, but after that there is the question of who will step up offensively. 
Kentucky has no such issues, bringing in a wealth of talent that can spread the floor and hit from anywhere on the floor. 
Per CBS Sports, the Wildcats have six players that average double-digit production, giving headaches to any defense that is hoping to stave off a big run. 
A sport that is all about momentum will see some stars go through cold streaks, but Kentucky has a myriad of options to get them through the most frigid of circumstances. 
Prediction: Kentucky 78, Kansas 73
Game Time: Kansas vs. Kentucky, Monday, April 2nd—9:23 ET—CBS