NBA Draft 2012: Power Ranking Top Forwards in This Year's Class
April 2, 2012

Ronald Martinez/Getty Images
The 2012 NBA draft class is loaded with great talent, and it's no secret that the forward position is incredibly stacked. 
Picking the top guys is certainly up for debate, though, which is exactly why we're here. 
Everyone can pretty much agree who the top prospect is, but after that, the opinions vary. With that said, here's how I rank the top three forwards in the draft. 
Anthony Davis, Kentucky 
As the consensus No. 1 overall player, Davis is certain to be the first player selected in the draft. 
Of course, a lot depends on which team ends up with the pick, but more than likely it's going to be Davis' name called first. 
Davis has been an unstoppable force all season long, and every NBA team could certainly make room for him. The power forward is sure to be a monster at the next level, and many teams will be pushing to get him in the draft. 
Thomas Robinson, Kansas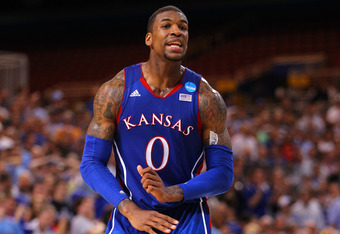 Dilip Vishwanat/Getty Images
The Jayhawks' best player, Robinson can solidify his place as one of the greats in school history if he's able to help Kansas win the title on Monday night. 
Even if he doesn't, Robinson will still be a prized prospect leading up to the NBA draft. It's unlikely that he opts to return, but it's a definite possibility, especially if Kansas fails to beat Kentucky in the championship game. 
Robinson is the second best power forward in the draft and one of the top five overall players. He plays with a great passion for the game and his relentless style will be great at the next level. 
Michael Kidd-Gilchrist, Kentucky 
The fact that the third best forward and top small forward in the 2012 NBA draft class plays for the same school as the top overall player is perfect proof of how great this Kentucky team has been this season. 
Kidd-Gilchrist burst onto the scene, powering his way past opponents and stealing the show in several key games. 
The 6'7" small forward plays with great intensity, and NBA teams will love that. Kidd-Gilchrist is all over the court, and despite being just a freshman, he'll jump to the next level where he'll begin a long career.