NFL Free Agents 2012: San Francisco 49ers Must Target Mike Wallace
April 2, 2012

Justin K. Aller/Getty Images
"Smith back to throw, steps up in the pocket, rifles a pass to the end zone, touchdown! Mike Wallace!"
This has a nice sound to it, right?
After the San Francisco 49ers missed out on the Peyton Manning sweepstakes, the NFC West Champions should still make a few free-agent moves. The position of interest? Wide receiver.
The 49ers have gone out of their way to boost their receiving core. They signed Mario Manningham and an aging Randy Moss.
So why spend at least a first-round pick for the best player available in the free-agent market?  Because if the 49ers are to win the Super Bowl, they will need a downfield treat. 
The 49ers have a lot of talent on offense, but none of it really strikes fear in the opponent. No one is rolling coverages to cover Michael Crabtree—they are staking eight and nine in the box to stop the run game.
Mike Wallace is young and fast, really fast. He is a burner on the outside, who under the wing of Ben Roethlisberger has averaged 18.5 yards-per-catch the last two years. He also had nine touchdowns a year.
Alex Smith is no Roethlisberger when it comes to arm strength and throwing the deep ball, but having a target like Wallace may cause the 49ers to open up the playbook.
Despite the 49ers losing faith in Smith, he did have a career year with average receivers. Give him more talent and he will continue to grow.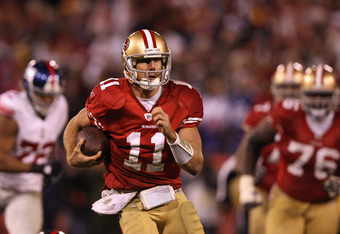 Ezra Shaw/Getty Images
There are the critics out there who might think San Francisco needs to focus on the offensive-line or adding another cornerback.
The fact is that the 49ers were one big play from going to the Super Bowl, and Vernon Davis can only do so much. Add Wallace's ability to go deep or to take a reverse every once in a while and the 49ers look a lot better on offense. 
The 49ers will be able to strengthen the line and secondary in the draft, but they probably won't find too much talent at wide receiver with the 30th pick. 
A few names that could help the team from the draft would be Kendall Wright, Alshon Jeffery and Stephan Hill.
Wright with his speed and ability would be a good fit with the 49ers, as would Hill with his slender 6'4" frame and big-play ability (29.3 per reception.) 
Jeffery is more of a possession receiver, and with Moss and Manningham already big targets, their pick would be better used on someone else.
Grabbing a big name on offense like Wallace would expand the playbook for the 49ers. With the speed and big-play ability on the outside, targets like Davis will get more opportunities.
Last year, defenses were able to play the 49ers straight up, with double coverages on Davis. Add Wallace to the offense and secondaries will have to roll their coverages his way.
Result—more production from Vernon Davis.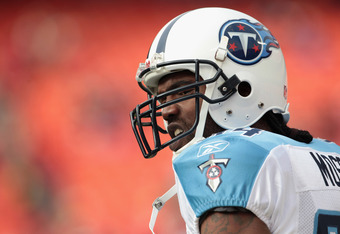 Jamie Squire/Getty Images
The same could also be said for the running game—bring the safeties into the box and Wallace burns you deep, but play back in coverage and Gore, Hunter and Jacobs will gash you on the ground.
The main reason to get Mike Wallace—Randy Moss.
Randy Moss is 35 years old and has only five touchdowns in the past two years. He also only played in 16 games in that same period, after missing only six games in the past 12 years. 
Jim Harbaugh was impressed with his workout, but who knows which Moss will show up. After Moss lost favor in Oakland, he only caught 42 balls for 553 yards. 
Give Moss Tom Brady, and he has a historic year.
Once again Alex Smith is no Tom Brady, but he did lead an offense which tied for the least turnovers in NFL history (tied with Brady's 2010 Patriots).
At this point, the 49ers are set for a deep postseason run once again. They added tools on offense and stayed strong on defense.
If they were to sign Mike Wallace, it would be a game-changer for a team that almost got to the Super Bowl without a prolific threat on offense.
To get Wallace, the 49ers won't have to give away the farm or even the kitchen sink. It's probably going to take a first-round pick and Wallace's contract.
It's clear that signing the speedy wide receiver will give the 49ers an even better shot at Super Bowl success.