Ryan Leaf: Former NFL QB Arrested Yet Again on Burglary, Theft and Drug Charges
April 2, 2012

Ryan Leaf, one of the biggest NFL draft busts of all-time, has been busted by the cops once again.
An AP report in the Washington Post reports:
Central Montana Drug Force Commander Chris Hickman says Leaf was arrested early Monday in Great Falls and is facing charges of burglary, theft and two counts of criminal possession of dangerous drugs. He also is being detained on a probation violation.
The arrest comes two days after Leaf posted bail for drug and burglary charges in Montana.
The former Washington State superstar was initially arrested on charges of burglarizing an acquaintance's home for prescription painkillers.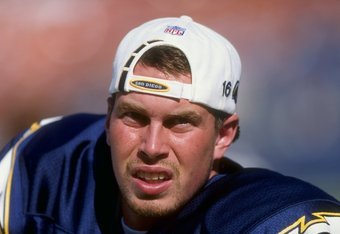 David Taylor/Getty Images
Leaf has a hearing later today and will not be released from jail because the probation violation does not carry a bond.
The No. 2 overall pick in 1998, Leaf is no stranger to trouble. After bombing out of the NFL, he struggled with a number of things, including drug addiction. This isn't the first or even the second time he's been charged with burglary.
Last year, he had a benign tumor surgically removed from this brain stem and also released the first of three contracted autobiographical books.
But just when it looked like he was starting to put things back together, Leaf finds himself back in the slammer. It's hard to know what exactly will happen next for him, but given the circumstances, it can't be good.