NBA Draft 2012: Terrence Jones and Stars That Must Shine in NCAA Championship
April 2, 2012

Kevin C. Cox/Getty Images
With the 2012 NBA draft months away, only a few prospects get another game to showcase their skills in front of scouts, and some must perform at a higher level than others. 
Flopping in the NCAA title game will significantly hinder an athlete's draft stock, but thriving on the big stage will do wonders. 
Certain Kentucky Wildcats and Kansas Jayhawks have to do well in the championship game or else they're going to miss out on a lot of money. 
That being said, here are three players who must shine bright in the NCAA title game for the sake of their draft stock. 
Terrence Jones, Kentucky 
The sophomore forward is projected as a borderline lottery pick, similar to where he was at this time last year. 
Jones has to step up on the big stage and show he is capable of leading his team to victory. In doing so, he will definitely solidify his place in the lottery. 
Of course, this is easier said than done, especially with so many other Kentucky players always dominating. 
There will be opportunities for Jones to make big plays, but if he doesn't come through, his draft stock will plummet. 
Tyshawn Taylor, Kansas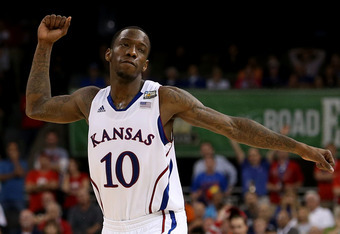 Jeff Gross/Getty Images
The point guard position is a pretty big thing in the 2012 NBA draft, and with a strong showing in the title game, Taylor could squeeze his way into the first round. 
Taylor isn't a pure point guard, but he can certainly run the show for an NBA team. At 6'3", he's got great size for the next level, which scouts love. 
He's proven during the tournament that he can dish it out as well as score. Lots of eyes will be on him tonight, looking to see if he can be dominant for the entire game. 
Taylor makes some spectacular plays here and there, but he also makes a good deal of mistakes. If he limits his errors and puts on a show, his draft stock will soar. 
Jeff Withey, Kansas  
Any time there is a seven-footer eligible for the draft, he's going to get some good looks. If the guy needs more time to develop, he most likely knows this and will remain in college. 
Withey is a junior this year, so he could opt to return for one more year at Kansas, especially since he's projected as a late second-round pick. 
However, should the Jayhawks win tonight, he may want to go out on top. If that's his plan, Withey had better dominate in the title game. 
Withey's draft stock will have a mega jump if he's able to shut down Anthony Davis and prove he has what it takes to play at the next level.