Notre Dame Football: 5 Reasons Gunner Kiel Is Ready to Lead Fighting Irish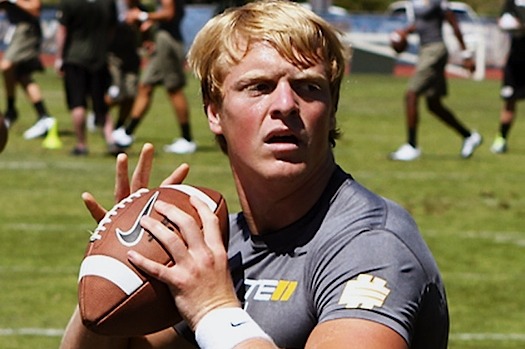 Image courtesy of rivals.yahoo.com
At the end of a roller coaster ride of a recruitment process, Gunner Kiel finally joined the Notre Dame Fighting Irish.
The highly touted QB prospect first committed to Indiana and was hailed as a true hometown Hoosier hero, but he soon backed out. Perhaps his decision had something to do with Indiana boasting only one winning season in the previous 16.
Mid-season of his senior year in high school, Gunner came close to committing to Notre Dame before selecting LSU in late December.
Shockingly, the day before spring classes began, Gunner once again changed his mind and was headed to South Bend, Indiana to join Notre Dame.
Gunner may not have arrived in a new Hummer like former Irish quarterback Jimmy Clausen did, but there was plenty of the type of drama we now expect to surround blue chip recruits.
The question at hand however, is not about recruitment or who will actually start the season as the quarterback for the Fighting Irish, but rather whether or not Gunner Kiel is ready to lead the team.

Begin Slideshow

»
Andy Lyons/Getty Images

As expected, LSU coach Les Miles let his disappointment be known when Gunner Kiel backed out of LSU.
During a public fundraiser named the "Bayou Bash", Les Miles took at shot at Gunner by saying:
"There was a gentleman from Indiana that thought about coming to the Bayou state," Miles said. "He did not necessarily have the chest and the ability to lead a program..."
Those are somewhat harsh words towards the second ranked quarterback recruit.
Although Les did not hold back much in regards to talking about Kiel, Gunner took his first opportunity to publicly respond, saying:
"You can't really control that," Kiel said, deflecting Miles' comments. "I did pull out at the last minute. I still have all the respect for LSU. Their fans definitely understood. LSU is a great place, but it wasn't the best fit for me. I'm a Midwest guy and I like to stay close. I'm just going to use that as fuel, but I'm not going to disrespect him in any way, shape or form. He's a great coach and they're a great team."
Gunner's words show exactly how mature and modest he is, and it reads like a Tom Brady presser—boring, respectful, and noncontroversial. He won't be the type to give opposing locker rooms bulletin board material every week.
Gunner's maturity with the press echoes his decision making on the football field, showing that he'll have no problem leading the Irish.
Gunner Kiel stands at 6'4", weighing 200 pounds—an ideal size for a quarterback.
And despite his size, Gunner has good mobility and plays well on his feet. During his senior season, Kiel ran for 400 yards and five touchdowns.
Gunner has a very accurate arm, and although his arm strength is not elite, it is considered very good. He has the ability to throw into high traffic situations while making good decisions.
Billed as smart and a great leader, Gunner has every quality a quarterback needs to succeed at a historic football school like Notre Dame.
Although you may notice a few flaws in the video, they should not be cause for too much concern. Gunner has the tendency to play hard, sometimes putting himself at risk for injury unnecessarily but coaches will iron out his game's wrinkles as he progresses at Notre Dame.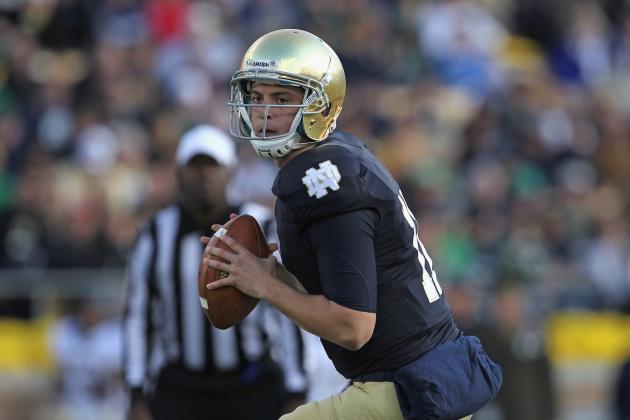 Jonathan Daniel/Getty Images

I predict Tommy Rees will remain the starting option for Brian Kelly's offense in 2012—though it could easily be Everett Golson or Andrew Hendrix.
As excited as we all are to see Gunner Kiel start his Fighting Irish career in 2012, red-shirting him this year is probably the smart move.
With a full year to learn under three quarterbacks and Brian Kelly, study the playbook and acclimate himself to his surroundings, Gunner will be ready to take over a talented Notre Dame team in 2013.
Playing under experienced quarterbacks will help Kiel make smarter decisions and quicker reads, and show him how to deal with his newfound celebrity.
With the proper grooming, Kiel could be the Irish's next Brady Quinn, leading the program back to perennial BCS Bowl contention.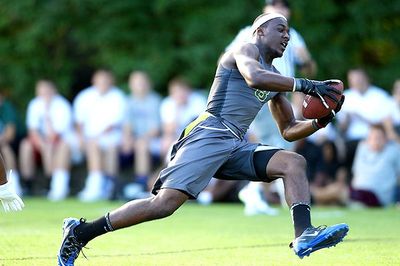 Tom Hauk espn.com
In 2013, the Fighting Irish will most likely return six wide receivers and a talented tight end.
One ESPNU Top 150 recruit joins the receiver corps in 2012—Justin Ferguson (No.85)—and will likely see immediate playing time.
At tight end, the heavily recruited Troy Niklas stands at 6'7" and will provide Gunner with a valuable target in the end zone.
Not to be overlooked, Notre Dame will also have a strong returning presence on defense. A good defense does wonders for a young quarterback, helping minimize any mistakes he may make early in his progression.
With the depth of talent that should return in 2013 along with new recruits, Notre Dame and Gunner Kiel should be poised for a BCS run.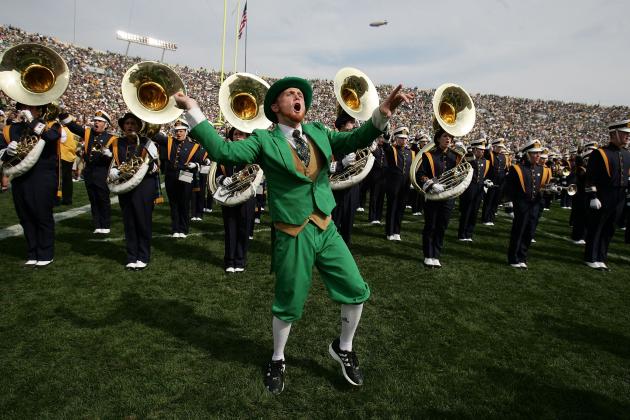 Jonathan Daniel/Getty Images

A large contributing factor in any player's success at Notre Dame is how the player handles the pressure and atmosphere of the school.
With almost every game nationally televised, undoubtedly one of the richest traditions, and possibly the largest fan base, Gunner Kiel will soak it all in.
His work ethic has been compared to a young Peyton Manning's by scouts, and we have already seen that he can handle tough questions from the press.
Gunner has the right mentality and personality to thrive in such a high pressure atmosphere.
With Brian Kelly guiding the way and a talented team backing him, Gunner Kiel will have all the support he needs to not only lead the team on the football field but also lead the Fighting Irish worldwide with his larger than life personality.
Hard work, determination, pride, and motivation will all be words used to describe Gunner Kiel at the end of his Notre Dame tenure.