Fantasy Baseball 2012: Starting Pitcher Weekly, Week 1 Injuries and Matchups
April 2, 2012

Christian Petersen/Getty Images
Welcome to the first regular-season edition of starting pitcher weekly.  Prior to each week, it is important to know a few key items about starting pitchers for the upcoming scoring period including injuries, two-start hurlers, matchups we want to capitalize on and matchups that are best avoided. 
With Week 1 being a shortened week, two-start pitchers will be a non-issue.
In the matchup sections, we will focus on under-the-radar pitching assignments.  Obviously everyone knows that they should start Roy Halladay against the Pirates.  The focus here will be identifying potential unseen opportunity.
Injuries
As is always the case with the first week of the season, numerous starters begin the season on the DL.  Some of these players are more crucial than others, but in deeper leagues many of these guys play an important role in the championship picture.
Zach Britton: The Orioles' young starter is battling a shoulder issue that will keep him out for at least the first month-and-a-half of the season.  He'll begin long tossing next week, and the team expects him to be sidelined 6-8 weeks after that.
Mat Latos: Latos is battling a strained calf and threw a bullpen Friday.  He claims to be okay, and you should have no worries heading into Week 1.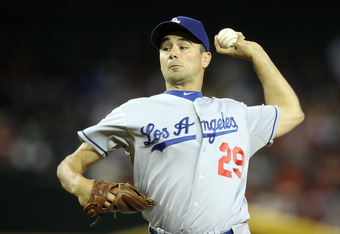 Christian Petersen/Getty Images
Derek Lowe: Lowe has a sore right side, but the team feels that is nothing to worry about and he should not be heading to the DL to start the season.
David Huff: Huff hasn't yet found his way to the DL, but the Indians do not feel he has any shot of being ready for Opening Day.
Drew Pomeranz: Pomeranz has a thumb issue that will cause the team to skip his first start.  He will make his season debut on April 15.
Felipe Paulino: The Royals starter and fantasy sleeper appears likely headed to the DL with an elbow injury.  No time table is set for his return.
Ted Lilly: Lilly has a neck problem that will most likely land him on the DL to start the season.  All signs point to him being ready to go after the 15-day hiatus.
Scott Baker: Baker is on the DL with elbow issues.  He is pitching in minor league games currently and appears to be ready when the DL stint is over on April 15.
Michael Pineda: Pineda will begin the season on the DL with shoulder tendinitis.  The examinations show no structural damage, but he will need to be monitored closely.
Dallas Braden: Braden is out until sometime in May and had a setback in a recent bullpen session, possibly pushing the time table back further.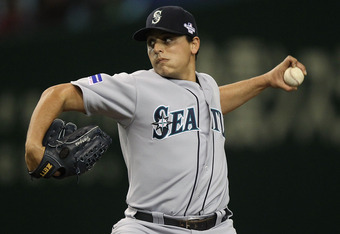 Chris McGrath/Getty Images
A.J. Burnett: Burnett threw in a minor league game Sunday.  The team hopes to have him on the big league roster in early May after the unfortunate eye injury.
Charlie Morton: Morton will begin the year on the DL with a hip injury. 
Tim Stauffer: Stauffer is day-to-day with a triceps problem.  This injury could push him out of the opening week of action.
Chris Carpenter: Carpenter will start the season on the DL as expected.  No word on when the team expects him back, though it could be a considerable time from now.
Jeff Neiman: Neiman is dealing with a blister on his pitching hand.  The team hopes the blister will heal in time for a Week 2 start.
Dustin McGowan: McGowan is likely looking at an end-of-April return from a foot injury.
Good Matchups
April 6: Jeremy Guthrie vs. the Astros
Most any pitcher should have a good chance against the weak lineup of the Astros, and this is no exception.  Guthrie has good stuff and should benefit from a much better offense behind him this season.  Expect a win and 6-7 K's.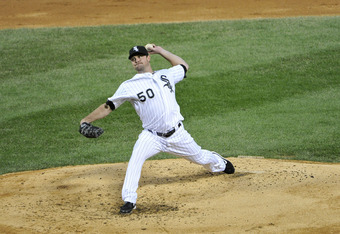 Brian Kersey/Getty Images
April 6: Jason Vargas vs. the A's
Vargas looked good in his first start in Japan and should be able to handle the A's lineup once again. 
April 8: Jordan Zimmermann vs. the Cubs
Zimmerman will make his season debut against the Cubs and new starter Jeff Samardzija.  Expect the Nationals to expose the Cub's righty for a big day at the plate.  Couple that with an anemic Cubs offense, and Zimmerman should be in line for a win and a decent amount of K's.
Bad Matchups
April 6: John Danks vs. the Rangers
Danks is a declining pitcher facing one of the league's best offenses before its injury-prone stars have a chance to be out of the lineup.  This one is best left alone.
April 7: R.A. Dickey vs. the Braves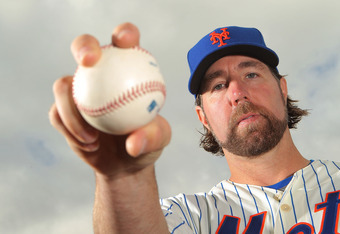 Marc Serota/Getty Images
Dickey's knuckleballs just aren't as effective early in the season with the colder weather.  Without as much movement, the Braves should have no trouble hitting the soft-tossing righty.
April 8: Jonathan Sanchez vs. the Angels
Sanchez is a notoriously wild, fly-ball pitcher facing a loaded lineup in the Angels.  This one could get ugly.
If you still haven't selected your fantasy baseball team, there's still a chance to make use of the two preseason articles here and here.