NBA Rumors: Why Chicago Bulls Would Be Insane to Spurn Tom Thibodeau
April 2, 2012
Jonathan Daniel/Getty Images
Tom Thibodeau is a candidate to win Coach of the Year for the second straight season, and there is no question that the Chicago Bulls are a better team with him at the helm.
The beloved Thibodeau became the fastest in head coach league history to reach 100 wins earlier this year, but Chicago's front office still hasn't picked up his contract option for next season.
In the Weekend Dime report on ESPN, Marc Stein suggested that the head coach is a little peeved with the fact that he doesn't have a new deal.
Thibodeau associates privately insist that the NBA's reigning Coach of the Year is dismayed that he hasn't been offered a more lucrative extension after signing a modest two-year contract with a team option when he joined the Bulls. Sources close to the situation say, furthermore, that his displeasure with the situation is an open secret in team circles.
Despite Stein's sources suggesting that Thiobdeau has grown frustrated with the lack of progress in terms of a contract extension, ESPN Chicago's Nick Friedell got reaction from Thibodeau himself.
"I don't know where that's coming from," Thibodeau said. "I'm not worried about any of that stuff. I'm under contract. I'm fine with everything here."
That doesn't sound like a man who is concerned about his job status or getting a new deal.
At the very least, the Bulls will exercise Thibodeau's contract option for next season before attempting to hammer out a long-term deal for the head coach.
But this is not the time to test choppy waters.
There is a dearth of quality head coaches currently in the NBA, and Thibodeau has very clearly asserted himself as a dynamite coach capable of getting his players to buy into what he's selling.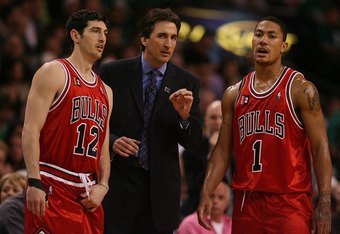 Elsa/Getty Images
So what are the Bulls waiting for? What is the point of the waiting game?
It's time to lock this guy up for the long haul.
He's certainly got the support from his players, who were vehement in their support of the head coach when giving quotes to Friedell.
"I think that Thibs really changed a lot, the philosophy around here," Joakim Noah said. "I'll go to bat for Thibs any day."
"He doesn't talk about that stuff, but we need to get him an extension ASAP," opined Carlos Boozer.
"If we don't bring him back, someone is going to take him. He's that good," said Luol Deng.
All three are right on the money.
Before the Bulls got Thibodeau on the bench, it was two seasons of a mediocre Vinny Del Negro on the bench, who turned in an 82-82 record during his tenure.
Before that? Bulls fans don't want to go there. Whether it was Tim Floyd, Scott Skiles or any other character who attempted to fill Phil Jackson's shoes, nobody made this team better the way Thibodeau so clearly has.
Thibodeau's record is a sparkling 104-32 since taking over as head coach.
That type of work deserves proper recognition in the form of a lucrative extension.