Rockets vs. Bulls: TV Schedule, Live Stream, Spread Info and More
April 2, 2012

Christian Petersen/Getty Images
After a blowout loss to the surging Oklahoma City Thunder, the Chicago Bulls (42-12) look to get back on track against the Houston Rockets (28-25).
With the Rockets battling for a playoff berth in a crowded Western Conference, the Bulls have already locked up a spot in the postseason despite having to play without Derrick Rose (groin) in the lineup since March 12.
Houston is coming off of a devastating overtime loss against the Indiana Pacers on Sunday evening, so each team may be a little sluggish at the onset of the action as they square off on Monday.
The Bulls hold an impressive 21-5 record at home, while the Rockets stand at just 8-17 on the road.
Where: United Center, Chicago, Illinois

When: Monday, April 2, 8:00 p.m. ET

Watch: NBATV 
Live Stream: NBA League Pass

Listen: ESPN 1000 (Chicago), 610 AM (Houston)

Betting Line: Bulls -8.5, according to Bovada.lv

Key Injuries: Derrick Rose (groin), Richard Hamilton (shoulder), Kyle Lowry (bacterial infection), Kevin Martin (shoulder) 
What They're Saying
There has been a lot of chatter around Tom Thibodeau's contract situation, but the head coach isn't concerned with his current deal.
The reigning Coach of the Year insisted that he was "fine" with things in regards to his contract (according to Nick Friedell of ESPN Chicago), but there are larger concerns with the club than Thibodeau's contract status.
Following the absolute whooping Oklahoma City laid down on Chicago in a nationally televised game, the Bulls must put forth a more complete effort in order to right the ship.
Via Friedell:
When was the last time a Thibodeau-led team got outworked this badly? Sure, it's only one game, but it was against a team the Bulls could very well see later in June in the NBA finals. Thibodeau's criticism, and the one he will surely discuss with his team over the next few days, is that they can't play that way and expect to win ... no matter who is on the floor.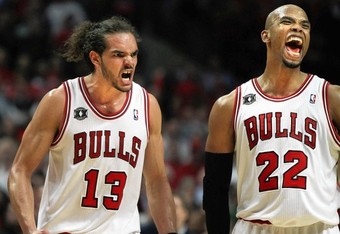 Most Important Player to Watch: Joakim Noah, C Chicago Bulls
Without Derrick Rose in the lineup, Noah has to put forth a strong effort in order for the Bulls to click on all cylinders.
Although he's averaging close to a double-double for the season (9.8 points, 9.8 rebounds, 1.3 blocks), Noah's efforts haven't been very consistent between games in March.
He's looked strong when the Bulls win, but he's struggled when the team loses; it's not a stretch of the imagination to believe the two things are correlated.
Noah was nowhere to be found against Kendrick Perkins and the Thunder on Sunday, logging just five points and six rebounds in 19 minutes on a putrid 1-of-8 shooting performance.
The Florida product is going to have to be a lot better against Samuel Dalembert, Marcus Camby and the Rockets, but he'll certainly have his hands full against the two defensive-minded big men.
Key Matchup: Goran Dragic vs. C.J. Watson
Both Houston and Chicago have had to go through a critical time of the season without the starting point guard in the lineup, but each has found ways to adjust.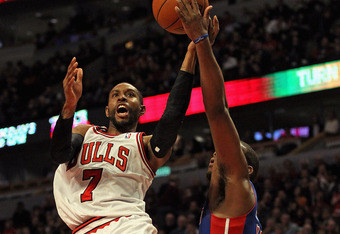 Jonathan Daniel/Getty Images
Two of the best backups at the position go head-to-head in this one, and Dragic has really responded positively since being inserted into the starting five.
In 15 games as a starter this season, Dragic is averaging 17.4 points, 8.9 assists and 1.7 steals on a solid 52.5 percent from the floor. Conversely, Watson is averaging 12.6 points, 4.2 assists and 1.1 steals on just 37.0 percent shooting over 18 games filling in for Rose.
Each will have to deliver a solid showing on Monday, but Dragic is really playing well of late, while Watson has struggled over his last few games.
Prediction
Bulls 98, Rockets 91