Mario Balotelli and 10 Crazy Football Press Conferences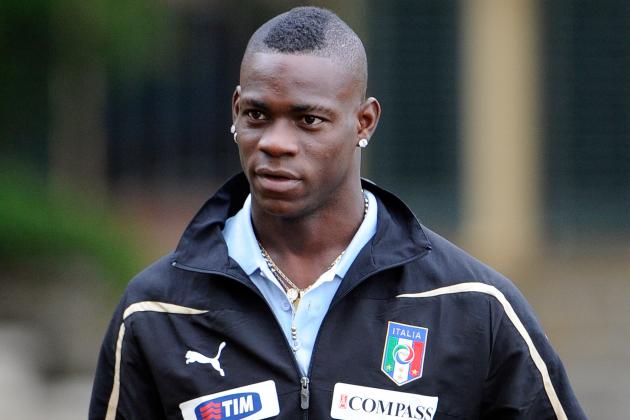 Claudio Villa/Getty Images

Manchester City's Mario Balotelli surprised everyone at Inter Milan's training ground when he rocked up there last week at the press conference unveiling the club's new manager, Andrea Stramaccioni.
No doubt, back in England, City manager Roberto Mancini was equally non-plussed.
The striker's special guest appearance was another entry into the file marked "Balotelli's crazy antics," but also a welcome addition into the annals of memorable football press conferences.
Here is a list of 10 occasions when the assembled media got more than they bargained for.
Begin Slideshow

»
I have had few more intriguing emails land in my inbox than the one sent from an Italian colleague last Tuesday which read: "Mario Balotelli is at Appiano Gentile (Inter training ground), arrived in his Ferrari."
The mind boggled. Why was he there? Was it a case of mistaken identity? Was the striker going to announce his sacking from City and his re-signing for his former club?
As it turns out, Balotelli had used some time off given to all of City's players to return to Milan and congratulate his former coach on getting the job, which he did during Stramaccioni's first press conference as first-team manager.
After a few affectionate handshakes and kisses, Balotelli breezed out of the room as quickly as he had entered.
A puzzled-looking Stramacciano, who had been in the middle of answering a question when Balotelli walked in, turned back to the journalist he had been addressing and asked: "Sorry, what were you asking me?"
Baffling press conferences are nothing new in Italian football.
Last summer, for example, Napoli's eccentric president Aurelio di Laurentiis called the media to the unveiling of the club's new kit and a "mystery signing."
Most of us in the know had a pretty good idea that the player in question was Swiss midfielder Gokhan Inler, but even they were taken aback when the new member of the Partenopei strode out to face the cameras wearing a lion mask.
One final clue came when Inler turned around to reveal the squad number 88, which he had worn at previous club Udinese, before removing the mask to confirm his identity.
The first of two entries here for Manchester United boss Alex Ferguson, who is famously controlling of his press conferences.
At a media call at the start of the week before the 2011 Champions League Final—which came in the days following Ryan Giggs being revealed as the player who had unsuccessfully tried to gag the media over an extra-marital affair—one journalist asked Ferguson about the veteran midfielder's importance in the upcoming match against Barcelona.
Ferguson gave a terse reply, and later whispered to his press officer about getting the reporter—Rob Harris of the agency AP—banned from Friday's pre-match press conference.
Unfortunately for Ferguson, that presser was an event staged by UEFA, not United, so he was powerless to stop Harris being there.
One of the most infamous quotes in English football history, and it was given by a Frenchman.
After Manchester United star Eric Cantona's infamous kung-fu kick at a man in the crowd who abused him at Selhurst Park, Cantona was sentenced to 100 hours of community service.
The enigmatic forward addressed the media to give his reaction to news of the conviction, but the packed press room was treated to just one sentence which let them know exactly what Cantona thought of them.
"When the seagulls," Cantona began, before taking a sip of water, "follow the trawler, it is they think sardines will be thrown into the sea."
And with that, he rose and strode out of the room.
Warning: This video includes repeated use of foul language from the start.
The football world was united in bafflement in September 2008 when—after an internal row led to Kevin Keegan leaving the club for a second time—the club appointed Joe Kinnear as his successor.
That bafflement turned to shock when the former Wimbledon boss marked his first big job in almost four years with a foul-mouthed rant at the northeast football writers, who criticised his appointment and reported that he did not turn up for his first day on the job.
Following are some excerpts from Kinnear's first press conference at Newcastle.
Joe Kinnear: "Which one is [Daily Mirror writer] Simon Bird?"
Simon Bird: "Me."
JK: "You're a c***."
SB: "Thank you."
JK: "Which one is [Daily Express writer Niall] Hickman? You are out of order. Absolutely f****** out of order.
"If you do it again, I am telling you you can f*** off and go to another ground. I will not come and stand for that f****** crap. No f****** way, lies. F***, you're saying I turned up and (Newcastle's players) f***** off."
Kinnear won five of his 26 games in charge of Newcastle, and they ended the season relegated.
Jose Mourinho outdid even his own standards of memorable press conferences in the buildup to the first leg of the Chelsea's Champions League last-16 trip to Barcelona in 2005.
In an apparently spontaneous move after half an hour of questions from the assembled journalists, Mourinho stunned everyone by deciding to name not only his starting XI for the game at the Camp Nou, but also the lineup that Barca boss Frank Rijkaard would play.
Perhaps Rijkaard called Mourinho's bluff, or maybe the selection really was obvious, but the Catalan side kicked off with Valdes, Belletti, Puyol, Marquez, Van Bronckhorst, Deco, Xavi, Albertini, Giuly, Eto'o and Ronaldinho—just as Mourinho had said.
It didn't help Chelsea much on the night—they lost the first leg 2-1—but their 4-2 win at Stamford Bridge two weeks later meant Mourinho won the battle, and at the same time added to the legend he has created for himself.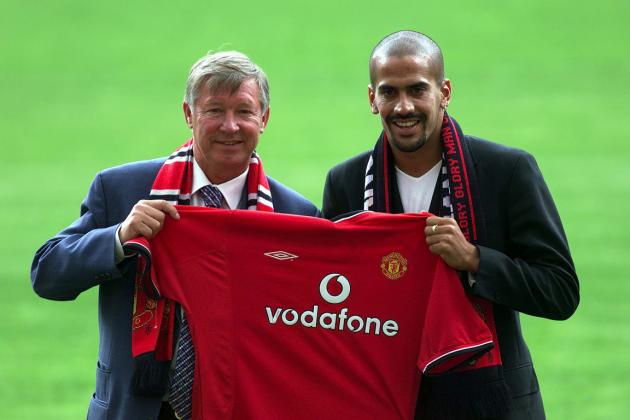 Gary M. Prior/Getty Images

Fergie again, and this time he takes the entire media to task.
Every seasoned hack will have a story or two to share about being on the receiving end of the Manchester United manager's anger, but perhaps the most famous incident of him taking a roomful of journalists on singlehandedly was when he was forced to defend his big-money signing of Juan Sebastian Veron.
Responding to reports that the Argentina midfielder had gotten into an argument with some of his teammates following their defeat in the 2003 Champions League semifinal against Bayer Leverkusen, Ferguson addressed the media thusly (as reported by The Guardian):
"People are always going on about f****** Veron. You tell me, what's wrong with Veron?

"What's this thing about fights and all the rest of this s***? It's absolute nonsense, you know it's nonsense. Absolute lies. On you go. I'm no f****** talking to you. He's a f****** great player.

"Youse are f****** idiots."
In October 2009, Maradona was under severe pressure as Argentina's coach.
His erratic, haphazard management had seen him call up over 100 different players in his bid to qualify for the 2010 World Cup, but poor results meant his team had to beat Uruguay in their final group match to avoid a playoff.
The Albiceleste won, securing their place in South Africa the following year, and Maradona unsurprisingly hit out at all those who had criticised him.
He said: "They can suck it and carry on sucking it. This is for all Argentines, minus the journalists.
"I don't usually read the newspapers or listen to sports programs, but my daughters do and they told me what had been said about me.
"So, I repeat, to all those that said anything against me, keep eating your words."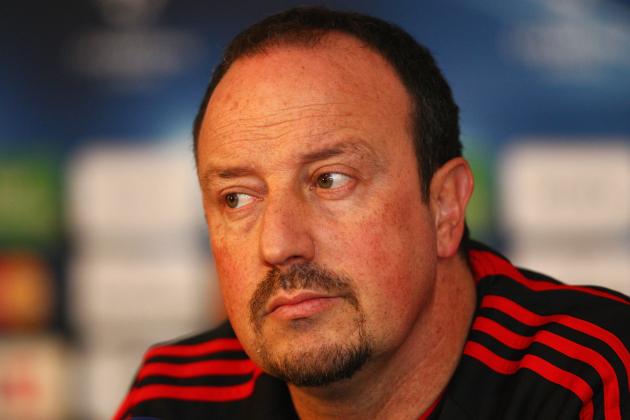 Michael Steele/Getty Images

January 9 2009 saw the moment which many have marked as the beginning of the end of Rafael Benitez's time at Liverpool.
In a prepared speech given by the Spanish coach in his pre-match press conference ahead of the Reds' trip to Stoke, Benitez cited what he now infamously described as facts about Manchester United manager Alex Ferguson and his team's supposed preferential treatment from match officials and the Premier League.
His five-minute rant (as reported by The Guardian) began:
But I want to talk about facts. I want to be clear, I do not want to play mind games too early, although they seem to want to start. But I have seen some facts. On 1 November, they played Hull and Mr Ferguson had a two-match touchline ban and a £10,000 fine after confronting Mike Dean, the referee, for improper conduct.

We started the Respect campaign, and that was when [Javier] Mascherano was sent off [last season] at Old Trafford. The referee [Steve Bennett] was the referee when they played against Wigan – he could not see the handball against Wigan by Rio Ferdinand, he did not give a penalty. They won the game and they won the title in this game. I think it will be the same referee who will be in charge of their game in hand this season [against Wigan].

During the Respect campaign – and this is a fact – Mr Ferguson was charged by the FA for improper conduct after comments made about Martin Atkinson and Keith Hackett. He was not punished. He is the only manager in the league that cannot be punished for these things.

Then he was talking about the fixtures. Two years ago we were playing a lot of early kick-offs away on Saturdays when United were playing on Sundays. And we didn't say anything. Now he is complaining about everything, that everybody is against United. But the second half of the season will see them playing at home against all the teams at the top of the table. It is a fantastic advantage.
At the time, Liverpool were top of the Premier League table, but a run of three straight draws saw them slip to third by the end of the month.
The Reds ended the season second behind United, but they never came as close to the title again.
After their turgid 0-0 draw with Algeria in the group stage of the 2010 World Cup, England were at a low ebb. They knew that anything less than a win against Slovenia in their final group game would probably see them eliminated before the knockout stage.
Up stepped John Terry, the man who had been stripped of the captaincy four months earlier for an unsavoury tabloid scandal involving the mother of former teammate Wayne Bridge's child. The defender gave a strongly-worded press conference, stating how he and the rest of the players were going to tell manager Fabio Capello exactly what they thought of him during a team meeting.
"If it upsets him, then I'm on the verge of just saying, "You know what? So what, I'm here to win it for England," Terry was reported as saying in the Daily Mail, before joking that "Maybe a few of us will be sent home after this evening," in reference to the upheaval in the France camp that was happening at the same time.
In the end, the meeting went ahead and Capello dominated it from start to finish. Terry, who had not bargained on the players not being as behind him as he first thought, stayed quiet, too.