Jonjo Shelvey: Why He's Liverpool's Most Important Player of the Future
April 2, 2012

Feng Li/Getty Images
Liverpool is not in good shape right now.
With seven matches left until season's end, Liverpool manager Kenny Dalglish is giving the team's potential young stars some time on the pitch.
One of them is 20-year-old midfielder Jonjo Shelvey, who looks like he will be a key player in the Reds' long-term future.
The Merseysiders' latest 2-0 defeat at the hands of Newcastle United proves it one more time. For the 75 minutes he played, he did very well. He was confident and was always willing to get on the ball.
Shelvey has obviously got the talent. He was Charlton's youngest-ever player, making his first appearance for the Championship club at the age of 16 years and 59 days.
Shelvey caught the Premier League scouts' eyes with some lively and dynamic performances. Former manager Rafael Benitez recruited him in 2010 for $2.7 million when he was 18.
It is common for teams in the Premier League to loan their young players to other teams, typically in the Championship, so they can improve by having more pitch time.
And so it was with Shelvey, who was sent to Blackpool for most of the first half of the 2011-2012 season. He scored in his debut against Bristol City and got to play regular football in a competitive environment.
There were talks that he may be loaned out to Blackpool again but because of injuries, including recently to midfielder Charlie Adam, Shelvey is set to stay at Anfield.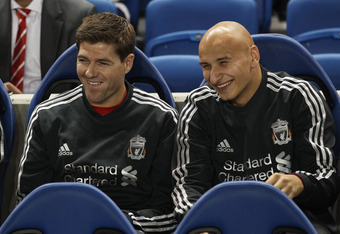 Clive Rose/Getty Images
His assets include is his ability to read the game well and his eye for goal. Against Newcastle, he had a chance when a shot bounced over the bar.
Although he's playing in midfield, he likes to attack. He scored a hat-trick against Leeds back in November playing for Blackpool and won the young player of the month award in November 2011 after scoring four goals in five games.
Shelvey's distribution is remarkable too. He knows where he needs to be and gets there quickly. He is a clever passer.
Shelvey is also physically well built for a soccer player. Standing six feet tall, he looks strong and striking. He is fast and energetic and can last on the field the whole 90 minutes.
Talent is obviously one factor for being a key player for Liverpool in the future: Age is another.
Talisman Steven Gerrard is 31 years old; so is forward Dirk Kuyt. They are important for the team but as they get older, they will become slower and get outplayed by younger opponents.
Forwards Luis Suarez and Andy Carroll are the obvious favorites for the "most important player" position.
Carroll still has plenty to prove, while Suarez is indisciplined and has temper issues. He was banned in 2010 for seven games and again this season for eight games for racial abuse of Manchester United defender Patrice Evra.
Clive Brunskill/Getty Images
Undoubtedly, Shelvey has a lot more to learn. But so does every youngster coming out of the academy, including the most acclaimed one so far this season, Raheem Sterling.
I was seriously debating whether to name Sterling as the most important player in the future for the Reds.
But he has played just one game in the first team—in a 2-1 defeat against Wigan last week— and that was just a cameo, coming on as a substitute in the 84th minute.
Undeniably, he's got potential. But at 17, it's too early to tell how well he can do among the pros.
And attempting to pressure Dalglish by threatening to leave for London because you're not progressing is certainly not a way to prove you deserve a place at Anfield.
If Sterling stays with Liverpool, he will probably be loaned to a team in the Championship so he can develop his skills like Shelvey did.  
Liverpool has now lost three games in a row, and six of their last seven matches. The team is currently eighth, 11 points behind the fifth spot.
There is always a risk in tagging younger players as the club's most important player of the future, but Shelvey gives off an authoritative air on the pitch which suggests he could fit the bill.
I think we'll be seeing him on regular basis as a starter for Liverpool.