WrestleMania 28: Why WWE Got Every Decision Right, Including Rock vs. Cena
April 2, 2012

All right, the Brodus Clay part was terrible, but as far as matches and angles went, I believe WWE made all the right moves, even the contentious Rock vs. Cena match. Why?  Allow me to summarise the reasons for each of the televised bouts.
1. Sheamus (W) vs. Daniel Bryan - World Heavyweight Championship

Now I know there will be countless fans out there who will say that this being an 18-second squash was an absolute travesty. On one hand, I do agree. I think these two men could have had a great match and really surprised people. However, it wasn't to be, and I think it spells good things for the future.
The fact is, this match was given next to no momentum prior to WrestleMania: hence, the result is not entirely surprising. However, whilst we didn't get any action at all, I'm sure Sheamus was always going to walk out with the belt, and now we are in for an interesting fallout. 
With Bryan kissing AJ, and Sheamus not even giving the American Dragon a chance, I think there will be a great feud that will arise from this. Bryan will surely blame AJ and can kick-start a darker, more ruthless side to his character.
This can then lead to not only an attack on Sheamus but, what will surely be, an excellent feud full of long and enjoyable matches. This is why the result was a good decision.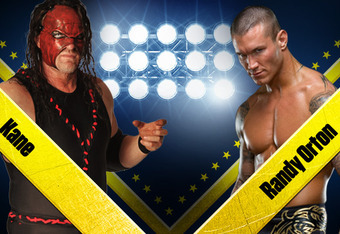 2. Kane (W) vs. Randy Orton
The quality of this match surprised me. Perhaps, as a result of a poor build up, I didn't have high expectations for the match but I'll take that kind of surprise any day!
The second surprise to come out of this match was Kane winning. I truly expected a clinical Viper victory and was in shock when he didn't kick out of the super choke-slam.  
The decision to have Kane win here is the right decision for a couple of reasons. Firstly, Randy Orton looked the stronger of the two men and won't suffer too much from the loss. Kane, however, needed the win to remain relevant and maintain his validity as a monster heel.  
This was also a way for WWE to be less than predictable in a match where it wasn't going to have devastating ramifications.
Orton looked strong and will bounce back; Kane is still relevant, and the result wasn't expected. That is why this result was a good decision 
3. The Big Show (W) vs. Cody Rhodes - Intercontinental Championship

Well, if nothing else, this was a feel-good moment. Cody Rhodes played his part in the match perfectly, and it had a solid finish.
Rhodes is young and clearly on the rise. WWE could afford to thank The Big Show by allowing him a rare WrestleMania win over Rhodes and to become the 12th WWE Grand Slam Champion. This result may well have been unexpected for many in the WWE Universe and only adds to the value of this result.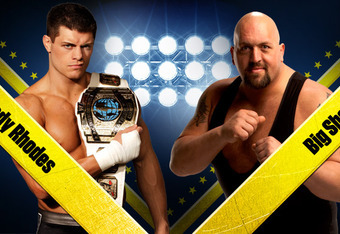 Anything could happen from here, but it was nice to see The Big Show get a deserved win over a young heel that is moving on to bigger and better things. This is why the result was a good decision.
4. Kelly Kelly & Maria Menounos (W) vs. Beth Phoenix & Eve
I know I'm not the only wrestling fan hoping for more from the Divas division. With Phoenix, Eve, Snuka and Kharma, there is hope; however, this match didn't borrow from that promise.
Although the match was poor, the right result came of it. There wasn't enough interest in this feud to give the heel team of Phoenix and Eve a win. WWE gave the celebrity the thank-you win for being a part of the show.
We don't want to hear of this whole feud again, so now she can take the win and be done with it. This is why the result was the right decision.  
5. Triple H vs. The Undertaker (W) -  Hell in a Cell
Well, this match may well have stolen the spotlight. While it could be argued that this match didn't compete with past Taker WrestleMania matches, everything worked.
The endless chair shots, the total uncertainty of how HBK would impose his authority, the back-and-forth domination of both men...this match had it all.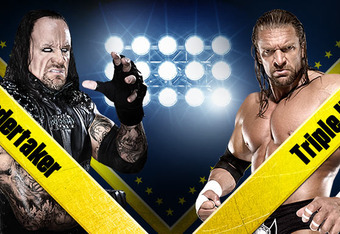 During the match, the twists and turns had me on a knife's edge. From the strange attacks on referees to thinking the streak was over, this was an excellent WrestleMania match.
Not only was the most valuable record in WWE preserved but it was done so with the utmost respect and professionalism. Seeing Taker and HBK help Triple H out of the ring and then all three men embrace was the best moment of the entire event.
Here were three of the biggest names of all time showing raw emotion. This was the ultimate showing of respect and a wonderful way to finish a match and an "era." This was the perfect decision as far as results went.

6. Team Johnny (W) vs. Team Teddy
While this match always felt like it was a filler and the start of new storylines, the result was the right one. The match also offered some great spots and we might finally see Zack Ryder be rid of Eve. This may also be the rebirth of The Miz. 
There is a simple explanation as to why this result was the right one: Laurinaitis is the more interesting and polarizing character. Although Teddy was the face, having a heel in charge will make for a more interesting ride.
7. CM Punk (W) vs. Chris Jericho - WWE Championship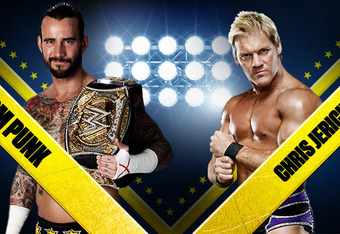 I hope the WWE find a way for this feud to continue. Although this match started a little slower than I expected, it soon found its groove and these two men put on a clinic. Both men put on WrestleMania calibre performances and I want more.
CM Punk winning was the right result. Punk needed his WrestleMania moment to make his status as a leading face of the WWE official.
Jericho has been there and done that. He has effectively assisted in building Punk to a new level and ultimately, he didn't need the win. Regardless of whether each man goes onto a new feud, this was fantastic, from start to finish, and has cemented CM Punk as worthy of carrying the WWE brand while Cena does some soul searching.
WWE needs a new poster boy right now, and the straight edge superstar is now the man to do it. That is why this was the right result.  
8. The Rock (W) vs. John Cena
Well, this was always going to be the result to spark controversy. Fans all over will debate this result for months to come, but I think this was the right result in the end.
As I have reported previously, I always thought this match was a lose-lose situation. The Rock winning, however, was the result that would cause the least amount of anger within the WWE Universe.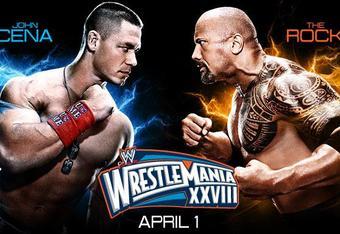 Too many people would have been angered by a clean Cena win for it to be possible. Interference was always out of the question. The only way out was a Rock win. Although this won't please the Cenation, it presents a chance for John Cena to reinvent himself and offer the WWE Universe the change it's been begging for.
There will be more to come of this feud, I'm sure. This result, however, presents a surprise to some, the least grating of options for others, a reward to a legend and the spark needed to re-energize WWE's most polarizing figure. These reasons, among others, are testament to the fact that The Rock's win was the right decision.
Conclusion
This was a great WrestleMania. Albeit not the greatest, but I enjoyed it thoroughly nonetheless. I can't wait for RAW.
I'm sure some of you will agree and many of you will disagree with all of my reasoning outlined in this article. Either way, I would like to hear your thoughts. I believe each result was the right one. What do you think, Bleachers?