Dan Uggla: 4 Reasons Adding Even More Muscle Will Hurt Him in 2012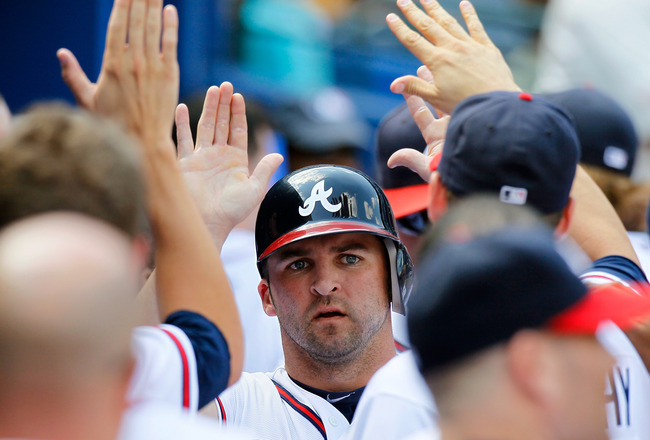 Kevin C. Cox/Getty Images
If there was one thing Dan Uggla did best last season, it was toying with Atlanta Braves fans' hearts and minds.
Entering play on July 5, Uggla's batting average sat at a lousy .173. After a 2-2 night with a home run, double and two walks against Colorado, he awoke from a season-long slumber.
That night served as the beginning of a 33-game hitting streak that saw Uggla raise his batting average to .232 and hit 15 of his 36 home runs along the way.
Simply put, Braves fans finally saw the Uggla that most had expected when Atlanta sent Mike Dunn and Omar Infante to the Marlins the previous November.
Earlier this spring, the Atlanta Journal-Constitution's David O'Brien reported on Twitter that Uggla had added 20 pounds of muscle over the offseason, mostly to his arm and upper body.
Braves fans thought: Huh? He needed more muscle?
It's a valid concern and raises questions about how the added bulk will affect his performance.
His Already Subpar Defense Will Suffer
Dilip Vishwanat/Getty Images
Dan Uggla has never been a wizard with the glove at second base.
And, frankly, when you contribute 30 home runs a year, most of those defensive maladies are easier to overlook.
But my worry is that with added muscle, especially in the upper body, Uggla's range will suffer.
The Braves face uncertainty at shortstop, but defense shouldn't be an issue with either Tyler Pastornicky, Andrelton Simmons or Jack Wilson playing there.
The question is: How will their middle infield partner fare?
More Bulk Means Less Flexibility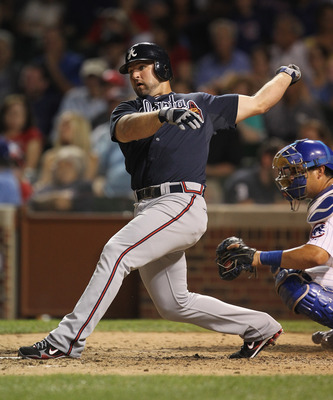 Jonathan Daniel/Getty Images
The next time you watch Dan Uggla hit, pay close attention to how hard he swings.
Hint: It's a high-effort swing.
That added muscle in what were already muscle-bound arms will reduce flexibility in the arm and core areas, meaning that the chances for an oblique, back or shoulder injury are probably higher.
I'm no doctor, but I'd rather see Uggla lose some of that upper-body weight and instead focus on gaining a more lean physique, if only for longevity's sake.
Forgetting About the Legs?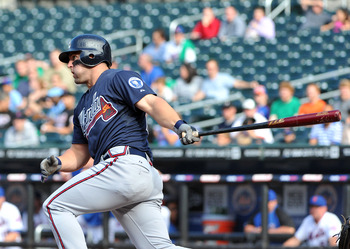 Christopher Pasatieri/Getty Images
Dan Uggla already boasted arms better suited for a bodybuilding competition than for professional baseball.
And if reports are true that most of his 20 added pounds went to his upper body, the question becomes: What about the legs?
After all, as impressive as his forearm muscles may be, power comes from a player's base.
If Uggla neglected adding muscle to his legs, he may not boost his home run totals by much.
Adjusting to a New Body Will Take Time
Uggla with his added bulk in Spring Training
J. Meric/Getty Images
A player doesn't simply alter his body—especially a muscle-bound one, adding more bulk—without his swing being affected in some way.
It's feasible that Dan Uggla may struggle a bit getting used to an updated swing.
Even after hitting a career-high 36 home runs last season, Uggla may swing for the fences more instead of trying to improve on that .233 batting average or .311 on-base percentage from last year.
Keep Reading

Atlanta Braves: Like this team?