NFC South Blog: An in-the-Trenches Introduction to NFC South Coverage
April 2, 2012

Wesley Hitt/Getty Images
Welcome to the newest divisional blog from Bleacher Report—the NFC South Blog.
Whether you live in Atlanta, Charlotte, New Orleans or Tampa, or are a fan of the Falcons, Panthers, Saints or Buccaneers spread somewhere across the country, bookmark this page, come back frequently, tell your friends and get involved.
This blog is for you.
Before I jump into what to expect on these pages in the near future, allow me to give you some background about myself.
My name is Knox Bardeen and for the past three seasons I covered the Atlanta Falcons for two different news sources.
During the 2009 and 2010 seasons, I worked for AOL's FanHouse. And last year I was the Falcons Rapid Reports Correspondent for CBSSports.com.
I'll still be with CBS moving forward, as I believe the Rapid Reports I create are fantastic ways to get short, 50-word or less bursts or news about an NFL team.
But here on this blog, not only will I get to expand on my thoughts and tell a little more of the story about the Falcons, I'll also get to talk about the other three teams in the division.
When news breaks anywhere in the NFC South, I'm going to be here to tell you about it. But I'm not going to stop there.
You can get sports news just about anywhere. Here's what you can't get everywhere, and why you should make this blog a regular destination:
Of course you'll want to know when your team makes a move, and I'll tell you. But I'll also break down that transaction's importance to the team, within the division and even to the entire league, if applicable.
I'm going to share stories with you that will help you understand what your favorite team is doing. It's not enough to know that your team's slot receiver hasn't been targeted in two weeks; you need to know why.
Has he fallen out of favor with the coaching staff? Has he just ran up against a few of the better shutdown defensive backs in the league? Is he hurt? I'll tell you here.
I'm also going to break down the games for you, both before and after the initial kickoff.
We all watch the games, so game stories aren't what I'm talking about here. I'm talking about showing you some of the better individual matchups and why one player can exploit the other to his advantage.
I'm also talking about telling you after the game why the fullback scored twice, what went painfully awry even in a team's victory, and what happened to make the best pass rusher on the field a non-factor.
But why listen to me?
Well, Bleacher Report is paying me, and giving me this huge broadcasting mechanism to get the word out. But that's not enough of a reason.
You should listen to me because I've been in the trenches. I've seen what makes the NFC South such a fantastic place to be a fan.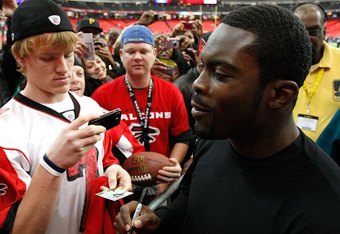 Kevin C. Cox/Getty Images
I was there when Mike Vick returned to Atlanta in an Eagles uniform in 2009. I felt the way the crowd buzzed as he ran onto the field. I heard the cries of support from the fans and the screams of hatred from the jilted.
Vick scored twice as a backup that day and his new team pounded his old. The Falcons have moved on and most have embraced new franchise quarterback Matt Ryan. But there will always be a small sliver of Falcons Nation that loves Vick.
Everyone knows that one of the loudest places to play in the NFL is the Mercedes-Benz Superdome in New Orleans. As loud as it is on most game days, the decibel level when the Falcons come to town shoots into the red.
The loudest game of the season for both teams will always be the Falcons-Saints clash in New Orleans. And the hatred mixed with a huge helping of respect from both sides of the field is always something to soak in when it happens.
The Tampa Bay Buccaneers had what many thought was a breakout season in 2010 when they went 10-6 and just missed the playoffs. The team was young, had an emerging superstar at quarterback and looked to be a force in the NFC South.
Then 2011 happened. After a 4-2 start, the Bucs lost 10 in a row and I was there at the end when Atlanta became the second NFC South team to put up 40-plus points on a Tampa Bay team that seemingly gave up on its coach.
Raheem Morris was later fired, and now Tampa Bay looks to be reloading with youth and talent.
And who could forget how Cam Newton burst on the scene in Carolina?
He started his professional career with two 400-plus yard passing games and went on to become the first rookie in the NFL to throw more than 10 touchdown passes and run for more than 10 touchdowns in a season.
There are storylines aplenty surrounding Newton and the NFC South. Let's not forget that Newton grew up in Georgia, played high school football in Atlanta, briefly went to college in Florida and terrorized the Southeastern Conference in 2010.
His 217 rushing yards against LSU (a team that plays less than 90 miles from the Superdome) that year pushed Newton into the SEC record books as the conference's best rusher as a quarterback.
So, sit back and let me share everything I know about the NFC South with you.