Ranking Kentucky Wildcats' Top 15 Players over the Last 3 Seasons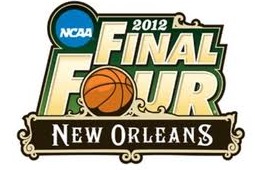 The University of Kentucky basketball program has evolved into an NBA training ground with the Wildcats having nine players selected in the NBA draft the last two years.

This year's draft should be no different for any Wildcat wishing to prove himself on the professional hardwood, with another six players projected to leave Lexington according to some mock drafts.

Coach John Calipari has led Kentucky to a 107-8 record—with no losses of more than 10 points—heading into Monday night's NCAA championship game against Kansas in New Orleans. And Calipari makes no excuses for his recruiting style and philosophy.

Going to college to get a degree is one thing, but one can't argue with the success of the "One-And-Done University" style that has served his players very well and acts as a magnet to top-tier high school talent.

So much talent that Kentucky has had 15 players over the last three seasons who are NBA worthy. Let's look at them in the order I see them being evaluated 10 years from now.
Begin Slideshow

»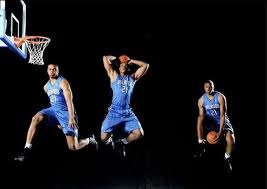 The 6'10", 255-pound center was taken by the Orlando Magic with the 29th pick in the 2010 NBA draft and was sent to the NBDL's New Mexico Thunderbirds, where he suffered a season-ending knee injury in just his second game.
Orton has rehabbed from that injury and made his NBA debut on Jan. 27 against the Hornets and is averaging 0.8 points per game in the five games he has played.

Time will tell if Orton, a native of Oklahoma City who averaged 13.3 points and 3.3 rebounds per game in his lone season in Lexington, can excel in the NBA.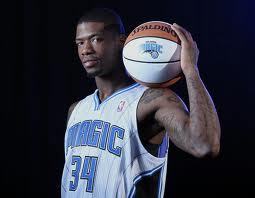 Liggins played three seasons for Kentucky and was a "glue guy" for Calipari. The Chicago native and Findlay Prep graduate was chosen by the Magic as the No. 23 pick in the 2011 NBA draft.

Liggins, a 6'6", 209-pound guard, is averaging 1.5 points per game in his first year in Orlando and is an extremely solid bench player.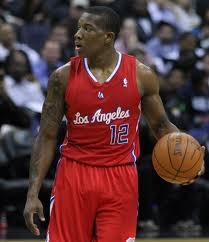 A 6'1", 195-pound guard, Bledsoe was the No. 18 selection in the 2010 for the Oklahoma City Thunder and was traded to the Los Angeles Clippers.

One of the nation's top point guards in high school, Bledsoe, a native of Birmingham, Ala., is averaging 2.1 points and 1.2 rebounds per game this season for the upstart Clippers.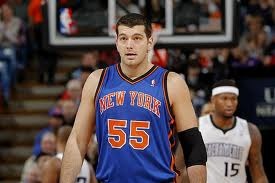 The 45th pick in the 2011 NBA draft of the New Orleans Hornets, Harrellson was traded to the New York Knicks, where he is now averaging 4.6 points and 4.2 rebounds in a steady reserve role.

The 6'10", 275-pound center made a name for himself and improved his draft stock in last year's NCAA tournament and was a first-team All-State player in both his junior and senior seasons at St. Charles High School in Missouri.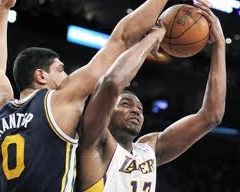 Kanter is a native of Turkey who moved to the United States and played at Stoneridge Preparatory School in Simi Valley, Calif. The 6'11", 267-pound center scored 34 points and grabbed 13 boards at the 2010 Nike Hoop Summit, breaking Dirk Nowitzki's record set in 1998.

A highly touted recruit by Kentucky, Kanter was ruled permanently ineligible as he received an approximate $33,000 payment from Fenerbahçe Ülker and never got to show his stuff in a Kentucky uniform.

Kanter was the the No. 3 overall pick in the 2011 NBA draft, taken by the Utah Jazz, and is averaging a respectable 4.7 points and 4.6 rebounds per game in his rookie year in Salt Lake City.
A 6'9", 235-pound center-forward, Patterson was drafted at No. 14 pick in the 2010 NBA draft by the Houston Rockets, where he is thriving and averages 7.6 points and 4.2 rebounds per game.

Patterson, a McDonald's All-American, was recruited to Kentucky by then-coach Tubby Smith after helping lead Huntington High School to three straight West Virginia state titles along with teammate O.J. Mayo.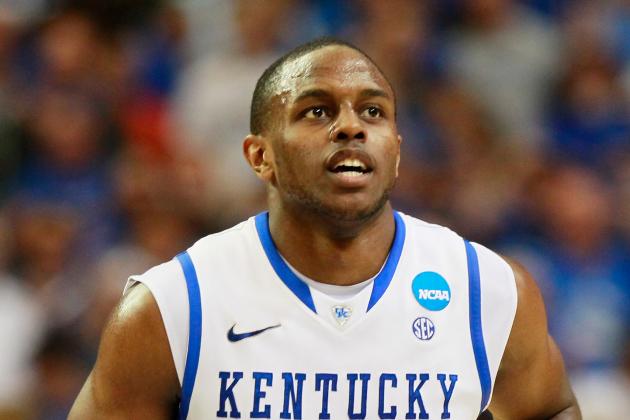 Kevin C. Cox/Getty Images

The first of six picks on my Top 15 list from this year's incredible roster, which some have compared to UNLV's 1990-91 squad, Miller is averaging 10 points per game for Kentucky heading into Monday's title tilt.

The 6'7", 238-pound small forward is a native of the Bluegrass State, playing for Mason County High School in Maysville where he was named Kentucky Mr. Basketball in 2008, an honor also bestowed on Wildcats teammate Jon Hood in 2009.

Miller was named the MVP of the SEC tournament last year.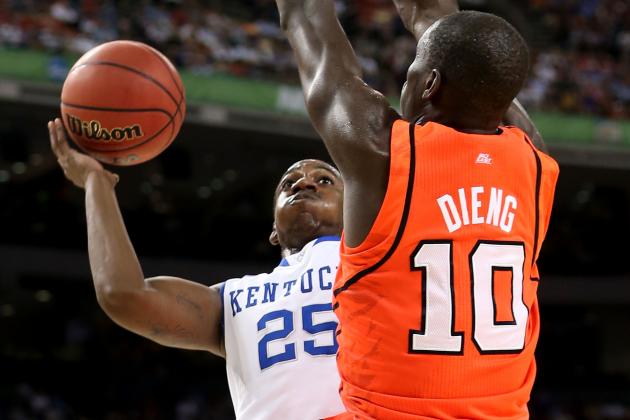 Chris Graythen/Getty Images

A 6'2", 189-pound point guard, Teague was ranked as the No. 5 player by Rivals.com
in high school and, along with current teammate Michael Kidd-Gilchrist, was a part of the gold medal-winning FIBA U-17 team in the world championships held in Hamburg, Germany.

In his first game as a Wildcat, Teague scored a career-high 16 points this season and is averaging 10 points and a team-leading 4.8 assists per game heading into Monday's championship game against Kansas.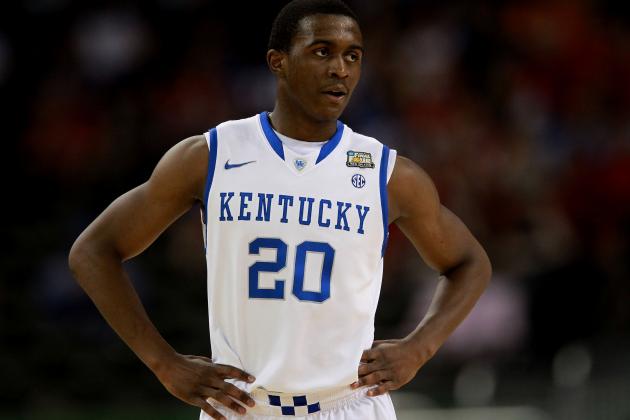 Ronald Martinez/Getty Images

Another pick from this year's sensational team, the 6'4", 200-pound Lamb is a dead-eye from the field as a shooting guard and is averaging 13.6 points, 2.8 rebounds and 1.5 assists per game and leads the Wildcats in free throw (82) and three-point (47) percentage.

Lamb, a native of the Bronx, is a graduate of perennial high school powerhouse Oak Hill Academy, a team ranked No. 1 in the nation by ESPN.com, and is just 10 points away from scoring 1,000 in his collegiate career.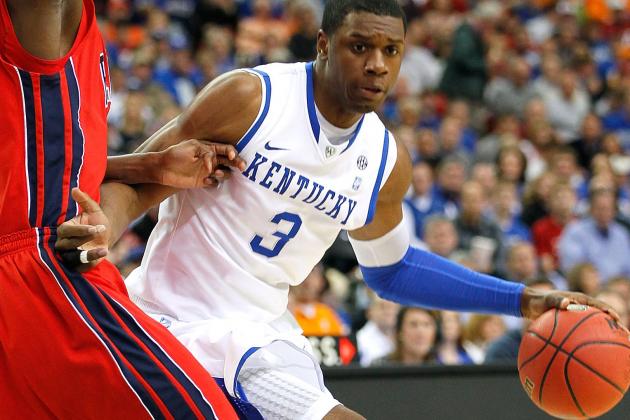 Kevin C. Cox/Getty Images

Many thought the 6'9", 244-pound Jones would leave for the NBA last season, but the power forward did the right thing and stayed in Lexington the be part of this year's squad.

One of Kentucky's six players averaging 10-plus points per game—the only team in the country that can claim such—Jones is averaging 12.6 points and 7.2 rebounds a game and will no doubt be a Top 20 pick in this year's draft.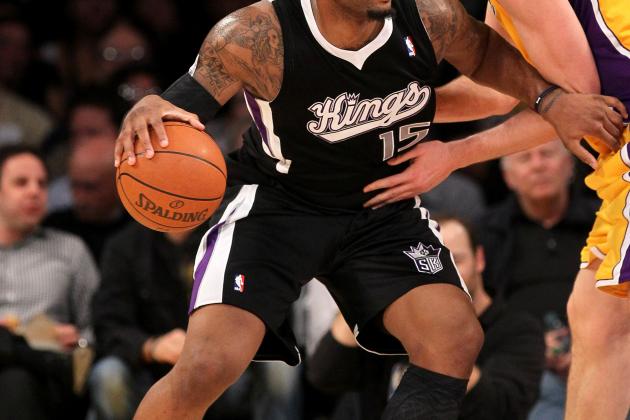 Stephen Dunn/Getty Images

In his second year for the Sacramento Kings, Cousins was the No. 5 pick in the 2010 NBA draft and was named to the NBA's All-Rookie first team.
A 2009 McDonald's All-American, Cousins led LeFlore High School to the Alabama Class 6A state championship game where his team lost to future teammate Eric Bledsoe's Parker High School.
The 6'11", 270-pound power forward is averaging 17.7 points and 11.1 rebounds and leads the league in offensive rebounding, averaging 4.69 boards a contest.
We'd hear a lot more about Cousins if he weren't playing in Sacramento with those lofty numbers.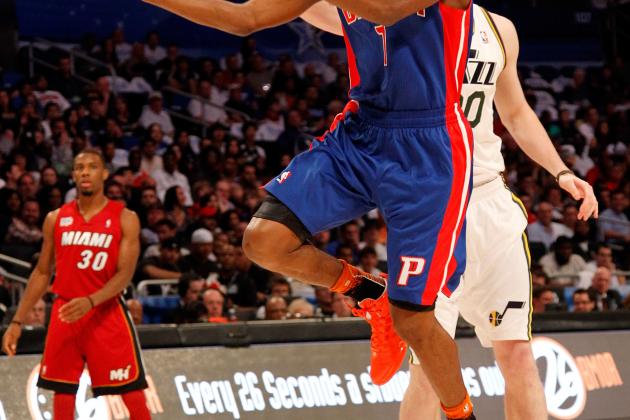 Mike Ehrmann/Getty Images

The 6'3", 189-pound Knight was a high school star at Pine Crest in Ft. Lauderdale, Fla. and was named the Gatorade National Player of the Year in 2009 and 2010, the only player to be bestowed that honor besides Greg Oden and LeBron James. Knight was also a McDonald's All-American.
The guard scored 31 points in his college debut at Kentucky and was taken with the No. 8 pick in last year's NBA draft by the Detroit Pistons where he is averaging 12.6 points and 3.3 rebounds a game in his rookie year.
With Knight, Detroit certainly has a player it can build around for the future.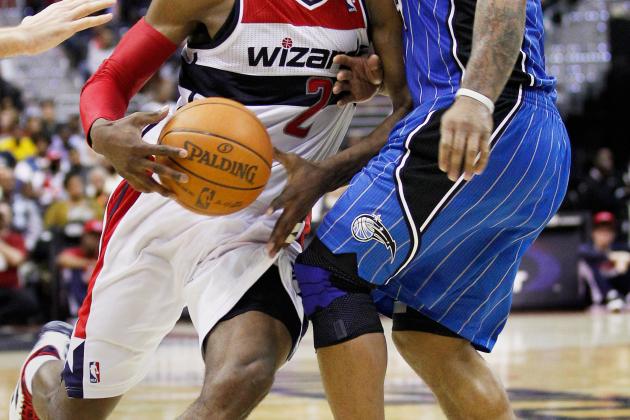 Rob Carr/Getty Images

One of the most exciting Kentucky players to ever reach the NBA to watch play, the 6'4", 195-pound Wall was the No. 1 pick in the 2010 NBA draft of the Washington Wizards, where he averaged 16.4 points per game in his rookie season.
Wall, named the Most Outstanding Player in the 2010 Las Vegas Summer League, is continuing his role as the floor leader in Washington, averaging 16.8 points, 4.8 rebounds and a gaudy 7.7 assists per game.
Like former teammate Cousins, Wall would get way more press if he played for a more talented team. Such is the plight of the high draft pick these days in the NBA.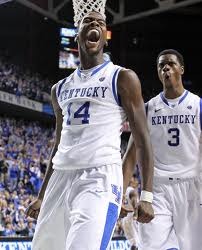 A 6'6", 216-pound small forward, Kidd-Gilchrist is one to watch and is projected by many as the No. 2 pick in the 2012 NBA draft and would get much more attention if not for the number of his teammates with mad skills.
Kidd-Gilchrist was rated the No. 3 player in the nation in high school by ESPN.com when he played for St. Patrick High School and, along with current Wildcat teammate Marquis Teague, was a member of the gold medal-winning team in the FIBA U-17 World Championships in Hamburg, Germany.
This season Kidd-Gilchrist is averaging 12.0 points, 7.6 rebounds and 1.9 assists per game for Kentucky and is deemed the hardest-working player on the team by Coach Calipari. A true gem for any NBA team.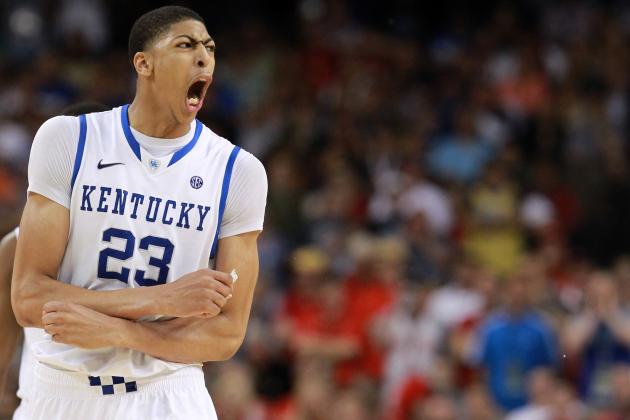 Ronald Martinez/Getty Images

The statistics the 6'10", 220-pound Davis, the best pro prospect since Kevin Durant at the University of Texas, has put up are mind-blowing.

Davis is averaging a team-high 14.3 points, 10.1 rebounds and 4.6 blocks per game and has helped Kentucky to a nation-high 8.76 blocked shots per game game. Into Saturday's Final Four game against interstate rival Louisville, Davis had a a school-record 175 blocks.

Aptly dubbed "Spider-Man" by Coach Calipari, Davis leads the country with 7.4 dunks per game despite the fact he can't even palm a basketball and averages just 8.47 shots per game. What does that mean? Most of his shot attempts at this level are slam dunks. Scary.

Davis has helped the Wildcats to the top defensive field-goal percentage (37.5) and margin of victory (17.3) in the nation and has a crazy 20 double-doubles heading into Monday's finale.

The projected No. 1 pick in 2012 NBA draft, the graduate of Chicago Perspectives Charter High School grew eight inches from his sophomore year (6'2") and almost possesses the wingspan (7'4") of a California condor.

And though his size and statistics are awesome, legendary Georgetown coach John Thompson said, "His agility is the thing that impresses me," in a recent Sports Illustrated interview.

This kid, winner of the Associated Press' Player of the Year as well as the Naismith Trophy (the first Kentucky player to earn it), is the real deal and may soon be in conversations of the NBA's best player with LeBron James and Kevin Durant. He's that good and a big reason Kentucky is favored to win it all Monday night in the Big Easy.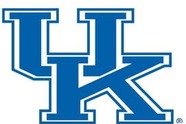 Recent talk that Kentucky could beat the Washington Wizards is foolish, but people in the commonwealth do have reason to be extremely proud of their unbelievable team.

And even if Davis, Kidd-Gilchrist, Jones, Lamb and Teague head to the NBA, the Wildcats may simply reload as they have commitments from the No. 15 (Archie Goodwin) and No. 16 (Alex Poythress) high school players in the country.

Making it worse for future opponents, SEC and elsewhere, Kentucky still has three of the top seven players who may commit in the not-to-distant future in Anthony Bennett (ESPNU No. 7, Findlay Prep, Las Vegas), Shabazz Muhammad (No. 2 Bishop Gorman High School, Las Vegas) and Nerlens Noel (No. 1, The Tilton School, Everett, Mass.).

And the rich may continue to get richer.
Follow me on Twitter @KevinStott11.

Kevin Stott has been a sports writer for Suburban Life and Press Publications in Chicago and the Las Vegas Review-Journal's View Newspapers and Gaming Today in Sin City. Stott bleeds UNLV scarlet and gray when he's not busy bleeding Chelsea blue and changing the litter box for his cat, Saki.