English Premier League Power Rankings: Week 31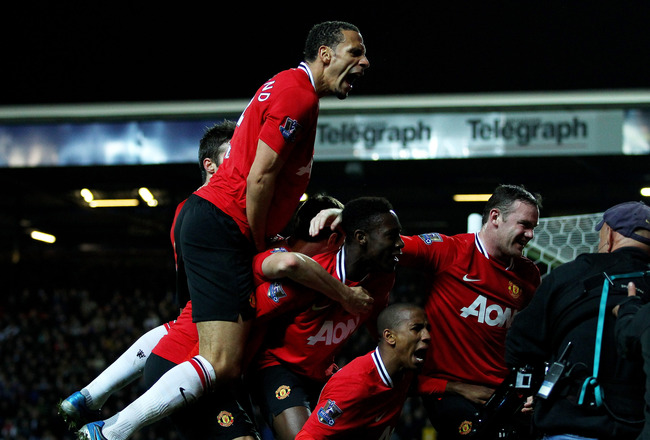 Clive Brunskill/Getty Images
This week the Premier League saw a fair amount of surprising results and determined the fate of one of the teams involved the relegation race.
Manchester City and Arsenal faced setbacks on Saturday with City having to fight back to draw with Sunderland while Arsenal fell on the road to QPR. Manchester United extended their lead at the top of the table with a win over Blackburn.
In the race for the European spots, Tottenham, Chelsea and Newcastle all won to keep the pressure on Arsenal, as all four clubs are separated by five points for three continental positions.
Down at the bottom of the table, life got worse for Wolves as they lost again and fell six points behind their other relegation rivals as Wigan, Bolton and QPR all won over the weekend.
As always, last week's ranking is in parenthesis.
20. Wolverhampton (20)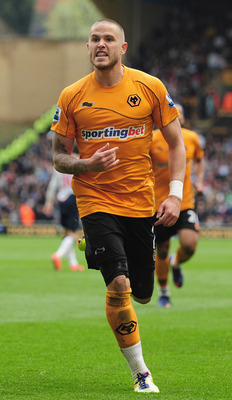 Jamie McDonald/Getty Images
Wolves' last chance for survival in the Premier League may have been dashed on Saturday in their 3-2 loss to Bolton.
The loss put the club six points behind all of their relegation rivals as Wolves sit in last place with 22 points.
The club is now on a five-game losing streak and still have only managed one point since Terry Connor took over as manager after Mick McCarthy was sacked at the end of February.
19. Blackburn (18)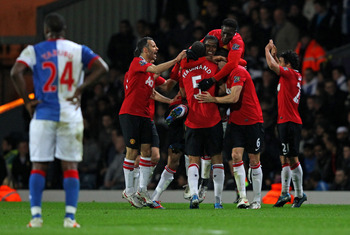 Alex Livesey/Getty Images
Blackburn were close to holding on to a point against Manchester United on Monday but fell nine minutes short of that goal.
Rovers suffered a 2-0 loss and fell back down into the bottom three on goal differential behind QPR.
The loss was the second in a row for Steve Kean's club and they will look to rebound against West Brom on Saturday on the road.
18. Aston Villa (17)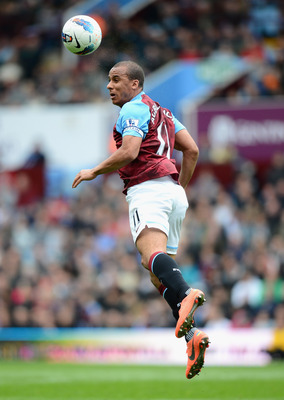 Mike Hewitt/Getty Images
Aston Villa's slide down to the relegation zone continued on Saturday in their 4-2 loss at home to Chelsea.
The Villains were down two before James Collins and Eric Lichaj scored goals three minutes apart.
Three minutes after the Lichaj goal, their opponents scored two more goals before the end of the match.
With the loss and wins by three relegation contenders, Villa are now only four points ahead of the relegation battle with 33 points and concern should be growing at Villa Park.
17. West Brom (14)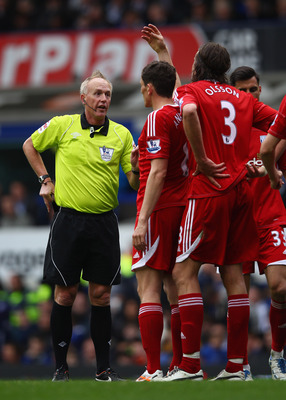 Clive Brunskill/Getty Images
West Brom's lack of form continued on the road at Everton on Saturday with a 2-0 loss.
The loss was the Baggies third loss in four games since their win over Chelsea on March 3rd.
Roy Hodgson's club will look to secure their status in the Premier League and not drop down into the relegation on Saturday as they host Blackburn at The Hawthorns.
16. Queens Park Rangers (19)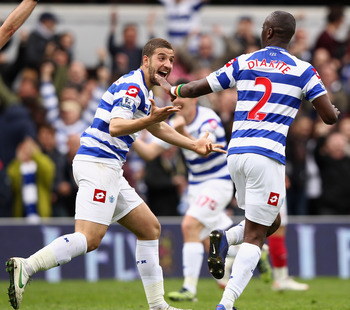 Ian Walton/Getty Images
QPR pulled off the upset of the weekend with a 2-1 win over Arsenal.
Adel Taarabt scored the opening goal in the 22nd minute while Samba Diakite scored in the 66th minute to win the match for the club.
The R's kept up pace with Bolton and Wigan as all three relegation rivals won over the weekend.
A difficult task is ahead for Mark Hughes and company as they visit Manchester United on Sunday at Old Trafford.
15. Bolton (16)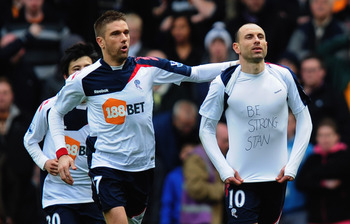 Jamie McDonald/Getty Images
Bolton won their third straight league game on Saturday as they beat relegation rivals Wolves by a 3-2 score.
Martin Petrov, Marcos Alonso and Kevin Davies all scored a goal each in the Trotters' third win over a relegation rival in three games.
The win boosted Owen Coyle's club up to 16th place in the table with 29 points ahead of their Saturday home match with Fulham.
14. Wigan (15)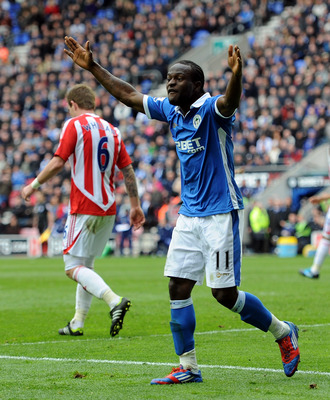 Chris Brunskill/Getty Images
Wigan's impressive string of form continued on Saturday with a 2-0 win over Stoke.
Antolin Alcaraz and Victor Moses scored for the Latics in the second half in the win at the DW Stadium.
The win was the second straight win and fourth straight game in which the Latics have earned a point.
A rough three-game stretch is ahead for the Latics as they have to face three of the top five clubs in the Premier League, starting with a trip to Stamford Bridge on Saturday to face Chelsea.
13. Stoke City (12)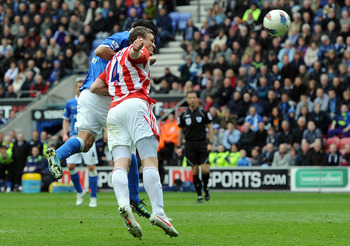 Chris Brunskill/Getty Images
Stoke fell on the road at Wigan on Saturday in a 2-0 defeat.
The loss marks a trend in the Potters' poor away form on the season, as it was their ninth loss on their travels this season.
The Potters will look to break their four-game winless streak at home against Wolves on Saturday.
12. Norwich City (11)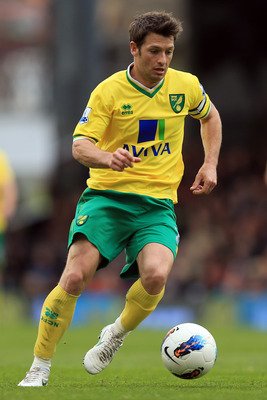 Clive Rose/Getty Images
Norwich lost 2-1 to Fulham on the road on Saturday at Craven Cottage.
Aaron Wilbraham pegged back a goal in the 77th minute but the Canaries were unable to muster a full comeback.
The 12th place club will be back on the pitch on Saturday as they host Everton at Carrow Road.
11. Swansea City (10)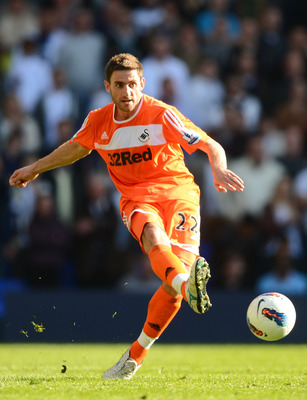 Mike Hewitt/Getty Images
Swansea's comeback against Tottenham on Sunday was short-lived as they fell 3-1 on the road.
Gylfi Sigurdsson scored his fifth goal of the season to equalize the match in the 59th minute before Spurs scored the final two goals of the match.
The Swans are now riding a two-game losing streak ahead of their Friday clash at home against Newcastle.
10. Liverpool (9)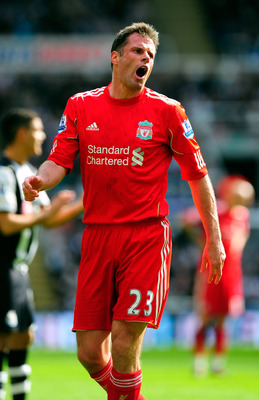 Stu Forster/Getty Images
Liverpool suffered their third straight defeat on Sunday as they fell to Newcastle by a 2-0 scoreline.
The Reds have now fallen behind rivals Everton in the table by a point as they sit in eighth place with 42 points.
The good news for Kenny Dalglish's club is that they do not have to worry about clinching a European spot since they already have one locked up thanks to their victory in the Carling Cup.
9. Fulham (13)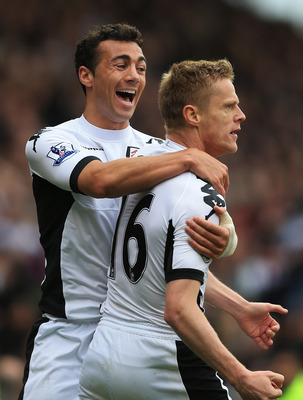 Clive Rose/Getty Images
Fulham ended their three-game losing streak on Saturday as they defeated Norwich 2-1 at Craven Cottage.
The win was the 10th of the season for the Cottagers, their eighth at home, who received early goals from Clint Dempsey and Damien Duff to clinch the victory.
The Cottagers are now up to 10th in the table with 39 points as they head into a road clash on Saturday with Bolton at the Reebok Stadium.
8. Sunderland (7)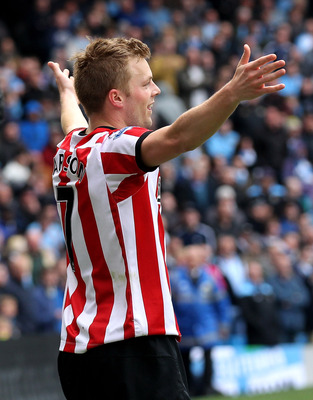 Alex Livesey/Getty Images
Sunderland were robbed of a well-deserved win on Saturday as they drew 3-3 with Manchester City.
Sebastien Larsson scored twice while Nicklas Bendtner continued his great form at the moment with a goal himself.
Unfortunately for the Black Cats, their opponents came back from two goals down in the final five minutes and forced the draw.
The good news for Sunderland fans is that the club has taken points in four out of their last five games and will bring that run of form into their match with Tottenham on Saturday at the Stadium of Light.
7. Tottenham (8)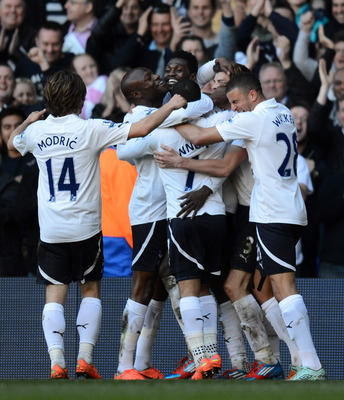 Mike Hewitt/Getty Images
Tottenham were the beneficiaries of a late double from Emmanuel Adebayor to take down Swansea, 3-1, on Sunday.
Adebayor's two second-half goals gave Spurs the lead and they never looked back at White Hart Lane.
The win, along with an Arsenal loss, put the North London rivals level on points as Spurs sit in fourth behind Arsenal on the difference of one goal.
6. Everton (6)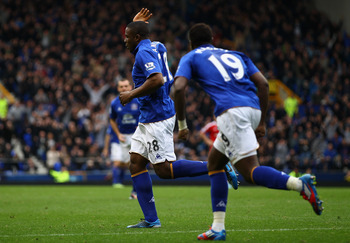 Clive Brunskill/Getty Images
Everton cruised to a 2-0 victory at home over West Brom on Saturday.
After an own goal from Gareth McAuley opened the scoring in the 18th minute, Victor Anichebe netted a 68th minute goal to seal the Toffees victory.
The Toffees are now on a two-game winning streak and they have reached the semifinals of the FA Cup at Wembley in two weeks.
Before their trip to Wembley, David Moyes and company will look to solidify the seventh position in the table at Norwich on Saturday.
5. Arsenal (2)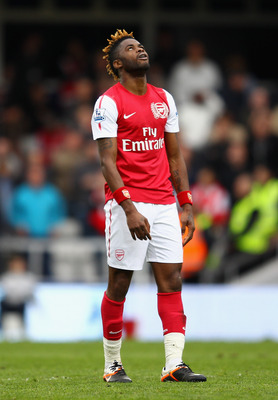 Richard Heathcote/Getty Images
Arsenal's seven-game win streak was broken by an unexpected opponent on Saturday as they Gunners fell 2-1 to QPR.
Theo Walcott scored in the 37th minute to equalize the match but the Gunners were outmatched by their fellow London club and ended up on the losing side.
Now faced with a challenge from rivals Tottenham for third place, the Gunners will look to get back on track in a difficult Sunday clash at home against Manchester City.
4. Manchester City (3)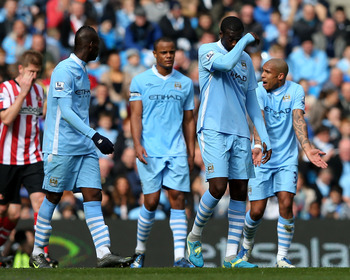 Alex Livesey/Getty Images
Manchester City needed a spirited comeback to earn a point at home against Sunderland on Saturday.
The 3-3 draw saw goals from Mario Balotelli and Alexander Kolarov in the final five minutes to give City their 71st point of the season.
The draw was the second straight slip-up for City in the title race as they head into a tough road trip to London to face Arsenal at the Emirates Stadium on Sunday.
3. Chelsea (5)
Mike Hewitt/Getty Images
Chelsea survived a late scare from Aston Villa on Saturday and responded with a surge of late goals to in 4-2.
Two late goals from Branislav Ivanovic and Fernando Torres catapulted the Blues to their sixth road win of the season.
More importantly, the Blues stayed ahead of Newcastle in the race for fifth place thanks to their excellent goal differential.
2. Newcastle United (4)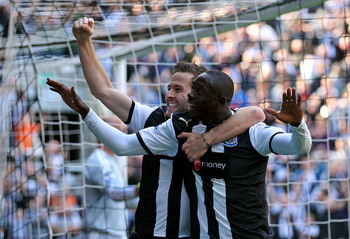 Alex Livesey/Getty Images
Newcastle's newest Senegalese sensation led the club to their 2-0 victory over Liverpool on Sunday.
Papiss Demba Cisse scored both goals for the Magpies and pushed his season total up to seven since joining the club from Freiburg in January.
Over the course of their current three-game win streak, the Magpies have caught up to Chelsea to tie for fifth place with 53 points. However, the club do have a disadvantage when it comes to goal differential.
Alan Pardew and company will look to jump over Chelsea in the table with a win over Swansea on Friday on the road at the Liberty Stadium.
1. Manchester United (1)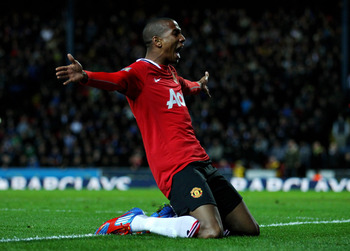 Clive Brunskill/Getty Images
Manchester United's tendency to score late in matches continued on Monday as it took the Red Devils 81 minutes to score their first goal.
Antonio Valencia scored United's first goal before Ashley Young capped off the 2-0 victory over Blackburn with an 86th-minute goal.
The win was the seventh in a row for the Red Devils and they gained more ground on Manchester City in title race, which they now lead by five points.
Next up for Sir Alex Ferguson's club is a home match with QPR on Sunday.
Keep Reading