2012 NFL Mock Draft: Depth Chart Predictions for Every First-Round Pick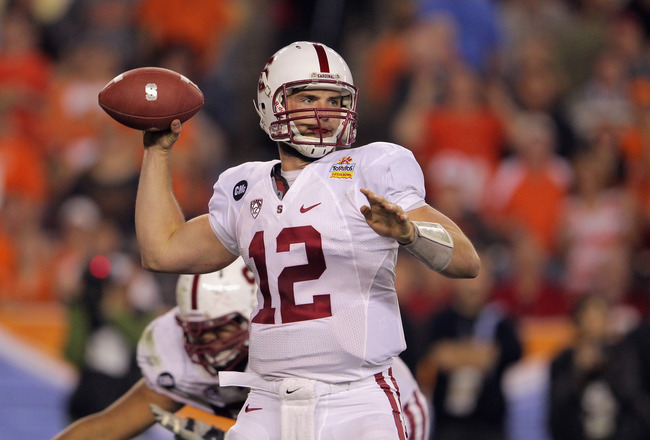 Doug Pensinger/Getty Images
Free agency is more or less over, and the 2012 NFL draft is fast approaching. In other words, it's mock draft season.
Andrew Luck will go No. 1 to the Indianapolis Colts, and Robert Griffin III will go No. 2 to the Washington Redskins. That's all we know for sure, and the other 30 first-round picks are up for grabs.
Then there's the question that comes after the draft: How much will this guy contribute as a rookie?
Even before we know what teams these guys will be playing for, we can talk about how much they will be playing.
1. Indianapolis Colts: Andrew Luck, QB, Stanford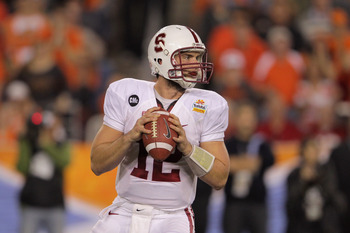 Doug Pensinger/Getty Images
So, the Colts no longer have Peyton Manning on the roster, and Andrew Luck is the best quarterback prospect in at least a decade. This is the easiest pick in recent memory.
Luck is physically talented, but his best strength is his intelligence. The Stanford star ran his college offense like he was already in the NFL. That's what makes him ready to start right now.
Depth Chart Projection: Starter
2. Washington Redskins (from St. Louis): Robert Griffin III, QB, Baylor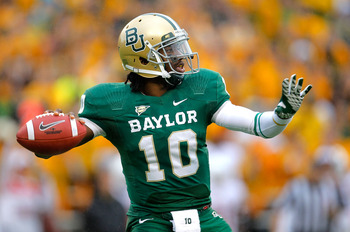 Sarah Glenn/Getty Images
The Redskins miss out on Andrew Luck, but they do get another guy worthy of a No. 1 overall pick. Robert Griffin III is more talented than Luck is, and he's a potential star.
Washington doesn't have another legitimate quarterback on its roster, so Griffin is the obvious starter. He will need to adjust from Baylor's spread offense, but he is smart enough to do so quickly.
Depth Chart Projection: Starter
3. Minnesota Vikings: Matt Kalil, OT, USC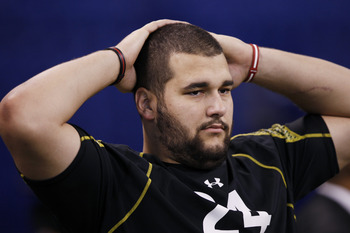 Joe Robbins/Getty Images
In 2011, Minnesota started Charlie Johnson—who would be better off as a guard—at left tackle. With a young, developing quarterback, the Vikings need to add a franchise left tackle.
Matt Kalil is the best offensive line prospect to enter the draft since Jake Long in 2008. Kalil's technique is solid, and there's no reason he can't immediately cover Christian Ponder's blind side.
Depth Chart Projection: Starting Left Tackle
4. Cleveland Browns: Trent Richardson, RB, Alabama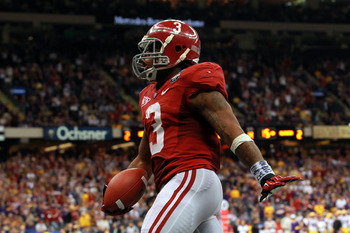 Ronald Martinez/Getty Images
After losing Peyton Hillis to the Kansas City Chiefs, the Browns do not have a starting-caliber running back. Cleveland is trying to build around Colt McCoy, and nothing helps a young quarterback like an elite rushing attack.
At 5'9", 228 pounds, Trent Richardson is a bruising back with more-than-adequate speed. He's also the best running back to enter the draft since Adrian Peterson.
He turned out pretty well.
Depth Chart Projection: Starter
5. Tampa Bay Buccaneers: Morris Claiborne, CB, LSU
Scott Cunningham/Getty Images
Tampa Bay's secondary was atrocious in 2011. The team signed Eric Wright, but one overpriced cornerback won't fix the team's defensive woes.
Morris Claiborne is a complete player, capable of playing in zone or man coverage. However, few cornerbacks start from the get go, and with Wright and Ronde Barber already on the roster, Tampa Bay likely won't feel forced to start Claiborne.
Depth Chart Projection: Nickelback
6. St. Louis Rams (from Washington): Justin Blackmon, WR, Oklahoma State
Joe Robbins/Getty Images
St. Louis neglected wide receivers in free agency, so the team has no choice but to select one early. The Rams seem to love Justin Blackmon, so this is an easy projection.
Blackmon isn't an elite player, but he will be a top-10 pick. The Oklahoma State star was extremely productive in college and dominates with the ball in his hands.
Depth Chart Projection: Starter
7. Jacksonville Jaguars: Melvin Ingram, DE, South Carolina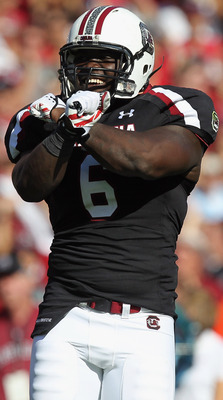 Streeter Lecka/Getty Images
When it comes to the NFL draft, the Jaguars are predictably unpredictable. Gene Smith consistently shocks us on draft day, and Melvin Ingram seems plausible enough.
Jacksonville's pass rush is at the bottom of the league, so the team needs to add a defensive end. Ingram has short arms, but he's versatile and can be used in multiple ways.
Depth Chart Projection: Starter
8. Miami Dolphins: Ryan Tannehill, QB, Texas A&M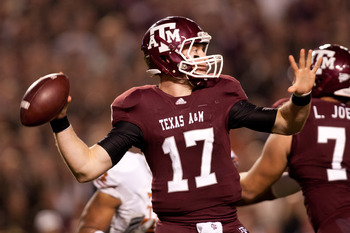 Darren Carroll/Getty Images
The Dolphins tried and failed to sign Peyton Manning and neglected Matt Flynn. Now Jeff Ireland and Joe Philbin will turn to the draft.
Ryan Tannehill played under Miami offensive coordinator Mike Sherman at Texas A&M, so he is already familiar with the scheme he will be running in the NFL. This makes Tannehill a probable day-one starter.
Depth Chart Projection: Starter
9. Carolina Panthers: Fletcher Cox, DT, Mississippi State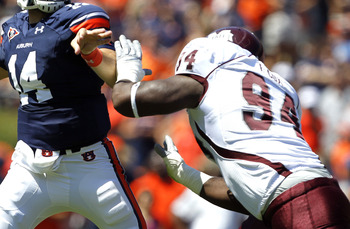 Butch Dill/Getty Images
Even with Charles Johnson at defensive end, Carolina needs to overhaul its defensive line. The team's defensive tackles are horrific, and Fletcher Cox is a dynamic prospect with a ton of potential.
The 6'4", 298-pounder is a terrific athlete with penetration ability and power. Many rank Dontari Poe as the better defensive tackle, but Cox is currently the better player.
Depth Chart Projection: Starter
10. Buffalo Bills: Stephen Hill, WR, Georgia Tech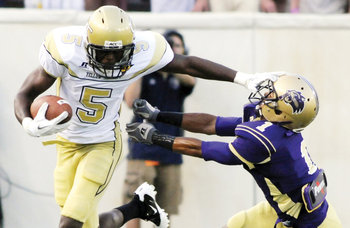 Buddy Nix is an odd general manager. He goes against the grain and doesn't care what anyone thinks. That's why Stephen Hill makes so much sense here.
Buffalo is searching for playmakers, and Hill has the ability to be an elite one. The 6'4", 215-pounder is incredibly fast with freakish athleticism. He needs some time to develop, but in time, he could be a star.
Depth Chart Projection: No. 3 wide receiver
11. Kansas City Chiefs: Dontari Poe, DT, Memphis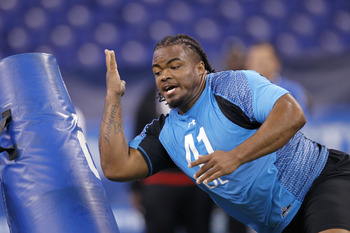 Joe Robbins/Getty Images
Kansas City's nose tackle position remains unsettled, and GM Scott Pioli has a history of drafting defensive linemen early. Pioli has made it clear the team must upgrade its front seven, and Dontari Poe is the best way to do so.
A 6'4", 346-pound freak, Poe has unbelievable potential. He probably isn't ready to start yet, though, so he will rotate in along the defensive line.
Depth Chart Projection: Rotation Backup
12. Seattle Seahawks: Luke Kuechly, LB, Boston College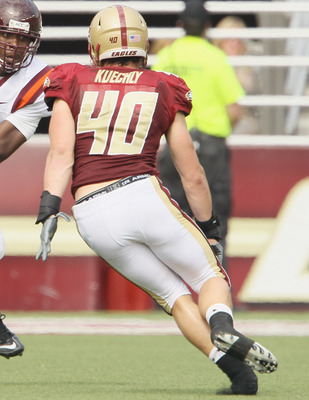 Elsa/Getty Images
Seattle seems likely to lose David Hawthorne in free agency, and the team has no other legitimate starters at the position. Luke Kuechly almost makes too much sense to actually happen.
Kuechly is incredibly instinctive with good athleticism to boot. The Boston College linebacker may never be elite, but he is almost certain to be solid.
Depth Chart Projection: Starting Middle Linebacker
13. Arizona Cardinals: Cordy Glenn, OT, Georgia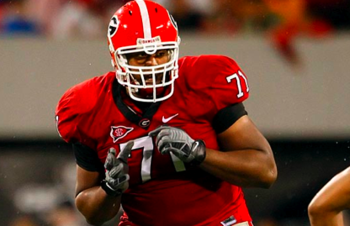 Arizona's offensive line woes are well-known throughout the league. The Cardinals have neglected the position early in the draft, and it's time to devote a first-round pick to the issue.
Cordy Glenn is projected as a guard by many, but he makes sense as a tackle in Arizona's scheme. The 6'6", 345-pounder is a terrific athlete, and he is a road-grader in the run game.
Depth Chart Projection: Starting Right Tackle
14. Dallas Cowboys: David DeCastro, OG, Stanford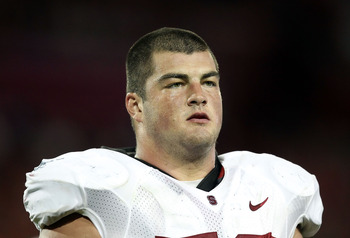 Christian Petersen/Getty Images
With Tyron Smith and Doug Free at offensive tackle, the Cowboys are set along the exterior offensive line. The interior is not nearly as solid.
David DeCastro is a terrific prospect, and he could easily be gone by now. The Stanford guard is great in space, and he can play in any blocking scheme.
Depth Chart Projection: Starting Left Guard
15. Philadelphia Eagles: Dre Kirkpatrick, CB, Alabama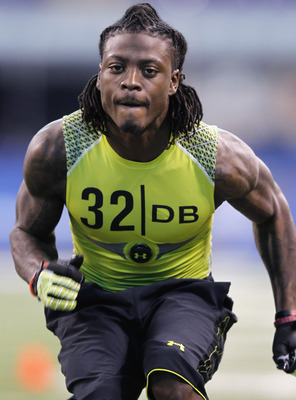 Joe Robbins/Getty Images
It looks like the Eagles are going to trade Asante Samuel, so Philadelphia will soon be in the market for a cornerback. Nnamdi Asomugha and Dominique Rodgers-Cromartie make up a great duo, but Philadelphia will still need a third cornerback.
Based on talent, Dre Kirkpatrick could be a top-10 pick. The Alabama cornerback is a terrific athlete, and he can be used in a multitude of ways.
Depth Chart Projection: Nickelback
16. New York Jets: Michael Floyd, WR, Notre Dame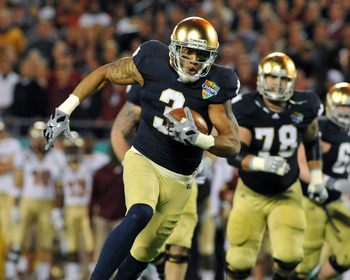 Al Messerschmidt/Getty Images
With Plaxico Burress headed out of town, the Jets need another wide receiver to play opposite Santonio Holmes. Michael Floyd is a top-10 talent and a potential No. 1 wide receiver, so New York has to jump on this opportunity.
Floyd is a big, physical wideout with incredible catching ability. There's nothing Floyd can't do on the field, and his route-running is solid enough for him to start.
Depth Chart Projection: Starter
17. Cincinnati Bengals (from Oakland): Michael Brockers, DT, LSU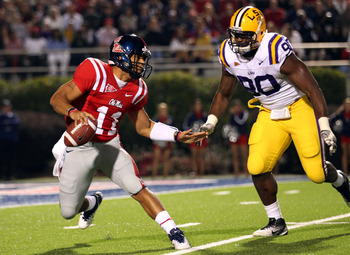 Joe Murphy/Getty Images
From a needs perspective, this pick doesn't make a ton of sense. However, Cincinnati typically drafts for talent, so from that perspective, it does make a ton of sense.
Michael Brockers is a powerful defensive tackle with a ton of upside. The Bengals believe they can mold a star from raw players, and they will have to do so with Brockers.
Depth Chart Projecton: Second String
18. San Diego Chargers: Riley Reiff, OT, Iowa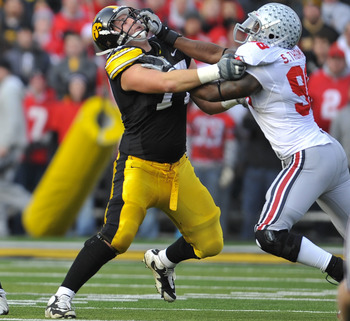 David Purdy/Getty Images
The Chargers re-signed Jared Gaither, but they released Marcus McNeill, so they still need an offensive tackle. Riley Reiff could go in the top 10, so this is a terrific value.
There is some debate over whether Reiff can play left tackle, but in San Diego, he can step in on the right side with no worries. Reiff is fairly solid with his technique, so he should be able to start from day one.
Depth Chart Projection: Starting Right Tackle
19. Chicago Bears: Coby Fleener, TE, Stanford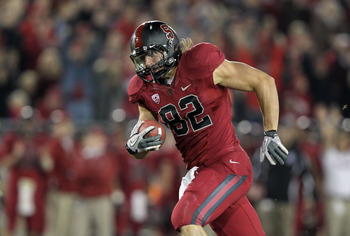 Ezra Shaw/Getty Images
Mike Martz rid the Bears of Greg Olsen, so now Chicago needs to find a new receiving tight end. The Bears already traded for Brandon Marshall, but they need to continue adding weapons for Jay Cutler.
A 6'6", 247-pound tight end, Coby Fleener is an outstanding athlete. He is not, however, a typical tight end, so he will have to be correctly utilized.
Depth Chart Projection: Backup/Rotational Player
20. Tennessee Titans: Quinton Coples, DE, North Carolina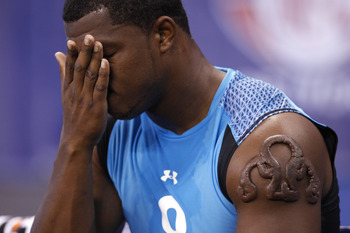 Joe Robbins/Getty Images
The Titans signed Kamerion Wimbley in free agency, but they shouldn't be done adding defensive ends. Tennessee had one of the NFL's worst pass rushes in 2011, so it obviously needed to add defensive linemen.
Quinton Coples is an outstanding athlete with terrific size, but he underachieved in 2011. Coples isn't a natural edge-rusher either, so he needs time to develop. He can, however, rush the passer from the interior.
Depth Chart Projection: Backup/Rotational Player
21. Cincinnati Bengals: Kendall Wright, WR, Baylor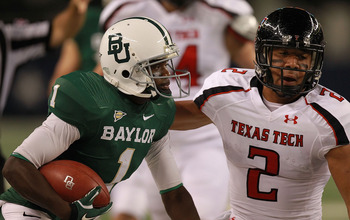 Ronald Martinez/Getty Images
Jerome Simpson remains in limbo as a free agent after going through some legal difficulties. And with Andre Caldwell now a Denver Bronco, the Bengals need another wide receiver to complement A.J. Green.
Kendall Wright is a fantastic fit in Jay Gruden's West Coast offense. Wright is a terrific deep threat, but he can also make plays underneath.
Depth Chart Projection: Starter
22. Cleveland Browns (from Atlanta): Alshon Jeffery, WR, South Carolina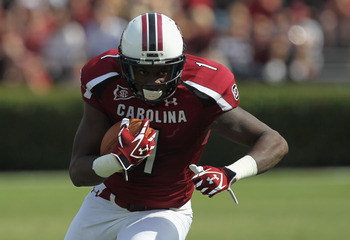 Streeter Lecka/Getty Images
The Browns have Greg Little at wide receiver. There really isn't another player worth mentioning. So, yeah, they should probably draft a wideout early.
Alshon Jeffery's weight is a controversial topic, and it's hard to say what type of player he will be in the NFL. However, Jeffery's upside and Cleveland's need make this a necessary pick.
Depth Chart Projection: Starter
23. Detroit Lions: Stephon Gilmore, CB, South Carolina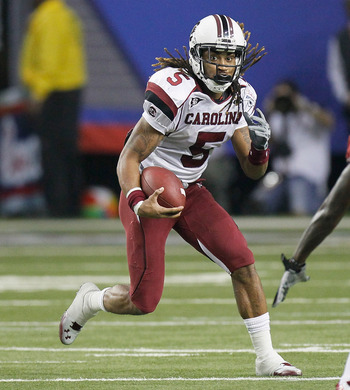 Kevin C. Cox/Getty Images
The Lions lost Eric Wright in free agency, and they really need another cornerback. Detroit doesn't typically draft for need, but here, Stephon Gilmore is actually a solid value.
Gilmore is a nasty player with good athletic ability. He isn't a top-10 pick, but he is definitely a first-round talent, capable of contributing immediately.
Depth Chart Projection: Nickelback
24. Pittsburgh Steelers: Dont'a Hightower, LB, Alabama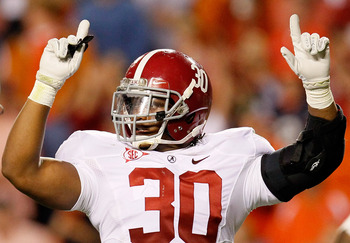 Kevin C. Cox/Getty Images
Pittsburgh is famous for drafting defense in the first round, even if it doesn't need it. In this case, though, the Steelers really do need it. Long-time Steeler James Farrior is no longer with the team, and Pittsburgh needs an inside linebacker to go along with Lawrence Timmons.
Dont'a Hightower is a versatile thumper who can rush the passer on third downs. He probably won't start right away, but he is exactly the type of player Dick LeBeau loves.
Depth Chart Projection: Rotational Player
25. Denver Broncos: Devon Still, DT, Penn State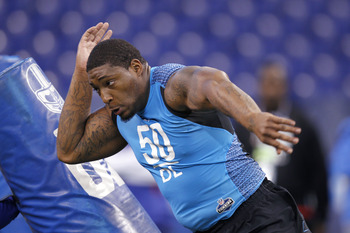 Joe Robbins/Getty Images
Denver lost its only good defensive tackle—Brodrick Bunkley—to the Saints. Before losing Bunkley, the Broncos seemed likely to draft a defensive tackle in the first round. Now it is almost certain.
Devon Still is a great athlete with impressive power. He never dominated quite like he should, though, so he is a risky pick based on projection.
Depth Chart Projection: Starter
26. Houston Texans: Rueben Randle, WR, LSU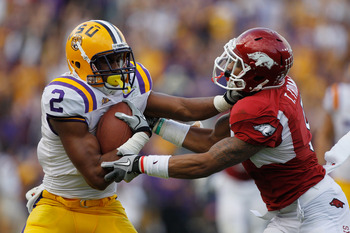 Chris Graythen/Getty Images
With Andre Johnson aging and frequently injured, the Texans need another wide receiver. Even if Johnson were more reliable, the Texans could use a better secondary option.
Rueben Randle is not a finished project, but he has solid upside. The LSU star possesses good deep speed to go along with excellent size. He will need some time to develop, though.
Depth Chart Projection: No. 4 Wide Receiver
27. New England Patriots (from New Orleans): Peter Konz, C, Wisconsin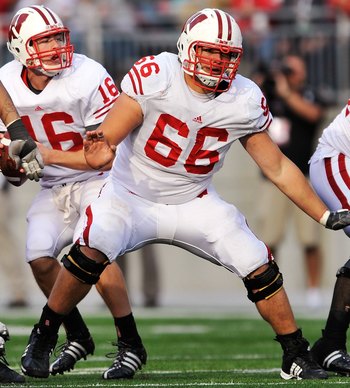 Jamie Sabau/Getty Images
Dan Koppen is now an ex-Patriot, and Bill Belichick isn't one to neglect the offensive line. Logan Mankins' 2012 season is already in jeopardy, so New England really can't afford not to address center.
Though he isn't an elite athlete, Peter Konz is a smart player with a mean streak. That type of nastiness is exactly what Belichick looks for in his linemen. Konz's pro-readiness is also a huge factor here.
Depth Chart Projection: Starting Center
28. Green Bay Packers: Courtney Upshaw, OLB, Alabama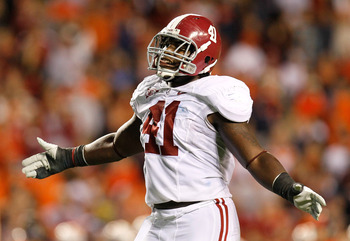 Kevin C. Cox/Getty Images
Green Bay's defense was its Achilles' heel in 2011, and the Packers really need an outside linebacker to play opposite Clay Matthews. Courtney Upshaw will never be elite, but he should be solid.
Upshaw is a big, physical linebacker who excels against the run. He isn't explosive off the edge, though, and is more of a power player. Fortunately, with a sack artist like Matthews, the Packers can afford to draft a non-elite pass-rusher.
Depth Chart Projection: Starter
29. Baltimore Ravens: Mike Adams, OT, Ohio State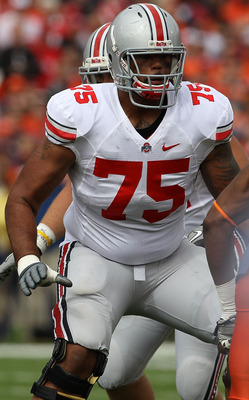 Jonathan Daniel/Getty Images
GM Ozzie Newsome is notorious for drafting the best player available, and, in this case, that is Mike Adams. The Ravens also have a bit of a hole at offensive tackle with Bryant McKinnie aging.
Adams has the second-best upside of any offensive tackle in the draft, and he could be a steal at the end of the first round. Baltimore is a good enough team to draft a backup in the first round.
Depth Chart Projection: Backup
30. San Francisco 49ers: Kevin Zeitler, OG, Wisconsin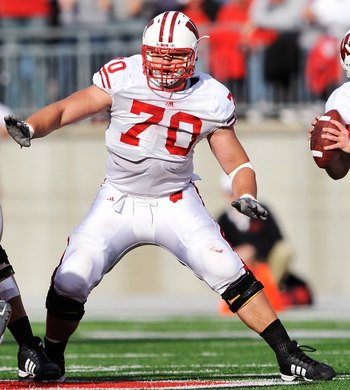 Jamie Sabau/Getty Images
In 2011, Adam Snyder started at right guard for the 49ers, and he wasn't good there. Snyder has since moved on to the Cardinals, so the position is even worse off.
Kevin Zeitler isn't an elite guard prospect, but he is solid and capable of starting immediately. San Francisco is building around Alex Smith, and Zeitler's presence would help bolster an already excellent rushing attack.
Depth Chart Projection: Starting Right Guard
31. New England Patriots: Andre Branch, DE, Clemson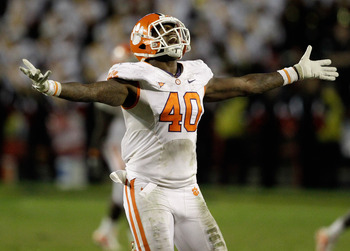 Rob Carr/Getty Images
New England's pass rush was an issue in 2011, and the team has since lost Mark Anderson to the Bills. Andre Carter is probably gone, as well. In other words, the Patriots need a pass-rusher even more than they usually do.
Andre Carter has the length Bill Belichick requires from his pass-rushers. The Clemson end can play in a 4-3 or 3-4 defense, a key trait in New England.
Depth Chart Projection: Situational Pass-Rusher
32. New York Giants: Lamar Miller, RB, Miami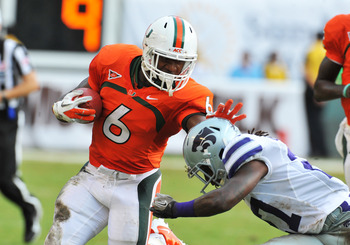 Al Messerschmidt/Getty Images
Ahmad Bradshaw is a decent player, but he's nothing special. Brandon Jacobs is now a 49er, and New York needs another running back.
Lamar Miller is an explosive runner with game-breaking speed. He can catch the ball out of the backfield, but he is also big enough to pound the rock. The Giants don't really need more offensive skill players, but Miller would add another dimension to the team's offense.
Depth Chart Projection: Backup
Keep Reading