5 Things We Learned from Premier League Weekend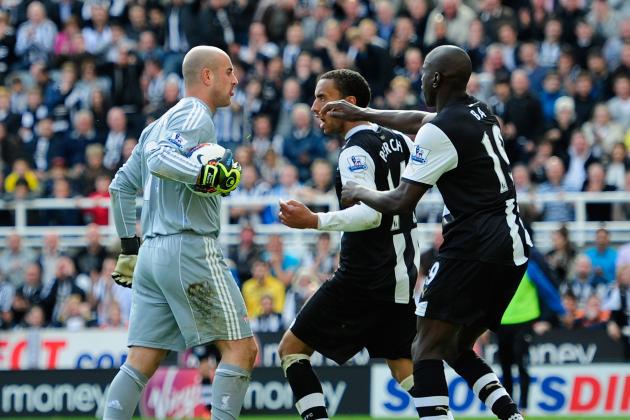 Stu Forster/Getty Images

The English Premier League fashions itself as the best in world football, and this was one of those weekends that makes that statement hard to argue.
Relegation-threatened Queens Park Rangers took down high-flying Arsenal, Aston Villa almost came back from two goals down at Chelsea and Manchester City made their fans forget 85 minutes of dreadful play with a few minutes of brilliance to earn a draw against Sunderland.
On Sunday, Liverpool-Newcastle had all the fireworks you'd expect from a great match—they just didn't involve the football.
Manchester United will be hoping to open up a five-point gap at the top of the table Monday night at Blackburn, so let's revisit the weekend that was in the EPL.
Begin Slideshow

»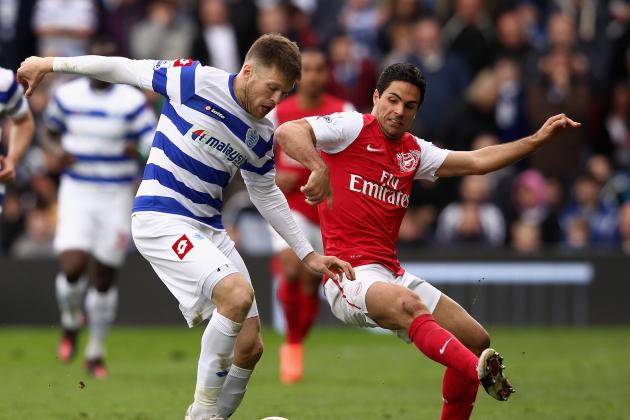 Ian Walton/Getty Images

Arsenal have been cruising lately, and last week, it looked like the Gunners would sit comfortably in third place with little trouble.
That ain't going to happen.
Arsenal lost 2-1 at Queens Park Rangers on Saturday while Chelsea, Tottenham and Newcastle each won.
Tottenham's 3-1 win over Swansea sees Spurs level on points with the Gunners, with Chelsea and Newcastle each only five points behind.
Arsenal have a tough contest next week as they welcome Manchester City to the Emirates, and even with the Citizens' poor form of late, it's not a game Arsenal can take lightly.
Chelsea have been in splendid form since Roberto di Matteo took over, so Arsenal can't assume they'll settle for fourth place.
The Gunners have some breathing room with five points between them and the last Champions League spot, but they can't afford any more lackluster performances like Saturday's.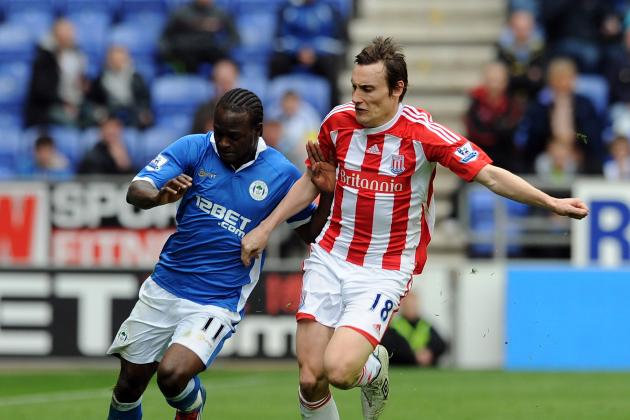 Chris Brunskill/Getty Images

Wolverhampton Wanderers will be playing in the Championship next season.
Sorry to play spoiler, but that's just the way it is.
The two sides that will be joining Wolves in the drop, however, are much harder to predict.
Wigan, Bolton and Queens Park Rangers all secured a vital three points this weekend to boost their chances of survival. Blackburn will be hoping to at least earn one valuable point Monday night when they host Manchester United.
The Premier League is at its best when the title race and relegation battle come right down to the final whistle of the season. With Manchester City looking more and more like choke artists, it's the bottom of the table that we should all be watching.
Wigan have been rooted in the bottom three much of the season, but after two big wins on the bounce, don't be surprised to see them climb out.
QPR have been up and down much of the season, but with an experienced manager in Mark Hughes, they could do just enough to stay up another season with fellow Premier League new boys Swansea and Norwich City.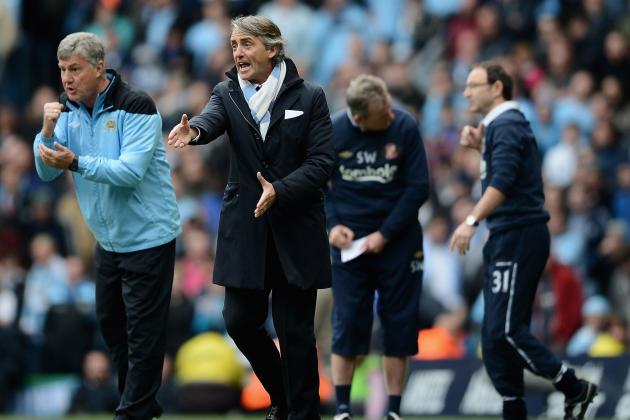 Laurence Griffiths/Getty Images

Manchester City continued their run of just barely good enough form when they had to fight back in the final minutes to earn a 3-3 draw at home against Sunderland.
In truth, City never looked like the champions they want to be. Dropping two points could well end the title race earlier than we all thought if Manchester United do exactly what we all think they will at Blackburn.
It just goes to show that there are two ways to buy a trophy—the Manchester City way and the Real Madrid way.
Madrid's first Galacticos era saw them welcome world-class footballers Zinedine Zidane, David Beckham, Luis Figo and Ronaldo. They immediately won two La Liga titles and the Champions League.
The second era brought in Cristiano Ronaldo, Kaka, manager Jose Mourinho and more. After a few years, they have solved the mystery that is Barcelona.
City's way of doing things has seen them spend a bucketload of money on Robinho, James Milner, Gareth Barry, Carlos Tevez, Samir Nasri, Sergio Aguero, Edin Dzeko and Mario Balotelli, to name a few.
City were coasting at the top of the table for the first half of the season, but the charm has worn off now for Roberto Mancini's men.
But you're in luck, City fans, because Real Madrid prove that you can in fact buy success. You just can't do it by buying mediocre players.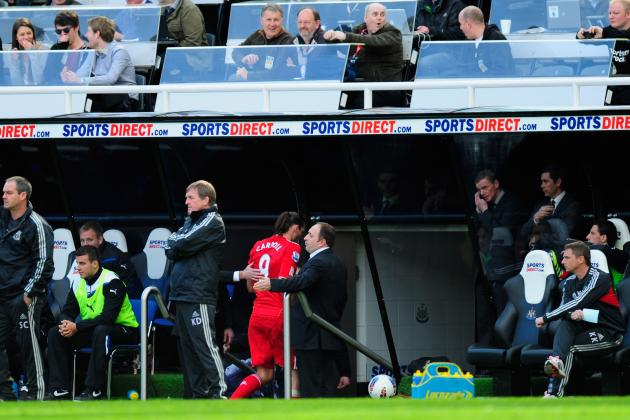 Stu Forster/Getty Images

Liverpool's 2-0 loss at Newcastle Sunday was merely the most embarrassing in a recent string of embarrassing performances and results for the Reds.
Andy Carroll stomped down the tunnel upon being substituted, Pepe Reina got himself sent off late in the game because he couldn't keep his cool and few of the players wearing red on the pitch played like they deserved to be there.
In Liverpool's defense, Martin Atkinson had a horrible game, aside from his decision to book Carroll for diving early in the contest.
But in the end, it was another tired performance from Liverpool, and plenty of fans are getting frustrated with club legend King Kenny Dalglish. Judging by some recent performances, it'd be safe to assume the players aren't completely on the manager's side, either.
We see it every season when a side is struggling: The players underperform because they've lost belief in the manager (though, of course, none will ever come out and say it like that). Once the team brings in a new manager, things take a huge turn up.
You just don't expect to see it from Liverpool, especially with Dalglish in charge. It's hard to imagine who could possibly replace Dalglish (Rafa? Really folks?), but the Liverpool board needs to start looking into it.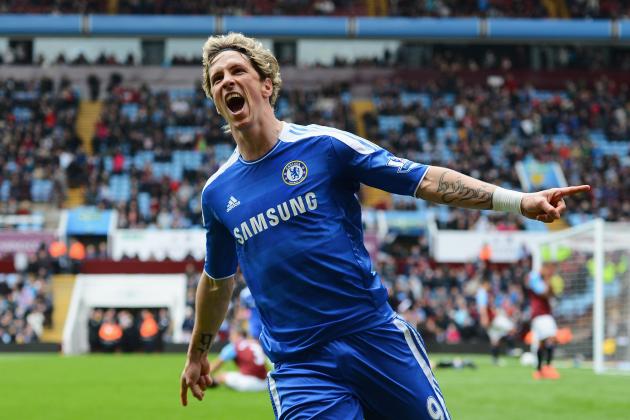 Mike Hewitt/Getty Images

It was a thrilling weekend in England, but does that mean it's the best league in the world? Depends on what you want to see.
La Liga has some of the best players in the world comprising Real Madrid and Barcelona, but not much else.
If you're watching those two teams play each other, you're in for a real treat. If one of those teams is playing, you're likely in for a training demonstration.
Serie A, like the EPL, has the potential to dazzle, but the Italian game has dropped below the other two top leagues in Europe and is only starting to pick itself back up.
England has everything a football fan could want on a given weekend: world-class players and ageless wonders along with those dependable players you can count on for a great performance each time out.
Then there's the fans.
England has some of the best, most entertaining and creative fans in the world.
Clearly, the EPL is my favorite. What's yours?