10 Lessons for Oakland Fans to Take from Mariners-A's Series in Japan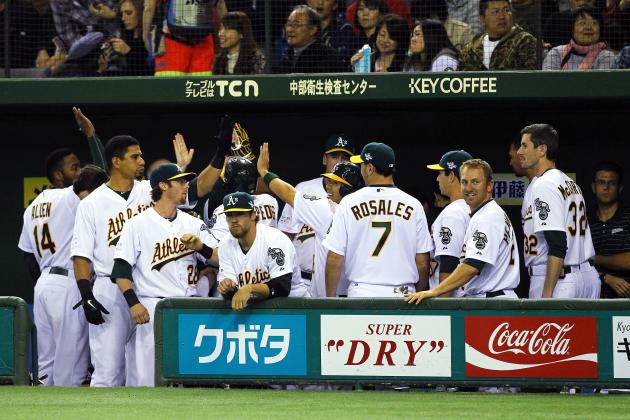 Koji Watanabe/Getty Images

As usual, the opening game for the Oakland A's was unsuccessful, falling to the Seattle Mariners 3-1. They escaped Japan with an even record, however, surprising Seattle with three late home runs, two in the seventh inning and and another in the eighth to come out with a 4-1 win.
In the Japan Opening Series the A's learned a lot about themselves, some positive, others not so much. Several lessons learned will remain a relevant theme all season long, while others will sort themselves out in the first few months.
In the month of April the A's find themselves faced with very beatable teams, so it's actually conceivable they could enter May towards the top of the division. Though it's still early, the A's must sort out these question marks quickly if they are going to contend with the Angels and Rangers.
The two games in Tokyo were a good starting point for the A's and brought to light several issues that can still be addressed before they continue the Mariners series on Friday, April 6.
Here are 10 things A's fans should take away from the Japan series.
Begin Slideshow

»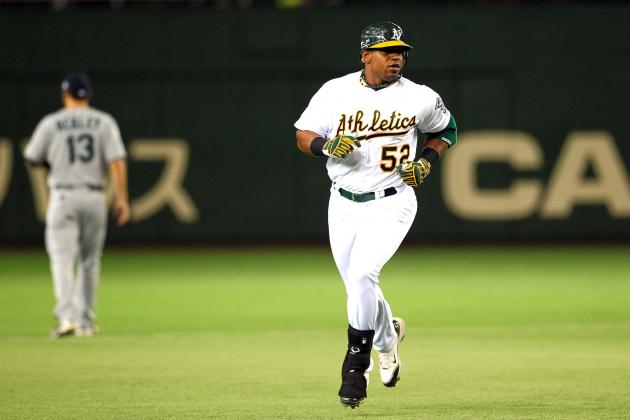 Koji Watanabe/Getty Images

One of the biggest concerns surrounding Cespedes this season was whether or not he would be able to adjust to major league pitching. Well, after the first two games, it appears as though Cespedes will have no problems adapting to what MLB pitchers will throw at him.
In the first game, the A's faced Cy Young award-winner Felix Hernandez, who promptly struck out the young Cuban twice, fooling him with off-speed pitches. In the third at-bat it was Cespedes who got the better of Hernandez, though, driving a breaking ball to the right center-field wall for a double.
The next night Cespedes jumped on another breaking ball, this time hitting it over the left center-field fence for his first major league home run. Expect to see more of the same from Cespedes, as he continues to learn how MLB pitchers will attack him and makes the appropriate adjustments.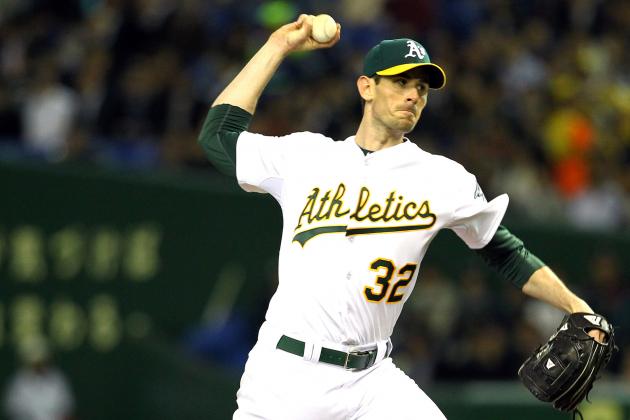 Koji Watanabe/Getty Images

Oakland's opening day starter, Brandon McCarthy lived up to that billing, going toe-to-toe with Felix Hernandez and the rest of the Seattle Mariners. Though not overpowering, McCarthy shut down the Mariners for most of the game, making only one mistake in giving up a home run to Dustin Ackley in the fourth inning.
Oakland won't ask McCarthy to be dominant, only to manage games and eat up innings for them. Though not a traditional No. 1 starter, McCarthy has a very good chance to be successful this year. If he continues to attack hitters and limit the opposite lineup's opportunities, McCarthy will be a very solid contributor as he leads a very inexperienced A's rotation.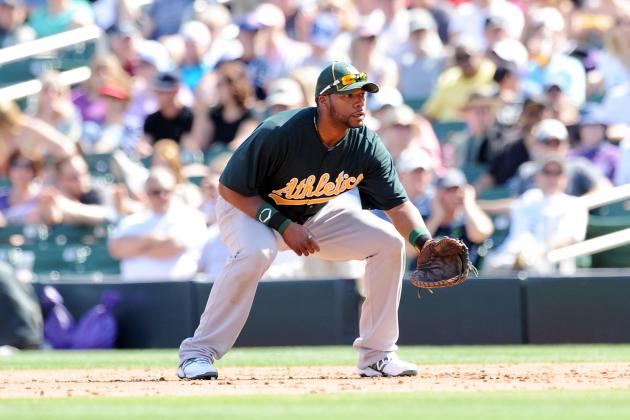 Norm Hall/Getty Images

After two games, the starting first base job is still up in the air. Unfortunately for the A's, every option hits from the left side, eliminating the possibility of a platoon based on pitching matchups, which would simplify the situation immensely.
Of the three candidates (Brandon Allen, Kila Ka'aihue, Daric Barton), Barton has the most MLB experience and success. Barton is also benefiting from the rather unspectacular play of Allen and Ka'aihue, who thus far have been rather mediocre at the plate.
Chances are, the A's are waiting for Barton to be able to play everyday before declaring a starter. Once he returns full time and the A's get a few more games to judge from, Oakland should have a better idea as to whom its best option at first is.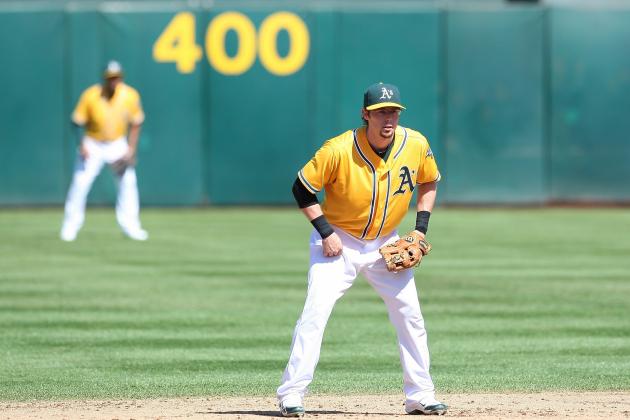 Tony Medina/Getty Images

Another position that's very uncertain for the A's is third base. Though Eric Sogard started the season opener on Wednesday, it's actually Josh Donaldson who was recently named the everyday third baseman.
It'll be interesting to see, though, just how long the A's stick with Donaldson if his hitting and defense don't improve. They do have Sogard, who tore it up this spring, hitting .341, and Sogard is also a more natural defender, having much more experience playing in the infield.
If Donaldson's production falters, expect the A's to at least give Sogard more playing time when a right-hander is on the mound, giving them a more favorable matchup.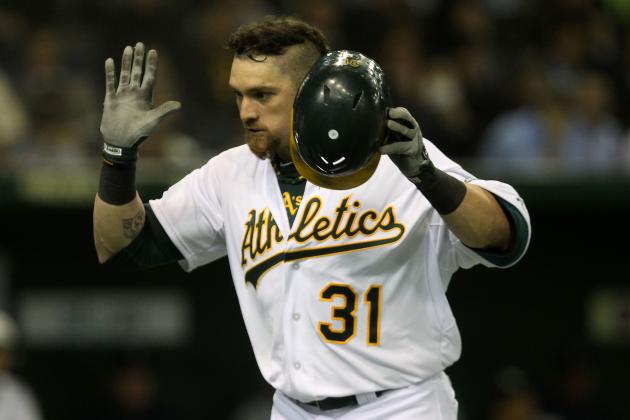 Chris McGrath/Getty Images

Apparently the A's aren't going to oblige Seth Smith and give him the opportunity to play everyday. Smith was in there Wednesday against the right handed Felix Hernandez, but Gomes was the DH Thursday when the Mariners sent the left-handed Jason Vargas to the mound.
Also not going in Smith's favor was Gomes' home run in the eighth inning of that game, reassuring the A's their decision was the correct one. Expect Gomes to be a regular in the lineup, hitting against lefties until Manny Ramirez returns in May.
Koji Watanabe/Getty Images

Pennington had a very good spring, batting .395, and it seems to have carried over into the beginning of the season. He went 2-5 in the first game and added another hit in the second game, bringing his average thus far to a very respectable .333.
Drafted in the first round in 2005 , Pennington may finally live up to those expectations. In what could turn out to be a career year for Pennington, he's finally being given the opportunity to hit towards the top of the order.
It's uncertain what the A's lineup will look like once Ramirez returns, but if Pennington keeps hitting like he is, it will be very difficult for the A's to move him out of the No. 2 spot.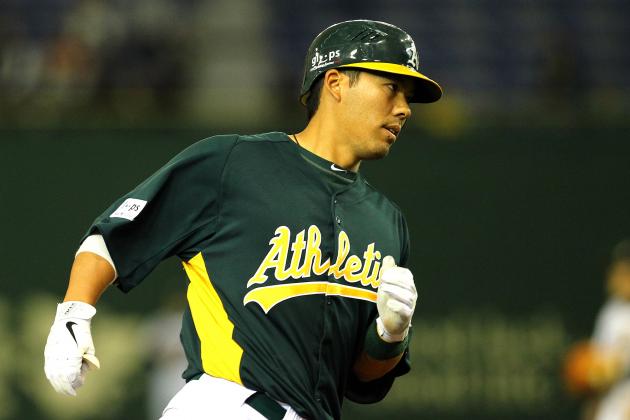 Koji Watanabe/Getty Images

So far, Suzuki has been unable to find the level of success he experienced in 2008 and 2009. Going 1-9 in the first two games, pressure will mount if Suzuki doesn't find his stroke soon.
The A's have numerous options to plug in behind Smith and Gomes, including Cespedes, who clearly has the abilities of a three or four hitter. It's only a matter of time before Suzuki drops in the lineup in favor of someone who will drive in runs on a more consistent basis.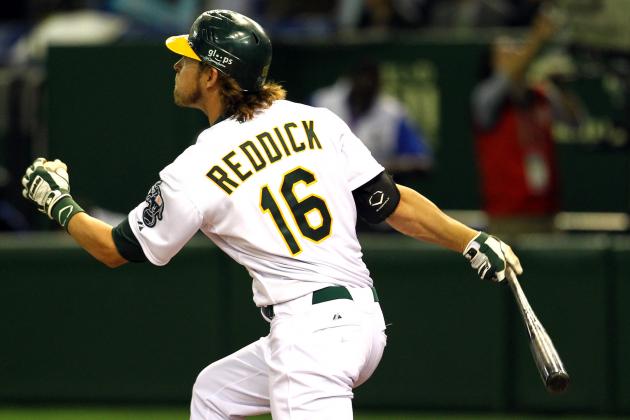 Koji Watanabe/Getty Images

Another option for the No. 5 spot in the lineup is Josh Reddick, the young outfielder the A's acquired in the Andrew Bailey trade. Thus far the deal appears to have gone in Oakland's favor. While Bailey has been bothered by a lat and thumb injury this spring, Reddick has performed as the A's expected him to. He hit .333 this spring with two home runs while hitting another HR in the game Thursday in Japan.
The only concern for Reddick is that he isn't a game-changing kind of player, and the A's have a lot of outfield prospects who aren't far away from reaching Oakland. Among them are Grant Green and Michael Choice, both former first-round selections and highly touted.
What the A's can't ignore, however, is a steady hitter in the middle of their lineup. They thought they acquired that in previous years with David DeJesus and Kevin Kouzmanoff, but those two players didn't exactly plan out as the A's expected. If Reddick turns out to be a solid and consistent contributor, the A's will have no choice but to keep Reddick in the middle of their lineup.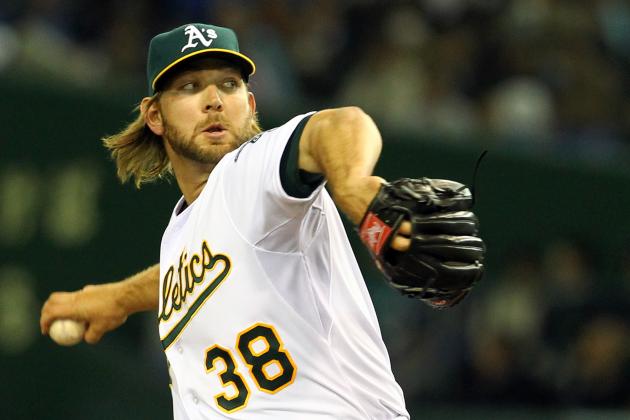 Koji Watanabe/Getty Images

With the exception of Grant Balfour and Brian Fuentes, the A's bullpen is extremely young and inexperienced. And because both are potential trade bait come the trade deadline, it's possible the bullpen could get even younger this year.
For whatever reason, the A's seem content with having a very young bullpen and are willing to deal with their ups and downs. In Wednesday's loss, Andrew Carignan surrendered two earned runs in only a third of an inning. Then on Saturday, it was Carignan who once again got the call out of the pen against Oakland's AAA team, the Sacramento Rivercats.
Clearly, the level of competition isn't that of a major league team, but what it is shows is the A's want to build up Carignan's confidence again for the start of the regular-season games on Friday.
Expect to hear a lot of names coming out of the pen that you may be unfamiliar with—among them Jordan Norberto and Ryan Cook—but if they pan out like the A's think they will, you'll be hearing their names for a long time.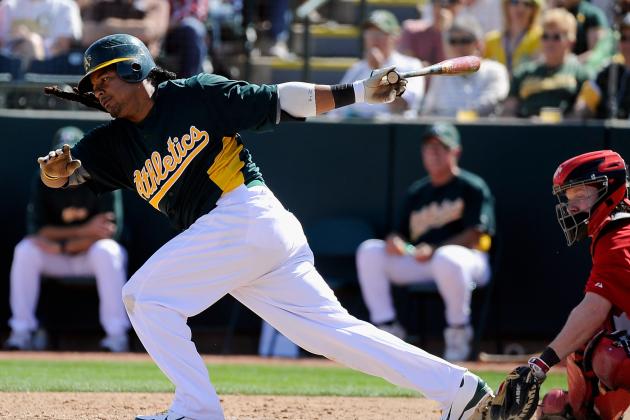 Kevork Djansezian/Getty Images

In the first two games the A's left a combined 25 runners left on base. That's a lot of potential runs left on the basepaths. If there's one thing Manny Ramirez can do, it's drive in runs.
In the two games, the fourth spot had only one RBI in eight at-bats. That kind of production from that spot in the lineup just wont cut it. It won't be just Ramirez driving in those runs, but his presence alone will enable others around him to see better pitches and drive those runs in themselves.
Once Cespedes gets comfortable enough to hit in the three hole, expect him and Ramirez to be a real force in the middle of the A's lineup. Both will have to be in there for their true potential this season to be realized, though. It will be tough for one to really flourish without the other protecting him in the lineup.