2012 NFL Mock Draft: Mocking the First Round
April 2, 2012

Chris Trotman/Getty Images
It could be said that "March Madness" captivates the national landscape annually in two different sports. While one is coming to a halt on Monday night after millions of NCAA college basketball brackets have already been delegated to local landfills, the other one is gearing up at full force.
Those who may have tanked their hoops brackets with haphazard predictions have another shot at redemption when they attempt to master their 2012 NFL mock draft. There is hope for the downtrodden sports nut who fancies himself or herself as a poor man's Mel Kiper, Jr. 
Since trying to read the minds of NFL team decision makers is akin to a city slicker attempting to predict the weather with old country superstitions, one person's guess is as good as another. The great thing about mock drafts is that they can be rearranged right up until Roger Goodell says "The Indianapolis Colts are on the clock."  
With the draft being almost a month away and plenty of free agents still available, we will all have the chance to analyse and tweak until we finally admit that this mock draft process can be truly maddening.
1. Indianapolis: Andrew Luck - QB - Stanford
Rarely does an NFL team have the chance to transition from one franchise QB to another. Even in Green Bay, the Packers were not expecting Aaron Rodgers to succeed Brett Favre with this level of success. Luck is the perfect replacement for Peyton Manning. He is the most NFL-ready prospect with high intelligence, excellent technique, a very solid arm and experience in the pro-style offense at Stanford.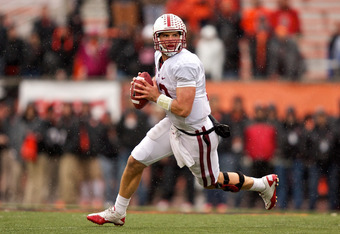 Craig Mitchelldyer/Getty Images
2. Washington: Robert Griffin - QB - Baylor
It has been a long time since the nation's capital has seen a top-flight QB. Since the days of Joe Theismann and Sonny Jurgenson, the Redskins situation under center has been a rotating door. The original forward-passing gunslinger, the great Hall of Famer Sammy Baugh, played in D.C. from 1937-52. Griffin has the passing skill and confidence to become the most impressive passer since Slingin' Sammy and to excite a fan base that has fallen asleep in recent years.
3. Minnesota: Matt Kalil - OT - USC
While the Vikings could either trade out of this pick or draft one of the top skill position players available, the common sense move would be to stay put and take the draft's premier anchor at left tackle. Kalil is the prototype blind side pass protector with a tall frame, agile feet and enough strength to excel as a run blocker. Young quarterback Christian Ponder needs the security of having the protection a player such as Kalil can provide for the next decade or more.
4. Cleveland: Trent Richardson - HB - Alabama
There have been rumors of the Browns selecting Texas A&M QB Ryan Tannehill with this pick to challenge Colt McCoy. If that does not happen, they would do well to draft the powerful Richardson. Losing Peyton Hillis in free agency leaves a huge hole in the backfield. In order to compete in the NFC North, the Browns need to match the physicality of the Ravens and Steelers. Richardson would give Cleveland a smash-mouth presence and toughness on those cold days by Lake Erie.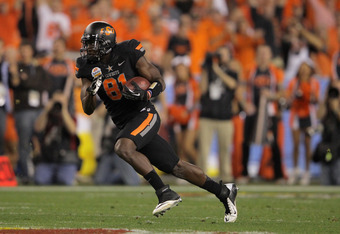 Doug Pensinger/Getty Images
5. Tampa Bay: Morris Claiborne - CB - LSU
The Buccaneers are starting over with a new coach in Greg Schiano and hopefully new fortune for one of the league's youngest teams. The defense was nothing short of a mess and needs plenty of help in the back seven. LB Luke Kuechly would be a welcome addition here, but it would be hard to pass up top cover corner Claiborne. Although Eric Wright was signed, Ronde Barber is near the end and Aqib Talib has been battling off-field issues and injuries the last several years.
6. St. Louis: Justin Blackmon - WR - Oklahoma State
It is high time the Rams get QB Sam Bradford someone to play catch with. No more talk about an interior DT or another OT to solidify the front line. Those are other needs to be addressed, but a stud WR is sorely needed in order to open up the running game and give Bradford a chance to succeed in this league. Kurt Warner had Isaac Bruce and Torry Holt. Sam Bradford has who?
7. Jacksonville: Quinton Coples - DE - North Carolina
The Jaguars had the most inept group of wideouts in the NFL last season. If this team is committed to Blaine Gabbert at QB, he needs some downfield weapons as much as Sam Bradford does. If Blackmon is off the board, the next biggest need is a pass rusher at DE. The inegmatic Coples has plenty of size and talent but only plays hard when he has the urge. Unless the Jags decide to take a shot at WR Michael Floyd, they can draft a good WR in round two and pray Coples is motivated.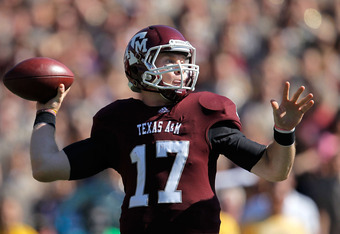 Sarah Glenn/Getty Images
8. Miami: Ryan Tannehill - QB - Texas A&M
Replacing former QB Dan Marino hasn't been easy. Dolphins owner Stephen Ross has hoped to land the big fish of free agency, Peyton Manning, to make a big splash in South Beach. Having been spurned by Manning and not signing Matt Flynn, drafting Tannehill is a no-brainer considering the fact his college head coach, Mike Sherman, is now the offensive coordinator at Miami. He possesses all the physical tools and could sit for a year behind veteran Matt Moore to gain needed coaching.
9. Carolina: Michael Brockers - DT - LSU
The trendy pick among draftniks at this spot has been NT Dontari Poe, the mountainous lineman who wowed scouts at the Combine with his athleticism at nearly 350 pounds. The problem is, much like Combine hero OT Bruce Campbell in 2010, that skill doesn't always show up on game tape. If the Panthers wish to beef up their interior defensive line, Brockers is a young player who has the size and skill to become a force in the middle with some sound coaching from Ron Rivera and his staff. 
10. Buffalo: Michael Floyd - WR - Notre Dame
The Bills have the option of going with an OT at this point, which would be a wise move. However, it's hard to believe someone won't take a flyer on Floyd early in the draft. He is more physically gifted than Blackmon and is a deep threat and game changer on the outside. Floyd has had off-field issues with alcohol which could drop him down further, but he has showed a new attitude this past year and would give Buffalo a downfield weapon to complement Steve Johnson. 
11. Kansas City: Luke Kuechly - ILB - Boston College
This has been another slot reserved for Poe in many mock drafts. The Chiefs indeed have a need at NT to help sure up their leaky run defense. There is no good reason to pass up a terrific, proven football player in order to draft based on potential in the top half of round one. Kuechly is a true tackling machine and is one of the safest picks in the draft. He is not a classic thumper, but is a sure tackler, instinctive, intelligent and a leader. He could replace the undersized Jovan Belcher at ILB and give the Chiefs one of the best young LB units in the league. OG David DeCastro is another good option.
12. Seattle: Melvin Ingram - DE - South Carolina
The Seahawks have a desperate need at the LB position, especially if they do not re-sign David Hawthorne. If Kuechly is gone, they need to find another pass rusher. Chris Clemons is the only player on the defense who is capable of getting to the QB. That's simply not good enough. Ingram lacks great height and long arms, but is strong at the point of attack and is relentless in his style. He was a late bloomer in college, but is athletic and should be drafted fairly high.
13. Arizona: Riley Reiff - OT - Iowa
The Cardinals couldn't be any happier if an OT such as Reiff would fall to them at this spot. They re-signed Levi Brown, who is too stiff to be a starting LT. He is better suited on the right side, where the team lacks talent and depth. Reiff needs to add a little strength but has enough foot quickness and sound technique to line up on the right or left.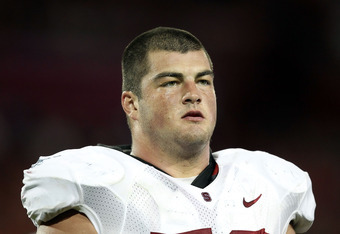 Christian Petersen/Getty Images
14. Dallas: David DeCastro - OG - Stanford
The Cowboys could decide to go in several directions with this pick. They still need help at defensive line and safety to sure up Rob Ryan's defense. However, the offensive line struggled, especially on the interior. Two fringe free agents were signed, Nate Livings and career backup Mackenzy Bernadeau. In order to handle the front four of the Giants, there needs to be an upgrade. DeCastro is the best OG prospect since Logan Mankins and Steve Hutchinson and would be an instant starter. 
15. Philadelphia: Fletcher Cox - DT - Mississippi State
The Eagles sorely NEED a big hitter at safety. There has been a long line of tough safeties in Philly going back as far as the Dick Vermeil days. Randy Logan, Wes Hopkins, Andre Waters and Brian Dawkins have roamed the secondary with the intent to intimidate. Mark Barron would be a great choice here if he is healthy. Knowing Andy Reid, however, he will likely stay true to form and draft for a lineman. Cox is versatile and would add depth to a thin DT group that can be run through and over.
16. New York Jets: Courtney Upshaw - OLB - Alabama
Rex Ryan's defenses have traditionally had strong edge pass rushers, something that has been lacking with the Jets. In the 1980s, the New York Sack Exchange was all the rage in the Big Apple with Mark Gastineau and Joe Klecko creating havoc on opposing offenses. Rex, the son of defensive guru Buddy Ryan, would like to rekindle some of those memories. Upshaw isn't the greatest athlete, but is strong and can be a force on the edge standing up in the 3-4 or as a down lineman in a 4-3 flex.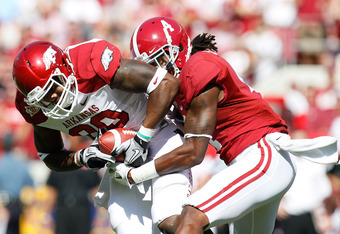 Kevin C. Cox/Getty Images
17. Cincinnati: Cordy Glenn - OG/OT - Georgia
The Bengals are coming off a surprising season in which QB Andy Dalton exceeded expectations. The OG position has been depleted with the losses of Nate Livings, Mike McGlynn and Bobbie Williams, all of which were rather average anyway. Clint Boling is young and unproven and free agent pickup Travelle Wharton is over age 30. Glenn is a wide body with good feet who has impressed in the postseason. He could swing as an OG/OT but may be better suited and is more needed inside.
18. San Diego: Mark Barron - SS - Alabama
Conventional wisdom says the Chargers need a pass rusher at the 3-4 OLB spot, which is very true. Jarrett Johnson was signed away from Baltimore, but is more of a run stopper at this point in his career. Andre Branch of Clemson might fit here, but Barron is the more talented player at another area of need. After losing Steve Gregory in free agency, the Chargers inked the oft-injured Atari Bigby, who could be another Bob Sanders. Barron is a forceful hitter who plays like a linebacker with good range for his size. If the team is seeking a pass rusher, there is a good mid-round prospect right in their back yard who deserves some attention. San Diego State OLB Miles Burris is a relentless go-getter with a burst off the edge.
19. Chicago: Mike Adams - OT - Ohio State
Last year, Chicago selected OT Gabe Carimi in the first round and he was playing well at RT until he was injured. The Bears need a better option at LT than J'Marcus Webb, who is more suited to play on the right side behind Carimi. Adams is a risky pick, having been inconsistent until his senior year. However, he has natural pass blocking skills and dominated during Senior Bowl week. If he plays up to his capabilities, the Windy City could boast a nice set of bookends on the offensive line.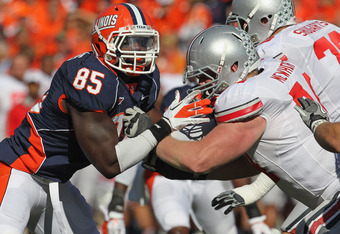 Jonathan Daniel/Getty Images
20. Tennessee: Whitney Mercilus - DE - Illinois
Losing CB Cortland Finnegan leaves a hole in the secondary which needs to be filled. There are several young corners, Alterraun Verner and Tommie Campbell, who could step up. The Titans generated very little pass rush last season, which doesn't help the secondary. The signing of DE Kamerion Wimbley is sure to help, but Derrick Morgan has been underwhelming so far. Unless they re-sign free agent Dave Ball, there is little depth. Mercilus came on like gangbusters last year with 16 sacks and nine forced fumbles to earn a look in the first round.
21. Cincinnati: Dre Kirkpatrick - CB - Alabama
The achilles injury to Leon Hall last season leaves him as a question mark. Even if he fully recovers, Nate Clements can still play at the other corner but last lost a step late in his career. Jason Allen was signed as insurance, but is not a long-term solution. Kirkpatrick is a big, physical corner who matches up well with tall receivers. There are some character concerns, but when has that scared the Bengals in recent years?
22. Cleveland: Jonathan Martin - OT - Stanford
Although the Browns still have a need for speed at the WR position, there will be plenty of options early in round two. Martin is not the sexy pick, but would fill a glaring hole on the right side of the offensive line. Tony Pashos was not re-signed, so the team is left with Oniel Cousins and Dominic Alford, who are better fits as reserves. Martin, a LT in college, may see his stock drop due to lack of lateral quickness displayed in postseason workouts. He does have a nasty streak and played in Stanford's physical style running attack. Martin could also fill in for LT Joe Thomas in case of injury.
23. Detroit: Janoris Jenkins - CB - North Alabama 
After being exposed in the NFC wildcard game against the Saints, the back-end of the Lions defense is in obvious need of an upgrade. Losing CB Eric Wright in free agency doesn't help, but Jacob Lacey was added to compete. Still, the depth at the position is not good and a potential starter is needed. Jenkins is a great talent who was kicked off the team at Florida after several arrests. He behaved dominated at a lower level of play last year and is a cocky, confident press corner. His demeanor fits Detroit's defense well and could excel if he decides to grow up a bit.
24. Pittsburgh: Dontari Poe - NT - Memphis
Alas, this could be a good spot for Poe to come off the board. With an achilles injury and age creeping up on long-time starter Casey Hampton, it is time to start grooming his replacement. While ILB Dont'a Hightower would fill a need here as well, Poe's natural skill may be too much temptation for the Steelers to pass up. If he can be coached up by Dick LaBeau and staff, he could turn into a fine run plugger to eventually replace Hampton in the middle. 
25. Denver: Devon Still - DT - Penn State
Hall of Fame QB John Elway convinced future Hall of Fame QB Peyton Manning that Denver is the best place to finish his stellar career. With the subsequent departure of courageous and inspirational Tim Tebow, the QB controversy is over for now at Mile High. Focus can now be placed on solidifying other positions. Peter Konz would be a nice fit at C, but the DT position is weak as water after losing Broderick Bunkley to the Saints. Still, a cousin of former Chiefs DE Art Still and Steelers LB Levon Kirkland, was the Big Ten Defensive Lineman of the year in 2011. He has been labeled an underachiever but is agile and disrupt the backfield. With the assembly of DT's in Denver now, Still is a much needed upgrade.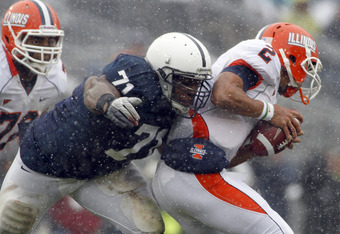 Justin K. Aller/Getty Images
26. Houston: Kendall Wright - WR - Baylor
The Texans surprised everyone when they cut RT Eric Winston due to salary cap reasons. Rashad Butler is in line to replace him. With the best first round OT's off the board already, they may look to fill the need at WR instead. When Andre Johnson missed time due to injury last season, the team's downfield explosiveness suffered immensely. Wright made plenty of big plays last year with Heisman QB Griffin at Baylor. Although his 40-yard times were disappointing at the Combine, he ran much better at his pro day, clocking under 4.50 on both runs. He is a shorter, quick receiver who would be a nice complement opposite Johnson or in the slot.
27. New England: Nick Perry - DE - USC
With two first round picks, don't be surprised if the Patriots trade down again, as is their custom. If they do stay put, it is imperative that pass rush help is added. Old vet Andre Carter had 10 sacks last year before a season-ending injury, but he is a free agent who hasn't been re-signed yet. Some question his instincts, but he plays with speed off the edge and has added a few pounds to his frame. Perry is a gifted athlete who can be a force if he plays with consistency. 
28. Green Bay: Andre Branch - OLB/DE - Clemson
For all the fuss about Green Bay's offense and the 15-1 regular season record, the defense was quietly abysmal until it was exposed and whooped on national television against the Giants at Lambeau Field. Being embarrassed on their legendary home field should motivate them to be better on defense. Giving Clay Matthews some help would be a start, whether up front or at ROLB. Branch is not a great run stopper, but would provide a burst in the pass rush and is athletic enough to drop in coverage. Nebraska DE Jared Crick might drop to the second round because of injury, but the Packers should keep an eye on him as well.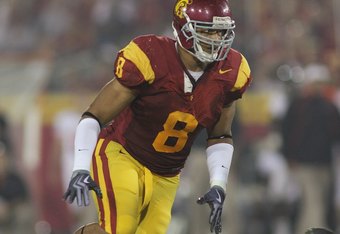 Jeff Golden/Getty Images
29. Baltimore: Dont'a Hightower - ILB - Alabama
The Ravens have a hole to fill at OG after Ben Grubbs left via free agency. However, there is not a guard left who is a late first round value. Hightower is the big, physical type of LB the Ravens like on their defense. He could rotate with Jameel McClain and be groomed to take over for Ray Lewis when he retires...whenever that comes is anybody's guess.
30. San Francisco: Kendall Reyes - DE/DT - Connecticut
The signings of receivers Mario Manningham and Randy Moss give the 49ers an upgrade at the position and more options for Alex Smith. They could still draft a WR in round one such as Georgia Tech's Stephen Hill, but other positions need to be addressed as well. Like Baltimore, a starter at OG is needed but might have to wait until round two. Depth at DE could be addressed here with Reyes, who is versatile and can play a 3-4 DE spot. There is a good chance they could trade down to acquire a few more picks to fill gaps. 
31. New England: Stephon Gilmore - CB - South Carolina
With their second pick of the first round, the Patriots could use more help in the secondary. Kyle Arrington and Devin McCourty struggled in coverage. Ras-I Dowling was drafted in round two last year but was injured early in the season. He has been injury prone dating back to his final years at Virginia, so additional help at CB is not a bad thing. Gilmore has been rising up draft boards lately. Although he needs a bit of refinement, he is physical and has good size and athletic ability. 
32. New York Giants: Coby Fleener - TE - Stanford
For a team that just won a Super Bowl, the Giants sure do have a lot of holes to fill. Among them are RB, WR, TE, OT, CB and MLB. There are some young prospects at most of those positions who are being counted on to fill those vacancies in 2012. For this reason, the Giants should draft the best available player instead of a specific need. The TE position was not awful, but not inspiring either. However, with injuries clouding the status of Jake Ballard and Travis Beckam, a TE who can stretch the seam would be valuable. Martellus Bennett was signed as insurance, but he is mostly a blocker, as is Bear Pascoe. The Colts would love to grab Fleener, Andrew Luck's favorite target at Stanford, early in round two, but that sounds almost too good to be true.