WWE WrestleMania 28 Results: CM Punk Defeats Chris Jericho for WWE Championship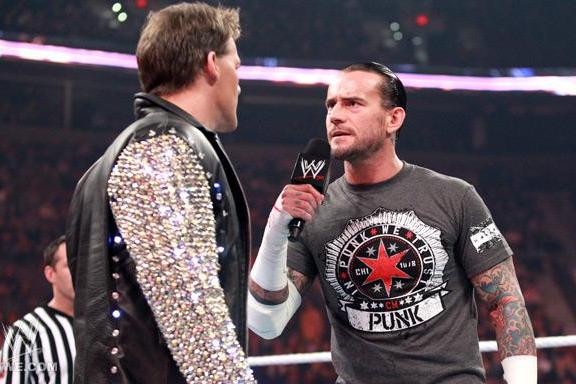 Backstage, new unipolar GM John Laurinaitis tells CM Punk that if he is disqualified, the WWE Championship will change hands.
This leads us to the WWE Championship match. Chris Jericho comes out first, with a phenomenal light-up jacket.
After a video package for Punk-Jericho, Punk came out, accompanied by fireworks.
The two started out grappling as they went back and forth with catch-as-catch-can wrestling. Punk connected with a few big right hands before the two broke away.
Jericho slapped Punk as he worked Jericho over in the corner, trying to force a disqualification as punk pummeled him in the corner.
Jericho asked Punk "How's your father?!" as Punk retaliated with a series of strikes which once again almost got him disqualified. Punk went for a flying elbow, but Jericho rolled out of the ring as Punk dove to the outside for a flying clothesline.
Jericho continued to taunt Punk's family as Punk grabbed a chair and contemplated using it. Jericho capitalized with a spinning heel kick as he gained control for the first time.
Jericho suplexed Punk to the outside and continued to work him over. Jericho resumed his offense inside of the ring as the fans got behind Punk.
Punk tried to get back into the match, but as he went to the top rope, Jericho pulled him down by the trunks for a nearfall.
Punk threw Jericho into the corner as he attempted a running bulldog as both wrestlers struggled to get to their feet.
After Jericho retreated to the corner, Punk connected with a running knee, but his subsequent bulldog attempt was countered. Jericho tried a lionsault but had to adjust in midair as Punk put his knees up. Jericho was unsuccessful in locking on the Walls of Jericho, leading to a roundhouse kick from CM Punk.
Punk went to the top rope and tried a flying elbow drop but Jericho put his knees up and blocked the maneuver. Jericho followed up with a codebreaker as Punk rolled out of the ring.
Jericho pulled Punk back into the ring, but Punk hit the GTS for the nearfall as Jericho put his foot on the rope.
Jericho and Punk went back and forth, but Jericho got the upper hand when he suplexed Jericho on the top rope followed by a Lionsault for a nearfall.
Punk regained control, and set up Jericho on the top rope and attempted a Hurricanrana. Jericho used an amazing counter as he locked on the Walls of Jericho after holding on and leaping from the top rope with an upside down Punk.
Punk forced the rope break, then dumped Jericho to the outside and hit a suicide dive on Jericho. Punk tried a springboard clothesline, but the move was countered by Jericho with a codebreaker for another nearfall.
Jericho fought out of two GTS attempts, then went to the top rope. Punk hit Jericho with a kick as he fell on the top rope. Punk set Jericho up for a GTS, but Jericho caught Punk and countered with the Walls of Jericho.
Punk and Jericho then exchanged rollup attempts for nearfalls, followed by an anaconda vice from Punk. Jericho rolled up Punk while in the anaconda vice, but Punk overpowered Jericho and kept the hold on. Jericho connected with a series of knees to the back of Punk's head as he tried to escape, but Punk kept the hold on.
The two continued to struggle on the mat as Punk re-applied the hold and held on as Jericho tapped out.
Winner: CM Punk
This Match as an NCAA March Madness Team: (3) Baylor.
Most recent updates:
This article is
What is the duplicate article?
Why is this article offensive?
Where is this article plagiarized from?
Why is this article poorly edited?