WWE WrestleMania 28 Results: Cena vs. Rock, Live Coverage and Updates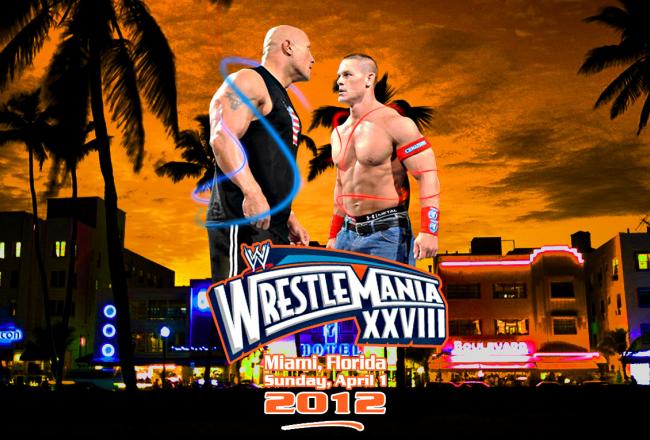 Ready or not—and shame on you if you're not ready—here it comes. WrestleMania XXVIII has finally arrived as one year of talk, tension and technology (via social media) will not commence in what is supposed to be the biggest event in WWE history.
No pressure.
Here's how I see things going down from Miami:
Beth Phoenix and Eve over Maria Menounos and Kelly Kelly
Team Johnny over Team Teddy
Randy Orton over Kane
Cody Rhodes over the Big Show
Sheamus over Daniel Bryan
Chris Jericho over CM Punk
The Undertaker over Triple H
John Cena over the Rock
Big Nasty will be tweeting and retweeting live throughout the pay-per-view! Follow him @ThisIsNasty.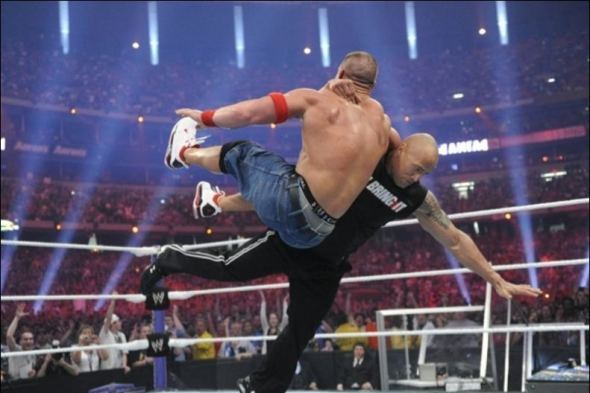 Sean "P. Diddy" Combs introduced Machine Gun Kelly as the Bad Boy product performed "Invincible."
MGK then said he looks forward to seeing one of the biggest egos in the business get beat. He then introduced John Cena as the underdog as the crowd booed furiously.
After John Cena made his entrance, all decked out in a new green outfit, Flo Rida was introduced as he performed "Good Feeling" and "Wild Ones."
This brought out the Rock, who was showered with cheers. Rock performed his signature pose as his music faded out and Justin Roberts did the introductions of each wrestler.
As expected, Cena received a chorus of boos as the Rock was cheered heavily.
The two faced off as the fans went into a frenzy. The bell rang to a huge pop, and the two locked up. Cena threw Rock down as the crowd reacted with dueling Cena chants.
Rock and Cena tangled up again as the Rock threw Cena down to unanimous cheers. The two locked up yet again as the Rock got the better of the Rock with a series of hip tosses followed by a rollup for a nearfall, producing "You still got it!" chants.
Cena answered with a hip toss of his own on the following exchanged, followed bu a rest hold. Rock fought out of the hold and connected with a right hand. Cena fought out of an ensuing sharpshooter attempt as he rolled out of the ring to loud boos.
Cena powered the Rock into the corner and hit a pair of shoulder blocks in the corner, then hit a stiff clothesline for a nearfall.
The match went to the outside after a low bridge by Cena. Cena remained well in charge as the two returned to the ring.
The Rock unloaded with rights as he tried to gain momentum, but Cena cut him off with a large bearhug. Rock fought his way back into the match with more rights, then a DDT for a nearfall.
Cena went back on offense with rights of his own, but Rock battled back, hitting Cena with a flying clothesline. The Rock hit a spinebuster, and teased the People's Elbow, but Cena caught him and tried to put lock in the STF.
The Rock kicked out of the submission hold, but Cena came at him with his patented shoulder blocks, power bomb, and Five Knuckle Shuffle for a nearfall.
Cena and Rock knocked each other out with a double clothesline and slowly rose to their feet to exchange right hands. The Rock got the better of the exchange, but Cena hit an Attitude Adjustment from out of nowhere for a nearfall.
The two got back to their feet, and the Rock hit a Rock Bottom out of nowhere for another nearfall.
Rock worked Cena over in the corner, but Cena fought his way out with a sidewalk slam for a nearfall.
Cena went to the top rope as the Rock stirred, and hit a flying leg drop to the back of Rock's neck but only received a nearfall.
Rock took Cena down shortly after Cena got back to his feet, and locked in a Sharpshooter. Cena forced a rope break. The Rock topple Cena and connected with a flurry of punches, then locked on another Sharpshooter.
Rock worked Cena over from the outside after another rope break, throwing Cena into the stair steps as he continued his attack on Cena.
Cena slapped on the STF as the two returned to the ring.
The Rock appeared to have passed out as the referee dropped his arms once, twice, and on the third time the Rock kept his arm up and dragged himself to the rope to force a rope break and a huge pop.
Cena charged Rock, and Rock hit a Samoan Drop as the two remained on the ground for a ten count. Rock and Cena once again exchanged punches. A Rock Bottom was countered by the Attitude Adjustment, which was countered with a spinebuster.
The Rock then hit a People's Elbow, but only for a nearfall.
Cena rolled up the Rock for a nearfall, causing both men to stir as "Rock-Cena" chants filled the arena.
Cena placed the Rock on the top rope, but the Rock shoved Cena up. Rock went to the top the top rope and went for a cross body block. Cena turned it into an Attitude Adjustment and slammed Rock in the center of the ring.
Nearfall.
John Cena went for the People's Elbow, and on his way back the Rock caught him for a Rock Bottom and the win.
Winner: The Rock
This Match as an NCAA March Madness Team: (2) University of Kansas.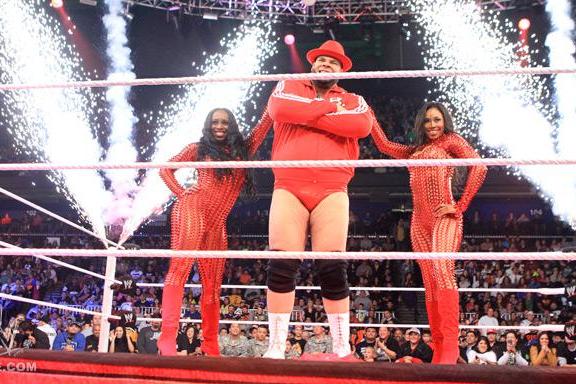 Brodus Clay came out with his dancers and said how excited he was to be a part of WrestleMania. He then urged the 70,000 plus fans to literally call their mamas. Clay then called his mother, which brought out a dancer in an old lady costume with a fake backside as she danced alongside other similarly dressed ladies.
The segment was obvious filler with just over an hour left in the show.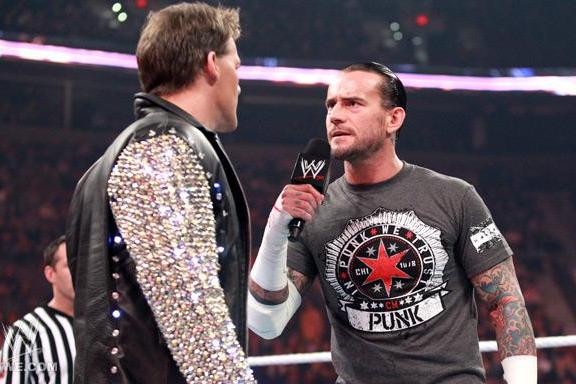 Backstage, new unipolar GM John Laurinaitis tells CM Punk that if he is disqualified, the WWE Championship will change hands.
This leads us to the WWE Championship match. Chris Jericho comes out first, with a phenomenal light-up jacket.
After a video package for Punk-Jericho, Punk came out, accompanied by fireworks.
The two started out grappling as they went back and forth with catch-as-catch-can wrestling. Punk connected with a few big right hands before the two broke away.
Jericho slapped Punk as he worked Jericho over in the corner, trying to force a disqualification as punk pummeled him in the corner.
Jericho asked Punk "How's your father?!" as Punk retaliated with a series of strikes which once again almost got him disqualified. Punk went for a flying elbow, but Jericho rolled out of the ring as Punk dove to the outside for a flying clothesline.
Jericho continued to taunt Punk's family as Punk grabbed a chair and contemplated using it. Jericho capitalized with a spinning heel kick as he gained control for the first time.
Jericho suplexed Punk to the outside and continued to work him over. Jericho resumed his offense inside of the ring as the fans got behind Punk.
Punk tried to get back into the match, but as he went to the top rope, Jericho pulled him down by the trunks for a nearfall.
Punk threw Jericho into the corner as he attempted a running bulldog as both wrestlers struggled to get to their feet.
After Jericho retreated to the corner, Punk connected with a running knee, but his subsequent bulldog attempt was countered. Jericho tried a lionsault but had to adjust in midair as Punk put his knees up. Jericho was unsuccessful in locking on the Walls of Jericho, leading to a roundhouse kick from CM Punk.
Punk went to the top rope and tried a flying elbow drop but Jericho put his knees up and blocked the maneuver. Jericho followed up with a codebreaker as Punk rolled out of the ring.
Jericho pulled Punk back into the ring, but Punk hit the GTS for the nearfall as Jericho put his foot on the rope.
Jericho and Punk went back and forth, but Jericho got the upper hand when he suplexed Jericho on the top rope followed by a Lionsault for a nearfall.
Punk regained control, and set up Jericho on the top rope and attempted a Hurricanrana. Jericho used an amazing counter as he locked on the Walls of Jericho after holding on and leaping from the top rope with an upside down Punk.
Punk forced the rope break, then dumped Jericho to the outside and hit a suicide dive on Jericho. Punk tried a springboard clothesline, but the move was countered by Jericho with a codebreaker for another nearfall.
Jericho fought out of two GTS attempts, then went to the top rope. Punk hit Jericho with a kick as he fell on the top rope. Punk set Jericho up for a GTS, but Jericho caught Punk and countered with the Walls of Jericho.
Punk and Jericho then exchanged rollup attempts for nearfalls, followed by an anaconda vice from Punk. Jericho rolled up Punk while in the anaconda vice, but Punk overpowered Jericho and kept the hold on. Jericho connected with a series of knees to the back of Punk's head as he tried to escape, but Punk kept the hold on.
The two continued to struggle on the mat as Punk re-applied the hold and held on as Jericho tapped out.
Winner: CM Punk
This Match as an NCAA March Madness Team: (3) Baylor.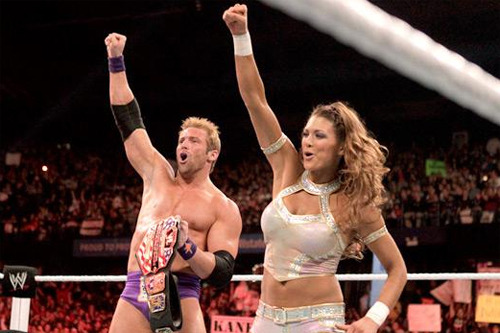 Kingston and Ziggler started out the match as Kingston immediately engaged in his high-flying offense before tagging in R-Truth.
Ziggler tagged in Dre McIntyre after a dropkick. After Truth's signature forearm, he tagged in Great Khali, who quickly tagged in Booker T.
Booker T went to work on all members of Team Johnny, but the distraction cost him as he ate a boot from McIntyre, who tagged in Swagger. Swagger worked over Booker T as Mark Henry tagged himself in to takeover.
Miz then tagged in and hit a huge knee lift for a nearfall. Miz slapped on a chin lock as the fans got behind Booker T.
Ziggler tagged in and then quickly tagged out as him and Miz continued to wear Booker T down. Henry hit the world's strongest slam on Booker T, then Khali hit Henry with a chop. Swagger and McIntyre hit a double backdrop on Khali, then Kofi and Truth tried to throw Hornswoggle on Henry.
Henry caught Hornswoggle and discarded him, but Kofi and Truth both hit suicide dives on Team Johnny. This was followed by a skirmish between Aksana and Vickie Guerrero.
Santino was tagged in as he hit a series of signature maneuvers on Miz, followed by a cobra on Miz. The pin was broken up by Ziggler. Ryder was tagged in as he came in like a house afire on the Miz. Ryder performed his signature "Woo! Woo! Woo!" fist pump as Eve joined him.
Ryder was distracted as the referee tried to escort Eve out of the ring, allowing Miz to hit a skullcrushing finale for the win.
Winners: Team Johnny
This Match as an NCAA March Madness Team: (11) Colorado.
After the match, Eve tried to console Ryder, but quickly hit as low blow as she strutted to the back.
Triple H clocks the Undertaker with the sledgehammer for a nearfall as the crowd pops huge for the Taker kickout. Triple H tries for a huge shot on the Undertaker but Michaels stops him and teases that he will end the match.
The Undertaker slapped on the Hell's Gate on Shawn Michaels as he contemplated stopping the match. The Undertaker low blowed Triple H and locked him in the Hell's Gate for the second time as Triple H passed out. Taker released the hold, which brought out Charles Robinson.
The Undertaker hit a chokeslam on Triple H, who kicked out at two as the crowd once again went wild. Take chokeslammed Robinson as "This is Awesome" chants broke out.
Taker tried for a tombstone, but Triple H shoved him into a superkick from Michaels followed by a pedigree for a nearfall and the loudest pop of the night.
Triple H shoved Michaels out of the ring in frustration, but the Undertaker sat up and ran wild all over Triple H with a series of signature moves capped off with a tombstone.
Nearall.
The commentators can barely be heard as Michaels sat conflicted in the corner. Taker and Triple H exchanged desperate strikes with the crowd behind the Undertaker. Another tombstone attempt was countered by Triple H, who answered with a pedigree and another nearfall.
Triple H tried to grab the sledgehammer, but Taker stopped him and retaliated with multiple chair shots of his own but only for another nearfall.
Triple H defiantly crotch chopped in the corner, and the Undertaker struck him with a sledgehammer, followed by a tombstone for the win.
Winner: The Undertaker
This Match as an NCAA March Madness Team: (1) Kentucky.
After the match, the Undertaker and Shawn Michaels carried Triple H out of the arena as the fans showed respect with cheers. The three embraced and returned to the back. A perfect way to end an era.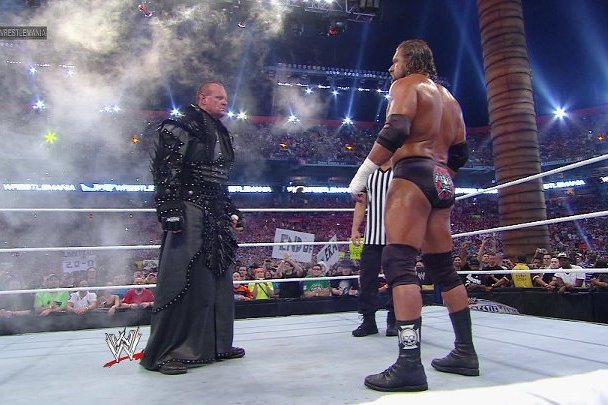 Jim Ross was introduced to the live crowd to call the match. Shawn Michaels came out, followed by Triple H, who was underneath a warrior-like structure filled with smoke. Triple H was followed by the Undertaker, who made his signature entrance through flame wearing an outfit similar to that of Shredder from the Teenage Mutant Ninja Turtles.
The Undertaker removed his hood to reveal a new mohawk haircut as the crowd popped and chanted "Undertaker."
"The Memory Remains" by Metallica plays as the cell lowers and the match is ready to start. Taker and Triple H went back and forth with fists of fury as the crowd came unglued early.
The action quickly spilled to the outside as the two brawled with help from the cell. Triple H and the Undertaker brawled on the outside with the Undertaker in control. At one point the Undertaker shoved Shawn Michaels out of the way as the special guest referee tried to get involved.
As the action returned to the ring, Triple H tried to put together an attack, hitting a face buster. The maneuver was no-sold by the Undertaker, who answered with an "Old School" tight rope walk, eliciting "Undertaker" chants.
Undertaker hit Triple H with the stair steps as the two returned to the outside. He followed up with a guillotine leg drop as the phenom continued to dominate.
Triple H finally answered with a quick DDT as he begun to mount some offense. The Undertaker countered a pedigree on the stair step with a backdrop as he got back into the driver's seat.
Undertaker charged Triple H, but Trile H hit a spinebuster on the stair step. Undertaker slapped on the Hell's Gate, but the hold was countered with a power bomb by Triple H, who appears to be busted open.
Triple H introduced a chair into the match as he went to work on the Undertaker with repeated shots.
Shawn Michaels pleads with Triple H to cover the Undertaker as Triple H ignores him and continues with the onslaught of chair shots. Triple H tells Michaels to ask if Undertaker will quit, but Undertaker sternly growls "Don't stop it" before Triple H goes back to work with the chair.
Triple H covers the Undertaker, but receives a nearfall. Triple H continues to scream "End it, Shawn, or I will!" as he brings out a sledgehammer.
Feint "Daniel Bryan" chants break out as Eve and Kelly Kelly started the match. As Eve gained the advantage, "Hoeski" chants developed before Kelly Kelly overtook Eve.
Kelly Kelly attempted a roundoff back elbow splash in the corner but was blocked by Eve. Kelly Kelly thwarted a high-risk attempt by Eve and tagged in Maria Menounos as the two teamed up for a stinkface.
Louder "Daniel Bryan" chants, followed by "YES!" chants broke out as Eve locked in a waste scissors hold on Menounos.
Phoenix tagged in and wrapped up Menounos as she worked over her (legit) rib injury she suffered during Dancing with the Stars.
Eve and Phoenix worked in quick tags as they continued to work over Menounos.
Menounos makes the hot tag to Kelly Kelly who knocks Eve off the apron and hits a spinning head scissors on Phoenix. Kelly hit an impressive front flip on Phoenix for a nearfall.
After interference by Eve, Kelly countered a Glam Slam with a bulldog as feint "Kelly" Chants broke out.
Kelly tagged in Menounos as Menounos went to the top rope, but was Gorilla pressed by Phoenix. Kelly interrupted the maneuver as Phoenix was thrown into Eve on the apron, leading to a rollup by Menounos for the win.
Winners: Kelly Kelly and Maria Menounos
This Match as an NCAA March Madness Team: (13) Davidson.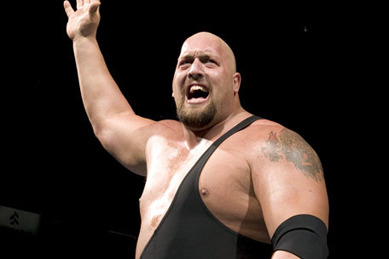 After a poor backstage segment featuring Mick Foley, Santino Marella, and Captain Keith from the Deadliest Catch, punctuated by Ron Simmons' "DAMN," the Big Show and Cody Rhodes were next.
Rhodes starts the match running away from the Big Show. Rhodes hit an opportunistic baseball slide dropkick as Show tried to get back in the ring but Show quickly overpowered Rhodes and took control of the match.
Show worked Rhodes over in the corner with chops and even a stink face. Rhodes got back into the match after dodging a reverse splash attempt by Show as he asserted himself with a pugnacious, quick-hitting attack.
Rhodes remained the aggressor by working over Show's knee as he trash talked the Big Show. Show momentarily regained control, but Rhodes countered a chokeslam by hitting a hangman maneuver on Show's arm.
A subsequent disaster kick attempt was countered by a spear, following a big right hand for the win.
Winner: The Big Show
This Match as an NCAA March Madness Team: (10) Virginia.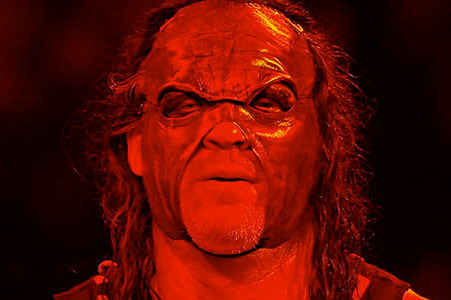 A backstage segment featured the Miz trying to rally Team Johnny to little success, followed by a commendable effort by John Laurinaitis as the Interim RAW GM gave his own pep talk.
Up next was Kane vs. Randy Orton. Orton's signature saunter to the ring is already longer than the world heavyweight championship match.
Loud "Daniel Bryan" chants broke out as Kane and Orton begun brawling.
Kane countered an early suplex attempt by suplexing Orton onto the top rope and kicking him in the head. Kane continued to work over Orton in the corner, then hit a dropkick on a sitting Orton for a nearfall. Orton began fighting back from out of the corner, but Kane cut him off with a sidewalk slam for a nearfall.
Orton again battled back and bought time with a swinging neckbreaker for a one count. Fans begun to tune out of the match as Orton pummeled Kane before Kane regained the advantage.
Kane connected with a huge suplex for another nearfall.
Orton backflipped out of a second sidewalk slam attempt and hit a modified back breaker as both men stirred. Orton hits a pair of clotheslines and follows up with a powerslam as the pace quickened.
Orton hit his signature suspension DDT as the crowd started to come alive.
An RKO attempt was countered by a big boot from Kane. Kane followed up with a flying clothesline attempt that was blocked by an Orton dropkick.
Orton teased a punt but Kane stopped him with a chokeslam for a neafall.
Kane countered a second RKO attempt as the two battled in the corner. Kane went to the top rope but Orton connected with a series of rights on a sitting Kane. Orton joined Kane atop the ropes, but Kane connected with a super chokeslam for the victory.
Winner: Kane
This Match as an NCAA March Madness Team: (9) University of Connecticut.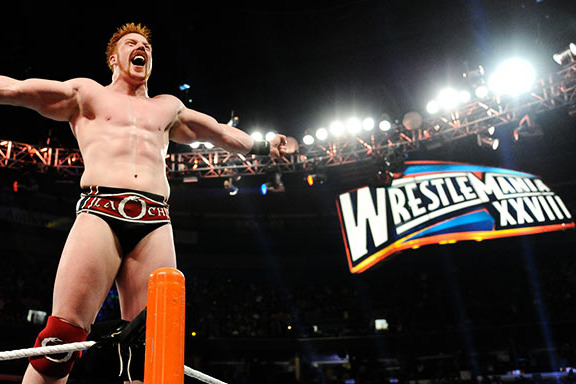 After a thrilling rendition of "America the Beautiful" by Lilian Garcia, WrestleMania XXVIII is set to officially begin.
The world heavyweight championship match will open the show for the second year in a row as the crowd sounds more than ready to go.
"Yes" chants envelop Sun Life Stadium as Bryan delivers his pre-match kiss to A.J. Bryan turns around and is met with a Brogue kick as Shemus covers him for the three count.
Winner: Sheamus
This Match as an NCAA March Madness Team: (16) Mississippi Valley State.