2012 NFL Mock Draft: Mocking the Entire 1st Round According to Team Needs
April 25, 2012

Butch Dill/Getty Images
This is it, I promise—my final mock (3.0) before the actual draft. And once again, I've made some changes since the last one. 
Now that teams have seen the prospects in several settings—the combine, pro days and individual workouts—in addition to hours upon hours of film, they have a clear idea on who to target. Or at least they'd like to think so.  
So here it is, all 32 first-round selections based on team needs and a healthy dosage of that thing called guessing. 
1. Indianapolis Colts
"Things Jim Irsay Says" would make a great title for a fiction novel.
We all know Andrew Luck is their guy, has been all along. Fans got a taste of Curtis Painter and Dan Orlovsky last season, and spit them both out.
Luck is not just a safe pick; he's a star.   
Looks like John Beck and Rex Grossman are now competing for clipboard-holding duties. 
Robert Griffin III, despite Donovan McNabb's nonsensical rant, is a good fit for Mike Shanahan's offense. He is a poised passer and has the athleticism to escape and make plays outside the pocket. He also has the "it" factor coaches covet.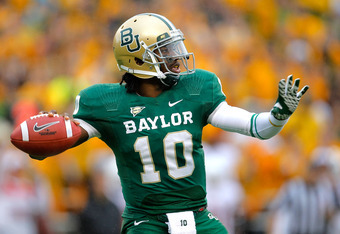 Sarah Glenn/Getty Images
Depth in the secondary must be addressed, but not here. Matt Kalil is the smart choice. He is clearly the top tackle in this class and should anchor the line for several years to come. 
Somewhere, Adrian Peterson and Christian Ponder are high-fiving each other.  
The Browns select Trent Richardson—the best all-around back since Adrian Peterson. Richardson can wear down defenses with his power and has the acceleration to bounce it outside for big gains.
Most importantly, he eases the burden off of Colt McCoy's sagging shoulders. 
There are quality linebackers to be had in the second and third round, so cornerback is the pick here. And while I think Janoris Jenkins is a more talented football prospect, Morris Claiborne is right behind and will hear his name called.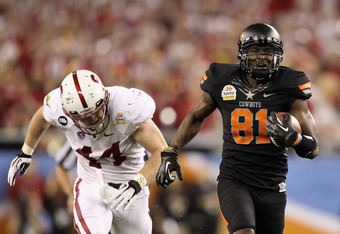 Christian Petersen/Getty Images
Look for him to start Week 1. 
6. St. Louis Rams
Receiver help is a given. Justin Blackmon gets the hype but Michael Floyd will be the better NFL player.
In Floyd, they get a big target with soft hands and surprising speed on the outside. He knows how to get open, catches everything thrown his way and is an underrated blocker. 
There are so many directions they can (and need to) go here.
However, with Blackmon still available, the Jags pull the trigger on the most productive receiver in college football. Blackmon answered concerns about his speed by clocking a 4.49 40-yard dash at his pro day and then posted a 35" vertical leap. 
At 6'1" and 210 pounds, he uses his body to create separation and does damage with his run-after-catch ability.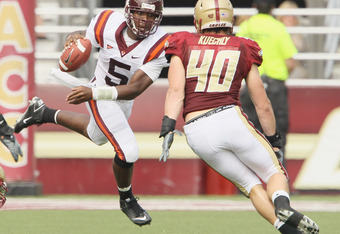 Elsa/Getty Images
The best way out of a slump is to keep swinging. And after striking out in every at-bat this offseason, the Dolphins are now targeting Ryan Tannehill; a curveball prospect. A converted receiver, he is still raw but the ceiling is high. He stands tall in the pocket, is light on his feet and can really sling the ball. 
With Matt Moore—who was 6-3 as a starter last season—and David Garrard both signed, Tannehill can ease into the lineup as his development continues. 
The Panthers have a very dangerous offense. Cam Newton can put points on the board in a hurry, but the defense surrenders them at an even faster rate—hence the 6-10 record.  
Dontari Poe was the trendy pick after a jaw-dropping workout in Indianapolis, but the buzz has since faded and the jaws raised. After watching tape, Fletcher Cox stands out as the best tackle. He stops the run, applies pressure on opposing quarterbacks, and does it all at an exceptional rate.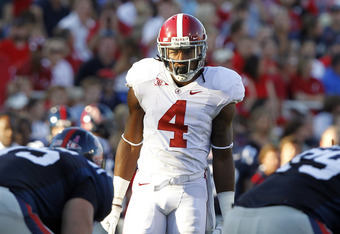 Butch Dill/Getty Images
10. Buffalo Bills
The Bills select the second tackle in the top 10, Riley Reiff. A former tight end and wrestling champ, Reiff has all the necessary tools of a left tackle. He's quick off the snap, athletic with his footwork and has the strength to hold blocks once engaged.  
I can actually say this without laughing: The Bills now have a realistic chance to reach the postseason for the first time since 1999.   
The Chiefs run the ball, play sound defense and are a well-coached bunch. And with the return of several key starters from injuries, the Chiefs can envision another postseason trip.   
Adding Luke Kuechly makes the vision even more lucid. He knows where to be, has the speed to get there in a hurry and finishes the job upon arrival. The stats are no lie, this kid can play.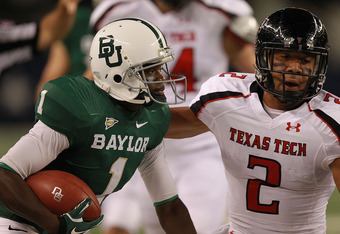 Ronald Martinez/Getty Images
12. Seattle Seahawks
The absence of a pass-rush specialist will doom this team, unless...
Melvin Ingram gets the call here. Ingram is built like a defensive end (6'2", 265 pounds) yet moves like a linebacker.
Place him anywhere and he makes plays—whether it's sacking the quarterback or chasing down backs. He has a quick first step, uses his arms well and uses a dizzying array of moves to shed blockers.  
I like what the Cardinals have done on the defensive side of the ball, but the offense was horrible last season. Kevin Kolb and John Skelton both struggle in the pocket and need a better shield for protection. 
Enter Mike Adams. He's raw and viewed by many as a fringe-first round talent, but I see otherwise. Adams has an NFL-ready body with very long arms, moves well and excels in pass protection.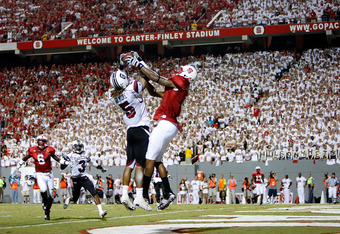 Streeter Lecka/Getty Images
14. Dallas Cowboys
Is this the season the Cowboys actually live up to lofty expectations?
Adding free agent Brandon Carr is a step in the right direction, and Mark Barron is a leap. 
He is easily the best safety in this entire draft. Barron does it all: He covers tight ends, blankets slot receivers and can step up in the box to make tackles.  
The "dream team" are hoping to rebound after a nightmare season. The Eagles have been active in free agency and will look to improve their roster in the upcoming draft—specifically on the defensive line. 
Dontari Poe is the right man for the job. He's a workout warrior and, with the right coaching, can develop into a warrior on the gridiron. He uses his massive frame (6'4", 346 pounds) to gobble up blockers and has the athleticism to burst into the backfield.  
16. New York Jets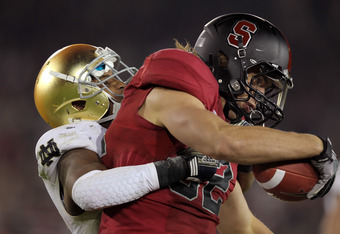 Ezra Shaw/Getty Images
Rex Ryan likes to get after the quarterback and force turnovers. No other player in this draft does both nearly as well as Whitney Mercilus. 
In 2011, he led the nation with 16 sacks, nine forced fumbles and had 22.5 tackles for a loss. He looks and plays like Aldon Smith. The Jets are getting a huge steal here, you'll see. 
With A.J. Green on the outside, Kendall Wright would be a dangerous weapon in the slot. He runs crisp routes and can stretch the field vertically. 
After disappointing at the combine, Wright blazed a 4.45 40-yard dash at his pro day. He looks even faster in pads and a helmet. 
In my mock, I have the Chargers selecting Cordy Glenn. He projects at guard, but has the versatility to play both tackle positions. With Kris Dielman now retired, expect Glenn to compete for and win a starting spot on the line.
Sometimes the least sexy pick is the most effective.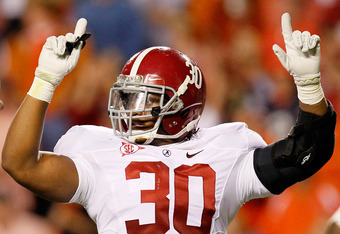 Kevin C. Cox/Getty Images
19. Chicago Bears
J'Marcus Webb is a mess for the Bears at left tackle. He surrendered 12 sacks and was responsible for 14 penalties last season. I think it's safe to say his job is not very secure at the moment. 
The Bears quickly select Jonathan Martin. While he lacks elite strength and mobility, Martin is a tenacious blocker and very intelligent individual. And after playing in a pro-style offense at Stanford, the transition should be fairly smooth.  
20. Tennessee Titans
The Titans need to run the ball efficiently in order to succeed on offense. 
David DeCastro is a great fit. He's a fierce competitor who plays with a mean streak. He can plow lanes for his running back and is excellent in pass protection—gave up just one sack his entire college career.   
Somewhere, Chris Johnson and Jake Locker are applauding the selection. 
21. Cincinnati Bengals
After going offense with their first pick, the Bengals focus on the defense and shoring up an aging secondary.
Stephon Gilmore is a dream corner—the best in the draft according to Greg Cosell. He stands slightly taller than 6'0", can play both press and off-coverage and is a superb athlete. At the combine, Gilmore clocked a 4.4 40-yard dash and the second-best time among defensive backs in the 20-yard shuttle (3.94).
22. Cleveland Browns
What Cleveland lacks is a true No. 1 receiver. Greg Little has shown flashes but drops the ball far too often. The pick here is Stephen Hill. Don't let the low reception totals fool you; they are a product of Georgia Tech's run-heavy offense.
At 6'4" with 4.36 speed, Hill has the physique and athleticism similar to Randy Moss. He blows by corners, outjumps them and is a dedicated blocker.
Once he learns to run the entire route tree, watch out.    
23. Detroit Lions
The Lions need help in the secondary. The club signed Jacob Lacey to replace Eric Wright—now with the Bucs—but more depth is a must in the pass-happy NFL. 
But which prospect can help? Dre Kirkpatrick can step in and compete for the starting spot opposite Chris Houston. He's another in a long list of Alabama corners who are well-coached, experienced in multiple coverages and NFL-ready.
I have the Steelers selecting Michael Brockers. 
Potential is the word most commonly associated with Brockers. How he impacts a game doesn't always appear in the box score. He's a disruptive force who demands double-teams, which in turn frees up teammates to make plays. 
With the right coaching, Brockers will be a star sooner rather than later. The Steelers have exactly that. 
25. Denver Broncos
Usually when a person moves to a new city and a new home they're greeted with a gift basket filled with strange lotions, cheap wine and a stale fruitcake.  
Peyton Manning gets one with $96 million and Coby Fleener, the draft's top tight end. Look for the two to instantly form a connection and combine for a lot of touchdowns.  
26. Houston Texans
You know that friend who copes with a breakup by dating someone similar to his ex?  
That's the Texans in this year's draft. After losing Mario Williams, they set their sights on Quinton Coples—another athletically gifted defensive end. Both are physical specimen and speed rushers off the edge.
Now whether or not Coples can put it all together on the field remains to be seen.  
Pass-rushers are a hot commodity these days, and Chandler Jones is on fire as the draft approaches.
Once considered a third-round prospect, his stock has soared during the pre-draft process. While his stats at Syracuse are more "eh" than "whoa," he jumps out on film as a player who knows how to use his hands and hustles through the whistle.
With an almost-perfect offense, the pick here is Nick Perry. He's no "tweener," he's an outside linebacker with the versatility to play defensive end. He's good in pursuit and a sound tackler when he reaches the ball.   
The Packers can align him opposite Clay Mathews and terrorize opposing quarterbacks.
29. Baltimore Ravens
Though hard to swallow (and weird to say), the Ravens need to find Ray Lewis' eventual successor. I used to think he could play forever, but he's losing too many steps these days.
Good thing Dont'a Hightower is still on the board. Not for long. Hightower is a physical presence in the middle and really knows how to shed blockers and make plays. And it wouldn't hurt learning from one of the greatest to ever play the position.   
Coach Jim Harbaugh likes a challenge. Even more, he likes winning a challenge.
Hey, he turned Alex Smith into a drive-sustaining, game-winning quarterback in just one season. He turned Stanford into a college football powerhouse. And keeping Janoris Jenkins on the straight and narrow may be his biggest challenge to date.
The reward, aside from pride inflation, is too large to ignore. Jenkins is a shutdown corner, plain and simple. Just watch the tape of him in the SEC and then at North Alabama. 
31. New England Patriots
It's no secret the Patriots want to get after the quarterback. Jones—their other first-round pick—can do it and so can Jerel Worthy. In a class loaded with quality defensive tackles, Worthy is perhaps the most complete.
He's thick and quick off the line, knifes through blockers and gets after the quarterback. New England is well on its way to improving a lackluster defense—ranked 31st in yards surrendered per game in 2011.  
32. New York Giants
The more I look at this, the more I think running back. I mean, it makes the most sense. Then again, they have the luxury of sitting back and letting a top prospect fall into their laps.
In this scenario, both happen, as Doug Martin is selected here. Martin is an upgrade over Brandon Jacobs and will push Ahmad Bradshaw for the starting gig. He's a complete back with strength, speed and reliable hands.