8 Arizona Diamondbacks Who Will Start in the Minors, but Will Contribute in 2012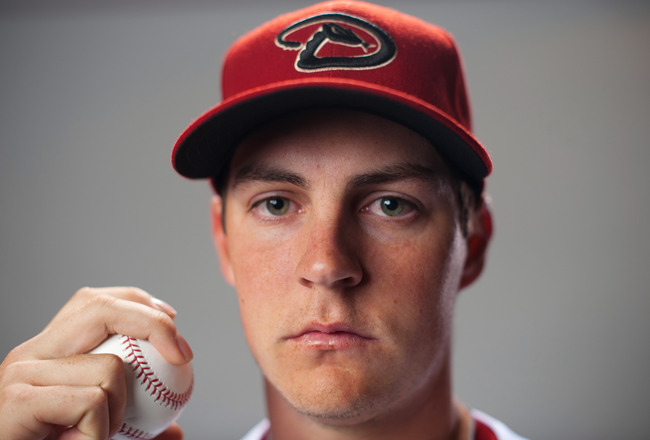 Rob Tringali/Getty Images
The defending NL West champion Arizona Diamondbacks don't have much to complain about entering the 2012 season.
With a starting rotation of Ian Kennedy, Daniel Hudson, Josh Collmenter, Trevor Cahill and Joe Saunders, the D-Backs are a threat to win games no matter who is on the mound.
Sporting a very solid batting order with everyday players at every position (including veteran leadership off the bench by way of Willie Bloomquist, Henry Blanco, Geoff Blum and John McDonald), the Diamondbacks appear poised to make a run at defending their division crown.
Nevertheless, contributions from players outside of the 25-man active roster become paramount during the course of a 162-game season. Injuries are a part of the game, just ask Stephen Drew. However, how teams overcome those injuries can often be the difference between a playoff team and a team that misses the opportunity to play in October.
Here are eight players that may make contributions to the Diamondbacks during the 2012 season.
Bryan Shaw, RP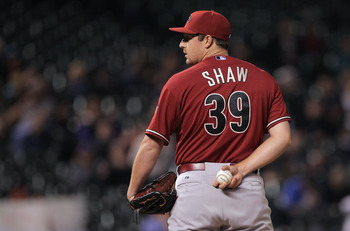 Doug Pensinger/Getty Images
Bryan Shaw may in fact start on the Diamondbacks' Opening Day roster in 2012.
But if Shaw doesn't get the opportunity from the start, he will almost certainly see time at the Major League level.
In 31 games last year for the Reno Aces (the Diamondbacks AAA affiliate), Shaw went 4-1 with a 2.58 ERA to go with 16 saves.
That performance earned Shaw a call-up to the show, where he found continued success.
In 33 appearances at the major league level, Shaw went 1-0 with a 2.54 ERA.
The Diamondbacks have a deep bullpen which includes J.J. Putz, David Hernandez and Brad Ziegler, but adding Shaw to that group makes a lot of sense moving forward.
Barry Enright, SP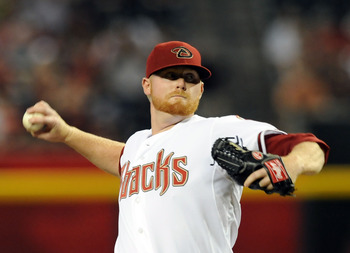 Norm Hall/Getty Images
Barry Enright will likely start the year at AAA Reno, but if the Diamondbacks need a spot start from someone, Enright will probably be their man.
Enright has his fair share of major league experience with a career record of 7-11 to go with a 4.87 ERA.
That experience will serve him well if the Diamondbacks suffer an injury to anyone within the starting rotation.
Expect Enright to fill in if and when Kirk Gibson needs a substitute arm.
Wade Miley, SP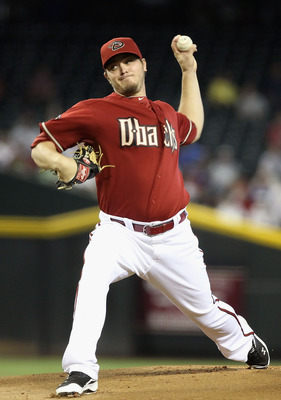 Christian Petersen/Getty Images
Wade Miley is another solid option at Kirk Gibson's disposal should he need a spot start.
While Miley doesn't have as much big league experience as Enright, he has an arguable advantage being left-handed.
One thing that Miley has to work on moving forward is his command. In eight career games at the major league level (seven starts), Miley has walked 18 batters while striking out 25. Those numbers aren't terrible, but they should be seen as a concern.
I wouldn't be surprised to see Miley used out of the bullpen at some point this season, but for now, more seasoning in AAA seems to be the best way to go.
A.J. Pollock, CF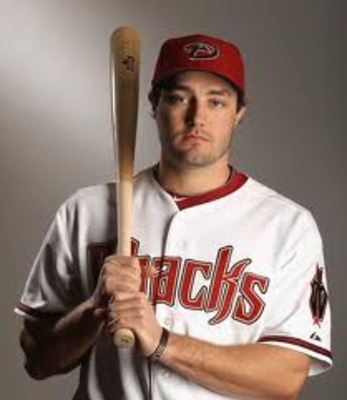 A.J. Pollock is arguably the best outfield prospect in the Diamondbacks' system.
Although the Diamondbacks are solid at all three outfield spots with Justin Upton in right, Chris Young in center and the tandem of Jason Kubel and Gerardo Parra in left, Pollock has made a strong case to get a call up this season.
Pollock has played very well in spring training, batting .286 with three homers and five RBI in 26 games.
Although it may take an injury to one of the Diamondbacks' current outfielders, Pollock appears to be the most MLB-ready.
Worth Mentioning:
Cole Gillespie, LF
Gillespie is another outfielder from AAA Reno who may see time in the majors in 2012. Gillespie had a stellar 2011 campaign in AAA, hitting .300 with 12 homers and 79 RBI to go with 24 stolen bases.
But after a disappointing stint in the majors coupled with a lackluster spring performance, Pollock may get the nod.
Adam Eaton, Outfield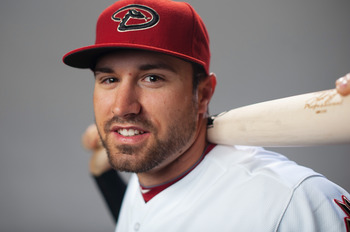 Rob Tringali/Getty Images
Adam Eaton will likely start the year at AA Mobile, but don't count this spark plug out.
One of the better stories in sports, Eaton has continued to prove that his 5'8" 185-pound frame should not be overlooked. Eaton has earned respect by playing his tail off, plain and simple.
One of the Diamondbacks' more impressive hitters this spring, Eaton has batted .286 with three triples in 25 spring training games.
At the A+ level in the minors, Eaton hit .332 and continued that success by hitting .302 in AA.
Likely to be a fan favorite at some point in the future, if Eaton continues his torrent hot streak he may get major league at-bats before the end of the 2012 season.
Rusty Ryal, INF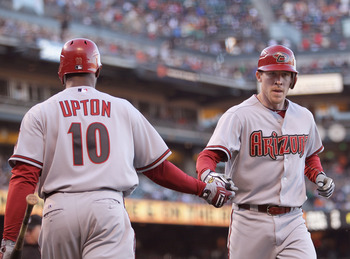 Ezra Shaw/Getty Images
The Diamondbacks likely won't need any additions to their current infield, especially if Stephen Drew can bounce back from injury.
Ryan Roberts, Aaron Hill and Drew are the starters, with Willie Bloomquist, Geoff Blum and John McDonald providing depth off the bench. They're very deep.
Nonetheless, if the D-Backs do get to a point where they want to add an infielder to the roster, I expect Ryal to get the call.
At 29 years old, he's not exactly a young pup, but he does have some experience in the major leagues.
A career .263 hitter, Ryal has popped six homers to go with 20 RBI while wearing a Diamondbacks uniform.
Although his potential has probably topped out, Ryal is not a bad option to fill in should the D-Backs need him.
Worth Mentioning:
Chris Owings, SS
Owings as a prospect is still very raw. The organization has high hopes for him, but he'll likely spend all of 2012 polishing his game in the minor leagues.
Ryan Wheeler, 3B
Wheeler hit .294 last season in AA and will probably start this season at AAA Reno. Wheeler is a good prospect with some pop in his bat, but there are questions about his defense and he needs to make more contact (he struck out 102 times in 480 at-bats last year).
Tyler Skaggs, SP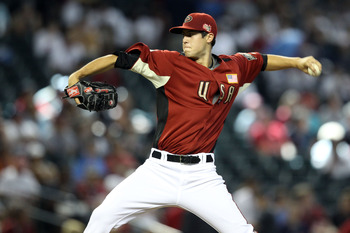 Christian Petersen/Getty Images
Left-hander Tyler Skaggs is seen as one of the most talented young arms in the Diamondbacks' system.
Skaggs came over from the Los Angeles Angels in the Dan Haren trade and has shown a lot of promise.
Although he's still very young (just 20) and will start in AA Mobile, I wouldn't be shocked to see Skaggs get a look in the majors before the 2012 campaign is over.
The D-Backs have no reason to rush his development, especially with the sound five-man rotation that they currently have, but if Skaggs continues to make strides he may make an appearance or two.
Trevor Bauer, SP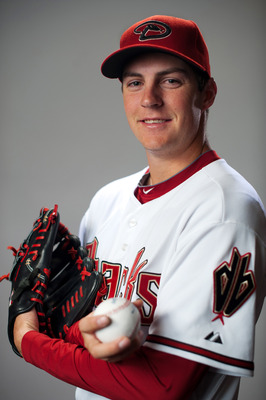 Rob Tringali/Getty Images
Seen as the No. 1 prospect in the Diamondbacks organization according to MLB.com, Trevor Bauer was drafted in the first round, third overall by Arizona in 2011.
Because of his unconventional delivery, Bauer has drawn comparisons to San Francisco Giants' ace Tim Lincecum. High praise to say the least.
As with Skaggs however, the D-Backs may not want to rush Bauer's development despite watching him make the leap to AA in his first year.
Bauer has drawn a lot of attention for his preparation, which includes an impressive long-toss routine.
Some of that attention has even enraptured other MLB pitchers, like the Los Angeles Angels' C.J. Wilson, who has been impressed with Bauer.
With all of the hype surrounding the D-Backs' hot prospect, it's still a mystery as to whether or not he'll see time in the majors this season. The organization may not want to rush Bauer, but if he continues to perform, he may give them no choice.
Keep Reading

Arizona Diamondbacks: Like this team?