WNIT 2012: Tragedy Powers Oklahoma State to Championship Victory
April 1, 2012

Every coach aspires to one day lead his or her team to a championship.
The Oklahoma State Cowgirls did exactly that when they defeated the Dukes of James Madison for their first ever championship (WNIT or NCAA) in school history. It happened on their home court of all places. 
As excitement filled Gallagher-Iba Arena, so did emotion.
Part of that emotion was for their hard-fought championship victory. The other half was for the tragic loss of their head coach, Kurt Budke, and assistant coach, Miranda Serna, who were killed in a plane crash a mere few days after the season opener.
Shelly Budke lost a husband and her three kids a father in that plane crash. So it was only fitting that the last image of the Cowgirls' 2011-12 season was team captain Tiffany Bias cutting all of what remained of the nets but leaving one string.
That one string was for Shelly.
As she cut it down and held the net in her hand, she looked toward the sky reminiscent of an ending movie scene.
The gesture signified that her husband and Serna would never be forgotten.
It signified that the Cowgirls five straight (six, if you count posthumously) postseason appearances achieved in all of Budke's five seasons as head coach were no fluke. Prior to his arrival, the team had not participated in a postseason tournament since 2001. They had not been to the NCAA tournament since 1996.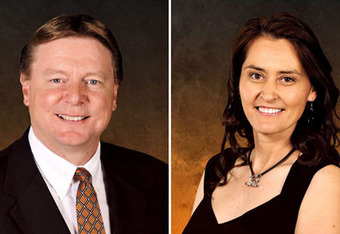 Most of all it signified that although Budke and Serna could not be there with the Cowgirls physically, their spirit and dedication will always live within every young lady currently on the OSU basketball roster and those that the duo had the opportunity to coach in the past. They will also live on through their colleagues, families and friends.
Kurt Budke was one of those coaches who was fortunate enough to be a winner at every school he coached at. He accomplished a 273-31 record and won four championships at the Junior College level. His .898 winning percentage is the highest in National Junior College Athletic Association history.
When Budke's 2011-12 OSU squad likely felt they let their coach down by not making it to the NCAA tournament, interim coach and longtime friend of Kurt Budke, Jim Littell, kept them motivated.
As the final buzzer sounded in Gallagher-Iba Arena and the WNIT trophy was handed to Coach Littell, the team could officially point to the sky and say, "we did it coach."
Sure, it was not an NCAA tournament championship. But does that matter in this instance? This was an opportunity to honor the hard work of two coaches. The Cowgirls did exactly that.
An experienced team that loses no seniors will take the court next season. Is an NCAA tournament appearance on the horizon? Who knows. What is certain, Budke's girls have his winning and fight-to the-end spirit.